Shaping the UK wine industry for the future 
On Thursday 30 January, the industry's membership organisation Wines of Great Britain (WineGB) hosted its third technical conference at Denbies Wine Estate, Surrey. 
Over 150 members gathered for the business and marketing focused event which effectively covered topical issues surrounding the sales of English and Welsh wines. Opening the day's packed programme, Ruth Simpson, conference chair and co-founder of Simpsons Wine Estate, explained how her and her husband Charles had established their Kentish estate after seeing extraordinary growth in the UK wine industry.
"As an industry, we have successfully gone from being an insignificant wine region to an exciting and dynamic collection of producers," she said. "There is huge potential as UK aspirations drive reputation of the wines worldwide, but we need to look at how the industry moves forward in the long term. Producers large and small need to come together to ensure that we maintain our enviable, premium position and so we have brought together a diverse range of speakers to share their knowledge from around the globe."
The morning session titled 'the balance of supply and demand' delivered a poignant and sobering review of the UK's rapid vineyard expansion, which was welcomed by many delegates and provided much food-for-thought for the rest of the day.
Justin Howard-Sneyd MW drew on his extensive experience as both an English wine producer and previous wine buyer for several market heavyweights, including Sainsbury's, Waitrose and Laithwaite's, to lay out stark figures on where the industry is likely to head if planting continues and sales fail to keep up.
Significant increases in the area under vine over the last three years may have been cause for great excitement and buzz in and around the sector, but the harsh reality is that producers now seriously need to consider the dynamics of supply and demand. Hoping to "stimulate debate", Justin argued that a frank discussion about sales was "long overdue", especially when taking the volume of the 2018 and 2019 vintages into consideration.
"We need to paint a clear picture because there is the potential that we are going too far, too fast," said Justin, who also runs Hive Wine Consulting. "The area under vine continues to increase, a lot of vineyards are yet to produce a harvest and we don't know exactly how many vines are due to be planted this year. There are limited figures on production and sales, but looking at estimated stocks, we are producing more than we are currently selling."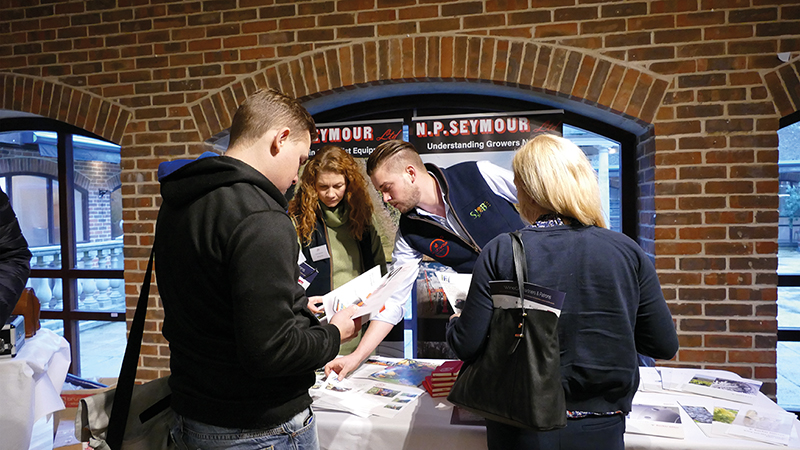 Planting plans should be reassessed 
While the current situation is allowing producers to age wines, with no pressure to "rush out" young bottles, this will undoubtedly change, especially if people keep planting and average yields increase.
Three different scenarios were then presented. The first considered that if planting suddenly slows, stopping at 4,000-hecatres under vine; if the 10 year average yields remain at 25 hl/ha, or 4t/ha; and sales jump to 10% per year for the next 5 years, and then drops back to 5% per annum, stocks would climb past 80million bottles.
"That is 13 years' worth stock, and I doubt many business plans are based on carrying this amount," said Justin. "These are modest assumptions and already we need to figure out how we can get sales ramped up."
In the second scenario, assuming there are already significant vineyard establishment plans in place, Justin looked at where the industry might be if the area under vine reached 5,000ha. He put forward that sales could grow at 20% per year for 5 years, slowing to 10% for another 5 years, but this would still leave 70million bottles, equating to nearly 7 years' worth of stock.
"This model relies on the fact that sales will accelerate, but that will only happen if the industry can look at prices under £20 per bottle," he said, "but how many producers are in position to supply the supermarkets at £6 or £7 per bottle?"
The final scenario looked at the reality of improved yields, and how better viticultural techniques and a warmer climate could push averages up to 30hl/ha which is "not unreasonable to aim for". Justin then added this to the assumption that planting is likely to increase to 6,000ha and sales are likely to sit around 10% for 5 years, followed by 5% for 5 years.
"This would see stocks soars past 120million bottles, which is over 20 years' stock," said Justin. "I am being challenging here, but that is not a pretty picture. Grape prices would plummet and cash flow problems would cause business failures."
However, it is up to the industry what happens next. It is possible that sales are better than the reported figures, wine tourism and direct to consumer sales have great potential and if plantings are "slowed or halted for a few years" while sales are encouraged, the industry could aim for stock levels of around 80million.
"We will steal sales from Champagne and we can grow sales by getting people to drink sparkling wine in general more often," said Justin. "We have been lucky so far in the UK that the power has been in the producers' hands because there has only been so much to sell. The prices have so far remained high, but this could change so producers need to control their own routes to market."
Finishing his session, Justin warned that those in the industry should now "dampen down the rhetoric" about new plantings and focus instead on the wines. He encouraged anyone in the room who meets potential investors, to make sure they are fully aware of the market they are entering.
Maintain premium retail prices 
To really emphasise the gravity of the situation, David Cox, ex-European director of New Zealand Winegrowers, looked back on how the region was transformed from being "the envy of all other wine regions" with producers "commanding high retail prices", to one plagued by cheap, supermarket, bulk wine sales.
"In 2008 there was big vintage, there had been more plantings and no one expected it," said David. "New and existing growers needed to find buyers for grapes, wineries were running out of space and families needed money, so prestige turned to mass. Supermarket buyers and UK importers saw a chance to cash in on this. Bulk wines went from accounting for less than 5% of exports to over 40%."
While the well-known brands refused to start discounting, dozens of own label wines started to appear and with supermarket Sauvignon blanc priced as low as £3.99, the reputation the industry had built over the last 20 years was being ruined overnight.
"All New Zealand Winegrowers could do was to start crisis management and make sure everyone was on the same page," said David. "The big brands took a leadership position which helped to introduce damage limitation. There was a lot of advice given about dropping fruit and there was a call to stop planting and this did help to protect quality. Wineries looked to go beyond Sauvignon blanc and brand New Zealand did survive, but it was touch and go."
Eventually, the supply and demand came back into balance, there were fewer bulk deals and customers went back to paying higher prices because there was an understanding of the quality.
"To protect the reputation on which the English wine industry has been built we need to keep the premium retail prices," said David. "Producers need to avoid discounting just to gain listings. A second tier Charmat sector is madness and needs to be avoided at all costs. Capitalise instead on export markets and the still wine sector, which has great potential."
This was not quite situation in Australia, however, and Mike Paul ran delegates through the lessons which could be learnt from that region in the 1990s.
"Brand Australia was sophisticated, it worked across all price points and there was a scarcity value; we used to tell the supermarkets how much wine they would be able to have," said Mike. "But then came expansion and by 2001 there was a surplus which continued to rise to over 1billion bottles of wine. This led to promotions, devaluation and all at a time when the novelty of Australian wine was wearing off. Producers were caught in the quicksand, in 2013 70% of wine sold at a loss and in 2015 85% of growers were unable to reach production costs."
Today, Australia's wine region is home to a diverse range of high quality, innovative producers, but consumers are yet to see Australian wines as premium. From this, Mike advised that anyone looking to plant should have a clear route to market, and the strategy should always be to short the market, allocating wines instead of selling.
While the supply and demand session provided a stern reality check for the industry, casting a dark shadow on the potential future of the industry if expansion continues and sales stagnate, the conference was overall extremely positive about where the UK wine industry is heading.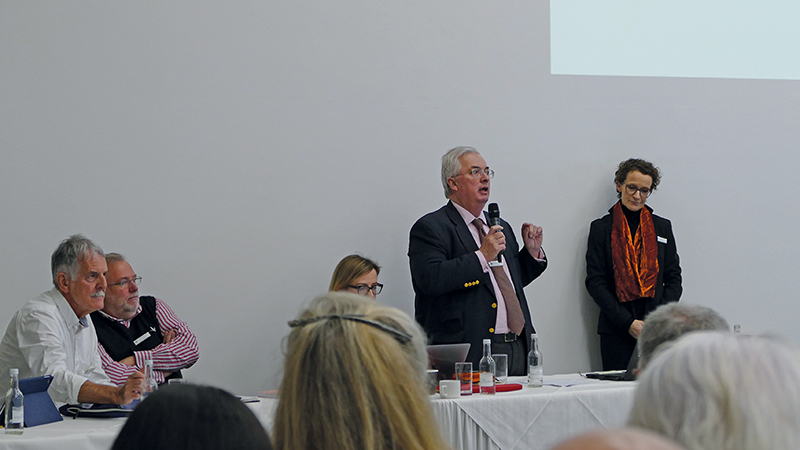 Protect brand Britain
After almost a year of planning, researching and consultation, chair of WineGB, Simon Robinson, and marketing manager, Julia Trustram Eve, unveiled the first draft of the membership organisation's proposed marketing strategy.
The initial preview of the report suggests that WineGB will be looking to tackle the name 'British wine', finally trying to take ownership of this confusing term, particularly for use in export markets. There will be an increased focus on the promotion of traditional method sparkling wine, which is considered the "jewel in our crown" and the product on which the reputation of the industry has been built. The strategy will also actively support wine tourism in the UK and the developing importance of still wines.
The generic strategy, which has been developed to ensure WineGB can better protect the provenance of English and Welsh wines while also building a global brand, is currently being reviewed by members and will be officially released and put into action from next month.
To help WineGB realise the generic strategy's full potential, Sarah Abbott MW, has been brought in to pinpoint the ways in which the industry can better present itself to increase awareness while maintaining a premium position.
Under her company Swirl Wine Group, Sarah is well seasoned when it comes to working with "underestimated wine regions" to help "underdogs" collaborate effectively to reach engaged consumers. Sarah already works with producers in Georgia, Turkey and Japan, and is now helping Julia and the WineGB team to implement a very targeted campaign which will differentiate traditional method sparkling wines.
"Collective marketing and creating a shared identity adds enduring value and differentiation," said Sarah. "As well as looking at the typicity of the country's wines, we also need to look at the hero wine style, the champion you can send in to open doors. That doesn't mean the industry should only talk about one wine style, it just allows you to cut through the market and the industry is lucky to already have this champion wine style in traditional method."
As premium sparkling wine sales are booming around the world, Sarah points out that there is great potential for the industry to grow if the industry works together, with each other and the WineGB team, to make this shared identity really powerful.
"You have to have faith in the strategy and give it some time," said Sarah. "Members of WineGB already have a range of great, diverse stories to go to the market with and the job of the overall strategy is simply to orchestrate these and to highlight the different attributes."
Rewriting English wine history
After looking at where the industry is positioned currently, with traditional method sparkling wine "just emerging onto the world stage", Sarah stressed that to establish a strong foundation based on elevated quality and prestige, the industry should stop focusing on the past.
"Producers and the press often compare the wines to Champagne, but it is crucial that the country can define its own style," said Sarah. "We also need to stop saying that the reputation of English wine was in the gutter. The industry pioneers made these explorations and worked out what was and wasn't successful. Champagne is fantastic at promoting its creation myth and the UK wine industry needs to stop being apologetic over the fact that it has taken 50 years to figure out what works here."
Alternatively, Sarah proposed that there should be a new focus on the "bold dreamers" without whom the industry wouldn't be where it is today. The industry needs to embrace that it hasn't been easy, but producers have been "chipping away" and the early development years are a vital part of the journey.
"Even with all the great wines and the increased distribution, there is still this idea that consumers will be amazed that English wine is not rubbish," said Sarah. "We have to get away from this, and you have to be able to talk about the craft, experimentation and empirical analysis which has enabled the industry to get to where it is now."
Producers were also urged to stop putting this success down to climate change with Sarah pointing out that no one should aspire to be a "poster child for global warming". Quality should again be linked to all the hard work which has been going since the 1950s.
"Having an empowered press office can counter the shallow click baiting headlines and can push out deep meaningful messages about what is actually happening," said Sarah.
In the afternoon, talks continued to focus on the potential for sales growth, with speakers drilling down on the various ways in which producers can effectively put marketing into action.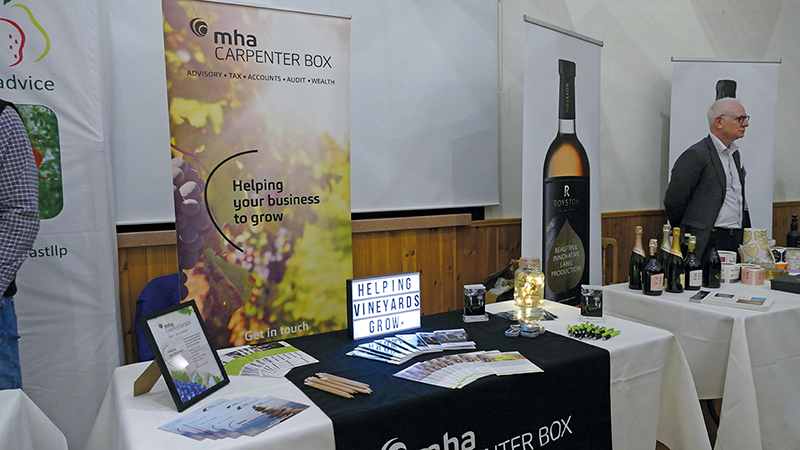 Changing face of the media
Specialising in digital communications, Geraint Watts from LocaliQ looked at the importance of understanding the customers' journey and how people can be reached more effectively with social media, search engine optimisation and a strong online presence.
"The digital landscape today is very diverse and how you access that will impact on your brand," said Geraint. "Digital advertising is worth £7.3 billion per year and producers need find the most effective ways to communicate to consumers. It is all about getting the right message out to the right people at the right time."
Messages should be "crafted" and tailored to suit the platform you are using and producers were also advised to "dig into" Google analytics a bit deeper to follow up on how campaigns are performing.
Continuing to look at marketing messages, Robert Joseph, journalist, wine producer and consultant, asked delegates to think about who their customers are; what styles of wine they are buying; when, where and how they are buying it; and finally why they have chosen that wine. Robert effectively challenged the concepts winemakers and producers think consumers buy into and the reality behind wine sales.
"Consumers don't care about who made it, or where it came from, nearly as much as we think they do," said Robert, who after starting the International Wine Challenge noticed that just because a wine tastes very good, doesn't mean it will sell. "When it comes to wine, price differences are vast, but how can we expect consumers to know which is premium? How many people on the high street actually know what terroir is? And why do wine critics focus on bone dry style wines when we know customers prefer sweeter demi-secs?"
Consumers are driven not by winemaking jargon, but instead by a variety of social considerations, such as price, including both cheap everyday tipples and bottles which are used to impress; whether the wine is organic; fashionable; something new; has a captivating label; or is local.
"Producers need to understand what they are selling and why people are buying it," said Robert. "Do their customers want to hear about soil or do they just want to drink it, do they expect a luxury package, or do they want to hear about the sustainability of the wine? On a global scale, too, we need to play on the term British and try to link up with other well-established British brands."
To gain a better understanding of consumers' motivations, Robert recommended that producers meet with the people who buy the wines as often as possible and stressed that cellar door facilities will help producers to find out what customers want.
Direct to the consumer 
Following this theme, Steve Charters MW delved into how wine tourism can increase loyalty and attract higher margin sales, but it must be done correctly.
In the same light as Robert, Steve explained that while there is an educational component to tours and tastings, this shouldn't be overdone. Most consumers want to know more about food pairings than dosage levels and producers operating wine tourism offerings should realise that they are selling a day out, above selling the wines.
"You can be very skilled viticulturally, or an accomplished winemaker but it doesn't mean that you will be good at receiving people, being responsive to their needs and providing them with the experience they expect," said Steve Charters MW. "I have seen too many wine businesses who make great wine but do not put the effort into receiving visitors."
The wine is also less important than the experience. Although consumers are very good at detecting bad wine, they are not very good at distinguishing between good, very good and outstanding. The story the estate can tell, the access to information, the level of service and the memories created will have far more of a profound impact than which awards the wines have won.
"What keeps people buying is the quality of service, not the quality of the wine," said Steve. "The key is to lock them into your estate. Only at the very end should the aim of tourism to be to sell more wine. If you offer a bad experience they may buy a few bottles out of a sense of obligation, but if you increase the service and they buy 12 bottles every year for the next 20 years, that is the success and the real aim of what you are doing."
Wine tourism strategy should also fit into the local area and producers have a responsibility to not operate in a vacuum, seeking to work with other local businesses, particularly food and accommodation sectors, to make sure everyone benefits.
Tourists are also curious to learn more about the industry and providing them with information on the English and Welsh wine scene can help deliver this. Finally, wine tourism should be a cooperative effort and like the generic brand strategy, producers should try to work together to promote their regions.
For those interested in developing cellar door facilities, WineGB will be holding a tourism conference on 26 June 2020 at Denbies Wine Estate. This will be chaired by Mark Harvey of Chapel Down and current the chair of WineGB's wine tourism working group and will include a talk from Steve Charters MW.