The family-run contract winery focusing on the magic trio.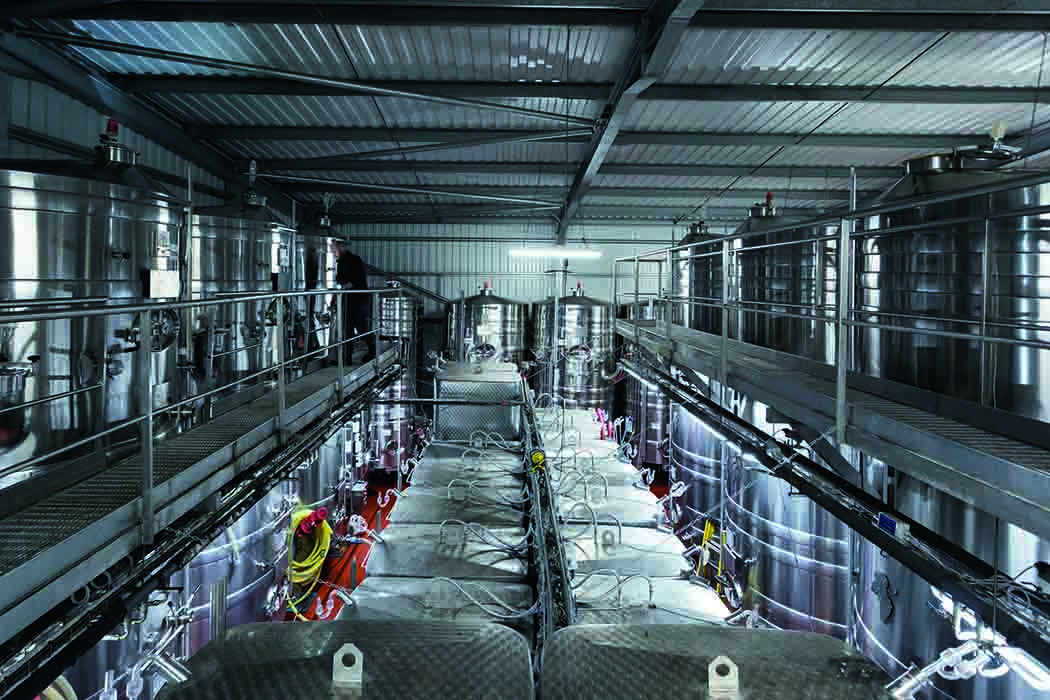 As 2019 draws to a close, we reflect on the past season and begin to look forward to the end of year festivities: spending time with family and friends; indulging in great feasts; and popping open a few bottles of our favourite English sparkling wines.
At this time of year in particular, we remember that life is for celebrating and with this in mind there was one obvious wine producer I needed to visit for my December 2019 feature.
Pulling into Ridgeview Wine Estate, the dismal rain which has relentlessly plagued the South East over the last few months was hammering at the window. Despite the weather, I was greeted with the warmest of welcomes from the second-generation of the Roberts family and Matt Strugnell, estate manager (and Vineyard magazine columnist).
Few readers will be unfamiliar with the pioneering work of this Sussex estate, which can be found just outside Ditchling Common country park. Nestled at the foot of the South Downs, the views of the rolling hills inspiring its name, Ridgeview's five hectare home vineyard, was planted in 1995 by founders Mike and Chris Roberts.
Having started his research long before the Mosses released their debut wines, and despite claims that Chardonnay would never ripen in the UK, Mike was one of the first English producers to put his faith in the magic trio: Chardonnay, Pinot noir and Pinot meunier.
Mike's visionary approach extended much further than his passionate drive to create world-class sparkling wine. In 2011, Mike was awarded an MBE for his tireless services to English wine and there is no doubt that today's industry would look very different without his dedication to the cause.
While it would be perfectly possible to devote reams of paper to remembering Mike's work, with 2020 on the horizon, it is to the future we must look. With Mike's children, Tamara and Simon, at the helm there is plenty ahead for this simply sparkling estate, which will celebrate its 25th anniversary next year.
Storage is a bottleneck
Since the first winery was built in 1997, Ridgeview has been on what head winemaker Simon Roberts describes as a "incremental journey". From initial goals of producing just 20,000 bottles per year, with new winery facilities completed in October 2019, the Roberts are now forecasting production levels somewhere in the region of 600,000 to 800,000 bottles by 2026.
"We simply cannot expand quick enough," said Simon, who tells me that the winery still struggled for space this year despite taking delivery of new tanks with a capacity of 100,000 litres. "But it is important that the business can support this. Instead of just leaping up to a half-a-million-bottle capacity, in the last 25 years we have taken a logical approach, and this has also allowed us to build confidence and gain experience."
With the latest development now complete, work on the next phase has already begun which will allow the producer to move the current grape presses, expand the tank room and add a new barrel shed.
Focusing solely on the production of traditional method sparkling wines, it is not just more tank space which is needed to future proof the business. With the estate's original underground cellar providing enough space for 250,000 bottles, storage has undoubtedly been a key driving force behind the latest investment which has seen the construction of a one million bottle capacity underground cellar.
"We had wine all over the place, one of our contract growers built a wine storage facility on their site, we were renting half a cellar from another West Sussex producer and leasing a unit on an industrial estate," said Simon. "Storage is always going to be our bottleneck, so we have also secured planning permission for two more facilities. This would give us enough space even if we wanted to double our 2026 production targets."
To meet these impressive targets, it will come as no surprise that the 5-hecatre home vineyard is not the only place from which Ridgeview source its Chardonnay, Pinot noir and Pinot meunier. As well as making wine under own-label contract for several large retailers, including Marks & Spencer, Waitrose and Laithwaite's, Simon and his team also produce wine for fellow growers and have a number of dedicated grape suppliers under long-term contract.
"We are currently sourcing from 85ha of vines," said Ridgeview's vineyard manager Matt Strugnell. "This combined with new plantings, which will soon be in production, and our contract winemaking clients will take us to just over 100ha."
Whether a vineyard is just growing for Ridgeview, or a producer is looking for a full contract winemaking service, each grower is very much considered as a partner and relationships are often forged long before vines go into the ground.
"Even before planting a vineyard, you need to have secured a home for your fruit, it is just sound business planning to know what is going to happen to your crop," said Matt. "It is quite scary how many growers phone around the week before harvest trying to find space for 50-tonnes of fruit, but of course we don't have room. While we are always happy to have conversations with people who are switched on, have the right mindset and suitable sites, we are also happy with the current number of growers we have."
Large volumes open doors
As industry concerns cumulate over the long-term shortage of winemaking facilities in the UK, both Matt and Simon agree that it is not the country's existing wineries' responsibility to speculatively create room for newcomers to the industry. Nevertheless, the increasing number of contract growers arriving onto the scene do play an integral part in helping the industry to move forwards.
"We are still allocating stock to trade customers and because we are relatively small in terms of production there are certain areas of sales which are just not open to us yet," said Tamara Roberts, CEO of Ridgeview. "We don't have the volumes to supply large chains of restaurants or hotels, for instance, but as production grows, we will be able to start talking to some of these bigger groups and there are plenty of global opportunities too."
As production has to come before meaningful sales conversations can be had, working with contract growers, who invest in and manage their own sites, is a savvy way for established brands like Ridgeview to expand without having to outlay large sums of capital.
"That isn't to say that we haven't looked to expand around here but the land is either ridiculously expensive or the sites are totally unsuitable," said Matt. "While we would consider planting another vineyard, it would have to be perfect."
Large volumes not only open sales doors, economies of scale have also allowed Ridgeview to invest in state-of-the-art winemaking equipment. For instance, up until last year the estate was home to the country's most sophisticated disgorging line which was put in to support its wider contract riddling and disgorging services. The estate is also thought to be the first English wine producer to have imported a modern Coquard PAI press.
"When we purchased the Coquard in 2007 it gave us a really good indication of where the business was heading," said Simon. "Dad always used to joke that it was his Aston Martin and without the contract winemaking we simply wouldn't be able to justify equipment like this. I love this press and the quality of juice it produces not only goes into our wines, but our contract customers too, and that in turn benefits the wider industry."
Help spread risk
Having an army of contract growers spread around the country is also an effective way to overcome the challenges of producing consistently high volumes of exceptional quality wines in an unpredictable, marginal climate such as ours.
"We have just started sourcing fruit from Suffolk, and looking to the East of England was certainly a smart move to help spread risk," said Matt. "After the infamously bad frost of 2017, we decided that instead of putting all our eggs into one basket, and just sourcing from Sussex, it was time to stretch a bit further afield. It gave us confidence that if somewhere was obliterated by frost, or if the summer was particularly wet, there would be some assurance that we would still have access to good fruit."
To safeguard quality, contract-only growers are paid depending on ripeness meaning that it is always in their best interest to grow and deliver the very best fruit they can. This, explains Matt, came into play this year more so than any other season in his memory.
"This year was very uneven and there was a big spread of ripeness, so it wouldn't be fair if a grower was bringing in clean fruit at optimum sugar and acidity levels and being paid the same as another who was on the borderline," said Matt. "We always look at the averages and I don't think I have ever seen such a huge variation as there was in 2019. It was just so tricky to try and balance the ripeness with disease pressures."
Having a diverse range of fruit come into the winery is also very important to Simon. With access to lots of small tanks, every variety, from every grower, from every different vineyard is kept separate right up until blending. The estate's largest blend, Bloomsbury, boasts over 60 different components.
"Some of our growers might have three or four vineyards, so it is important for us to be able to keep everything separate," said Simon. "We treat every single batch of fruit in the same way and this also means that those we do contract work for can be confident that they will get back precisely what they sent us."
An altruistic approach
Seeing its customers as partners and building on from Mike's legacy as one of the driving forces behind marketing group English Wine Producers (now WineGB), the Roberts continue to share as much of their knowledge as they can with the industry.
"Every season is a new learning experience and it is impossible to fake years' involvement," said Mardi Roberts, Ridgeview's marketing and communications director and Simon's wife. "Ever since we started, we have always taken an altruistic approach to the industry because we have been so intrinsically linked to its development. I am just about to head off to the WineGB marketing committee to share a marketing toolkit, Tamara is on the WineGB board, and Simon is helping to establish the sustainability protocol. Sharing with the industry is a key part of our business."
As well as working with WineGB, Ridgeview also helps Plumpton College to train future winemakers and vineyard managers, which Simon considers as one of the best ways to ensure that the home-grown wine is of a certain standard.
The relationship the team has with its growers also allows for greater knowledge sharing. Once committed to long-term contracts, growers for Ridgeview benefit from an immense amount of support, input and guidance from Matt, if required.
"With pruning, for instance, there are a few sites I spend half a day with, going through what they need to look for and by pruning a few rows with them, they will also have a point of reference," said Matt. "Some will simply need visiting post-flowering, when we can begin to look at potential yield, and we can return mid-season to do some benchmarking and again at the end of the season to look at ripeness and advise on picking dates. It all depends on what they want and need from us."
Room for everyone
While the Roberts at Ridgeview already have their sights set on 2026 and beyond, Tamara is keen to stress that they are not unnecessarily "chasing volumes". They will continue to have a balanced portfolio of sales, with tourism and cellar door sales seen as an essential way to offset the impact lower margin, high volume trade sales have on overall profitability.
Operating in one of the world's most competitive and price driven wine markets, the CEO is also looking to develop trade relationships with those who share a passion for the category.
"If you go into something based on price alone, that quickly becomes the only conversation you are ever going to have," said Tamara. "The great thing about sparkling wine is that the wines don't need hurrying through, they will not spoil and in fact they are likely to get better. Provided that you have your financials sorted, and you have effectively managed your working capital, you don't have to rush in to trade deals at the first instance. There is room for everyone and we don't want to start racing to the bottom on price. The industry just simply won't survive."