A recent trip to England by Sam allowed a few, spontaneous wine encounters for producers to evaluate Piwi wines. He is hoping to plan more tastings in the future. Here are his musings…
The outdoor Piwi wine tasting, Bockenheim, Pfalz, has been and gone, all in glorious weather. The first time that this event has been held, so it was a pleasure to find a modest range of around 25 wineries attending.
A broad number of people, wine styles, varieties, and blends made for an interesting afternoon. Sadly a few more attendees could have given the occasion a touch more vitality, but at least we could get to the wines that we wanted to try, and to meet the makers.
Some of the wines presented were being poured by another industry colleague, so it was not always possible to ask a technical question to the right person.
It was noticeable that a few of the local high profile Piwi wine producers were not showing their wines, from which I can only presume that demand for their wines is such that there is little call to attend such an event. (In the hope of picking up sales contacts.) This is very believable as certainly good wines get talked about, and as such sell out quickly.
The wines were all Piwi, that is to say that there were no wines that were made as a blend, from both Piwi and Vitis Vinifera together.
Certainly there were many inter-Piwi blends, but (elsewhere) I have noticed an increase of interesting wines recently based on Piwi and V. vinifera together. It appears significant to me that some good winemakers are seeking new wine styles by putting these two together; it works.
On the day, at Bockenheim, there were about a hundred wines to try, that were made from about 20 differing varieties. A few of these varieties were from breeding programmes worked on many years ago, Regent, Bronner and Johanniter for example, but there were also newer varieties, Sauvitage, Donauriesling, Blutenmuskateller.
Surprisingly there were about 15 examples of Cabernet Blanc, and a large number of Sauvignac as well. I shouldn't be surprised by the number of Cabernet Blanc wines available, as it is very widely planted. Indeed there are over 125 families and wine companies in this region alone that grow it.
It was good to see a couple of examples of 'Orange' wine from this variety, and they worked well; a nice touch.
The red wines wavered between a previously fairly common style of wine locally; probably a little high crop loading, but still very dark wines with lots of 'fruit forward' character. Sometimes a little high in acid so the tannin seems a bit raw.
However there were obviously some talented cool climate winemakers there, and those who had influence in the vineyard.
With a few wines ripened into the 13%, 14% or even 15% alcohol levels, a more balanced approach to skin extraction rates and a touch of mellowing oak…the wines were a delight.
Perhaps this is increasingly possible with resistant vines still retaining healthy and well functioning leaves until late in the autumn.
Perhaps the clusters have a longer 'hang time' compared to some alarmingly tight clustered Vitis Vinifera examples.
I have noticed over the years that it can take a while for people to come to terms with the Piwi characters that differ from V. Vinifera, but it was obvious from this occasion that there are many people who now know how to bring out the best. A lot of the white wines being almost indistinguishable from V. vinifera, or at least you might simply presume that the variety is new to you, perhaps a relatively obscure old variety.
However in terms of Piwi progress there are a lot of new varieties becoming increasingly available. Here, at the Freytag nursery, we have put out into the field nursery umpteen hundred thousand vines, and from about 200 differing combinations of variety, clone, and rootstock. Included in this are about two dozen new varieties, as selected for their unusually high sugars this previous autumn. A thought being that they may, one day, be suitable for the UK.
Ongoing field trials and micro-vinification comes next.
But the ever busy breeders are not sitting on their laurels yet. It is an unusually warm and early summer, so they have been here to the new variety 'Mutter Garten' in which this year's crossings are already forming on the vines.
Starting in Spain they move northwards as the vine flowers are just opening out, and they now have moved onto the cooler airs of home town Swiss mountain vineyards. An unusually large nursery programme meant that I have been unable to assist this year in the breeding work, but I hope to visit Switzerland soon to try some of the latest new variety micro-vinifications. There is always much to talk about, and many ideas to share.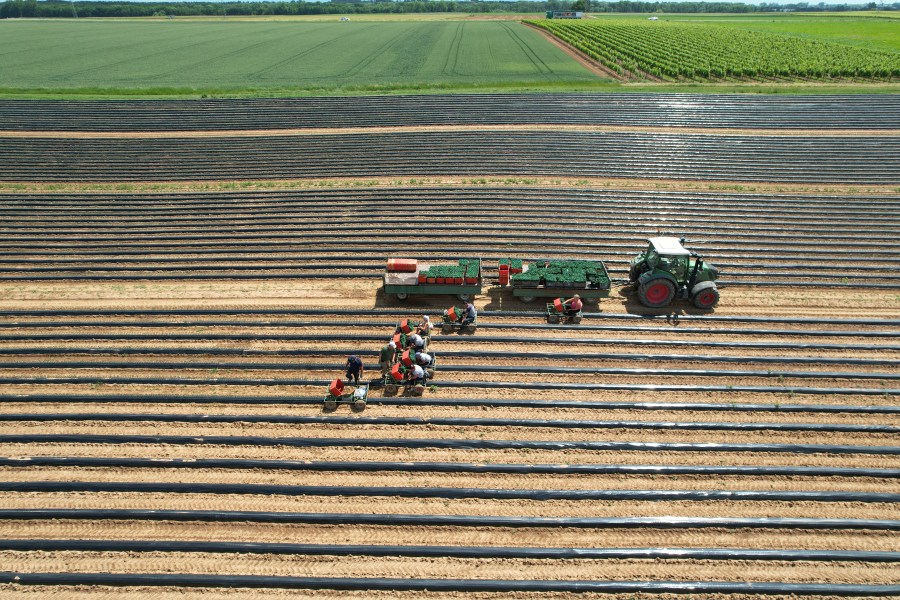 Later in the summer I am hoping to return to Moravia in the Czech Republic, Velke Bilovice is the home town of the Nestarec family.
Milan and Milan, father and son, have had a long standing friendship with the Freytag's for many years. It was through this contact that I worked a harvest there whilst Covid-19 was putting the brakes on other activity, elsewhere. Not so with the unstoppable Czechs.
Just over 250 tonnes, hand harvest, something of a break in the middle…grim weather, but more varieties than I have fingers to count with.
And they are to be part of a wine festival, a festival of 'Authentic' wines; wines true to their ideals, no compromise. Absolutely minimal chemical intervention in the wine making, natural ferments…naturally.
Lots of skin macerating and blending whites and reds, all akin to the regional traditions of field blends, and with little more 'finishing' of a wine in the cellar… other than to let it settle.
Bold, and if not that, brazen.
There is a long history there of getting a sound winemaking training, with an old wine school and research station close by.
There are amazing table grapes too and a creditable approach to vine breeding, with some people.
All together an interesting combination of tradition, yet innovation, a sound knowledge of vines and wine, yet people are seeking to express their uniqueness whilst also creating a new wave of wine styles. Stimulating.
I've just gotta go.
"With the final field planting of this year's young and grafted vines, I tidied up my corner of the workshop and drove back to the UK.
This was to be a combined holiday break, but also an opportunity to see what is happening in the UK, and to engage with some growers and wine makers.
To facilitate this numerous sample wines were also packed to travel with.
For any prospective tastings I always favour commercial examples of new varieties, because they accurately demonstrate both varieties and styles that are already being put to good use.
As such there were Cabernet Jura Rose sparkling wines, and a similar Cabernet Blanc, with a 'Secco' from Scheurebe and Cabernet Blanc.
There were also still whites from Rinot, Donaureisling, several Sauvignac wines, and a few Cabernet Blanc, one being a barrel ferment. In reds, only ones selected from known early ripening varieties seemed suitable; Pinotin, Cabaret Noir, and some differing Cabertin.
I had written to Martin Vickers of Halfpenny Green Wines, a very central location and a company with many connections. Martin was happy that a Piwi tasting was to be held at his place; Thank you Martin!
He contacted some people and I wrote to numerous others. Come the day however turnout was subdued. I don't know why it is that good new wines are so difficult to present to the UK wine industry, but that was the way it was.
His team both enjoyed and learnt from the wines, as did a few others who had made the travelling effort. However, sadly, it was decided to cancel a further tasting over Essex way as so little positive feedback was received.
Travelling through or around the UK makes for a rather 'hit or miss' series of events to occur. Positively I was pleased to stumble upon a second year vineyard, just west of Stamford, in Lincolnshire. This was The Rutland Vineyard, (being just over the county line,) and they have ambitiously planted quite a sizeable block of Cabaret Noir. I will be watching this company closely now as I feel that this is going to be very interesting in years ahead.
I heard that they wished that they had planted more Piwi; good people!
We swapped a few differing wines and perhaps I might be able to hold a tasting there in times ahead, I hope so.
Sadly the run down south to the ferry was during the weekend, so it was not possible to cross paths with Defined Wines, Canterbury. I've always found that Henry (Sugden) keeps an open mind and is quietly supportive of new ideas.
So then the ferry was caught, and I went back to completely different thinking; on the other side of the road.
Back in the UK later, another Essex based Piwi tasting… I hope. Perhaps a cellar team members position during harvest. Then the Vineyard & Winery Show in November.
A busy, busy year in progressive times for "Whats new, what's different and what is better!"
Exciting times in viticulture.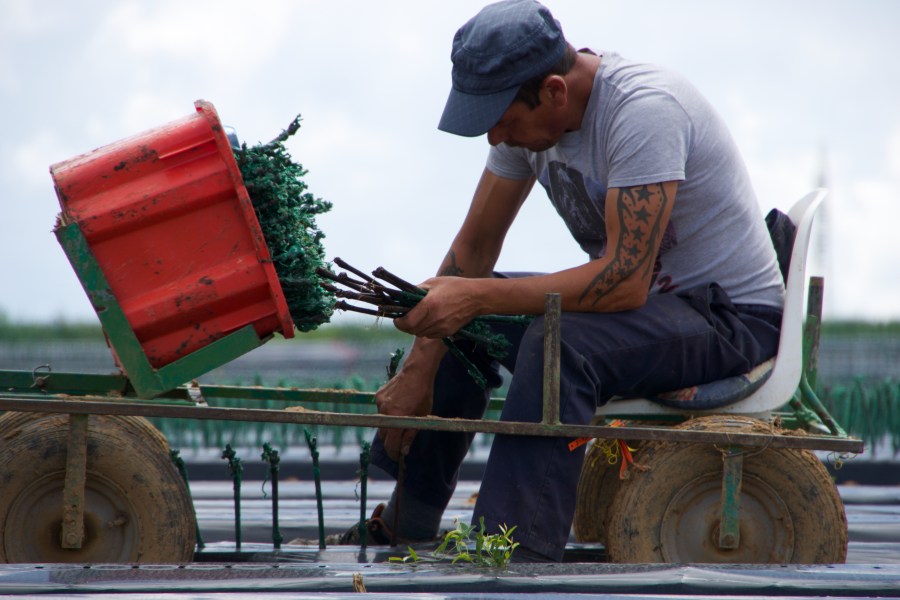 This story was taken from the latest issue of Vineyard. For more up-to-date and in-depth reports for winemakers and growers in Great Britain, read our latest issue here and subscribe here.