With the quantity of grapes being grown in the Crouch Valley "increasing hour by hour" in the words of one grower, it was only a matter of time before someone decided to locate a contract winery in the area.
The good news for growers in this particularly grape-friendly part of the Essex countryside, to the south east of Chelmsford, is that the 'someone' in this case is Itasca's Malcolm Walker, whose track record in the industry is second to none.
Itasca already runs a highly successful contract wine operation at Penn Croft Winery in Crondall, Hampshire, and it is that model that Malcolm is planning to replicate in his new Essex venture, being delivered in partnership with Nick Speakman's Missing Gate Vineyard.
And the extra slice of good news is that Itasca's head winemaker Ben Smith, whose reputation for making top quality wines continues to grow, will also take charge of the winemaking team at the Essex location.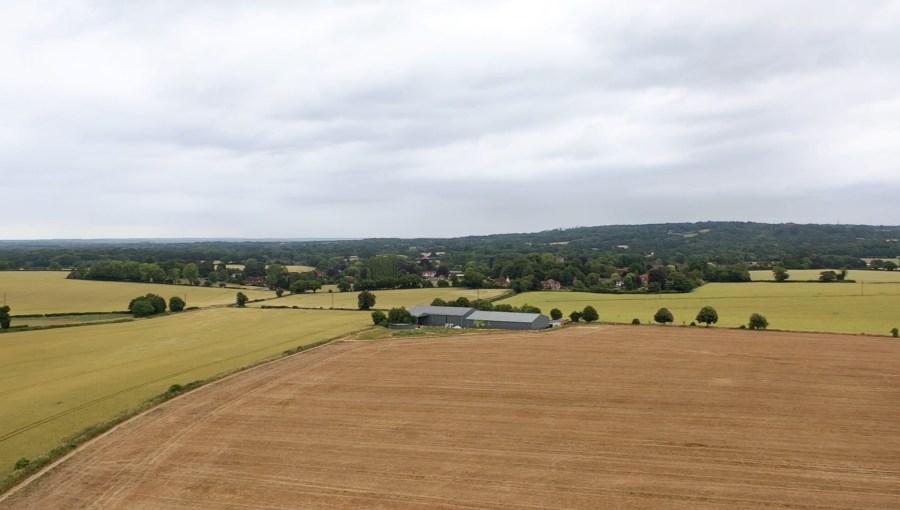 It's also worth noting that the Missing Gate Winery will be kitted out specifically to make ultra-premium still wines, with the equipment and layout all focused on this ambition and, in winemaker Ben's own words, "no compromises" allowed.
In the spirit of cooperation and teamwork that surrounds the Crouch Valley plans, the Itasca and Missing Gate partnership will also be working with top local viticulturists whose experience of growing grapes in Essex's heavy clay soils will make a significant contribution to the venture.
The new development is part of an ongoing success story for Itasca Wines which began when filmmaker Malcolm planted vines at Penn Croft Farm in partnership with farmer and landowner Simon Porter so that he could film the venture as a follow up to his Cellar Rats TV series.
After planting the vines in 2018/19 Malcolm realised that the boom in vineyards in the South East was quickly outpacing the number of facilities able to turn the grapes into wine. Spotting a gap in the market, he built Penn Croft Winery and quickly made Itasca the go-to contract winemaker for the area around West Sussex and Hampshire.
"That imbalance between the number of grapes being planted and the number of wineries able to handle them is just as apparent today, and the interest being shown in the Crouch Valley area means there is a real opportunity for a quality winemaker to fill the gap," said Malcolm.
Never one to miss an opportunity, Malcolm has now leased land at Missing Gate and plans to start work at the turn of the year on a £3m investment in a facility that will initially be able to cope with a throughput of 1,000 tonnes of grapes but will be built on a modular system to allow increased capacity in future.
The ambition is for the winery to be ready to receive its first grape harvest in September 2024 – and customers are already signing on the dotted line.
It was after fitting out the Penn Croft Winery that Malcolm spotted the need for a distribution and installation company serving the industry and set up Itasca Technical Services, now a thriving business that can supply and install the whole range of wine-making equipment, from tanks and presses to bottling lines and additives.
Meanwhile the winery at Penn Croft is at full capacity, having achieved its 2024 target of handling 600 tonnes in the current year, a full 12 months ahead of schedule.
Expansion is planned at the Hampshire site, too, with a new warehouse about to be built. "The existing 10,000 sq m warehouse is close to capacity and by the time we have bottled another couple of hundred thousand bottles it will be full by Christmas," Malcolm explained.
Itasca is also making the most of the potential for wine tourism and has just opened Penn Croft Cellar Door, a project Malcolm has spent the past six months working on. The result is a comfortable new dining and wine tasting area that will be at the heart of the tastings and tours that are proving increasingly popular at Penn Croft.
The facility will offer charcuterie, cheeses and other light snacks alongside wines to taste and buy. "We are becoming increasingly busy, with two tours a day catering for six to eight people and that number increasing all the time," Malcolm said. "We had been operating out of the barrel store or, more recently, a marquee. The cellar door will have a more relaxed and comfortable feel."
Malcolm, who has a background in TV and music as well as film-making, has also partnered with a company called 8Ray and will be staging concerts and other musical events at and around the winery.
It adds up to an exciting and multi-dimensional company, and the expansion into the increasingly popular Crouch Valley will further enhance Itasca's reputation in the industry.
The expansion is being carried out in partnership with U4EA, a winery investor that said in a statement that it was "looking forward to supporting its growth in this major new development".
The statement went on: "It is likely that such a partnership, among others, will lead to an eventual flotation for U4EA PLC in 2024 to aid its expansion. U4EA has been delighted with its growing involvement with Itasca Wines and sees a bright future as the English wine industry continues in its growth."
The Crouch Valley is proving increasingly popular with growers, a trend highlighted by the recent announcement that Jackson Family Wines is planning to become the first US grower to invest in the area, a first for the UK and an exciting development for English wine.
Gusborne CEO Charlie Holland, who has been appointed by Jackson Family Wines to take the project forward, has been quoted as saying that the purchase of a 26-hectare plot in Crouch Valley, Essex should be completed by this September.
"It became obvious that a winery on the Itasca model in Hampshire could do very well and it's something we have been discussing with Nick over the past year," said Malcolm. "I'm delighted that we are now able to go ahead and that we will be building on our already strong partnership."
Winemaker Ben revealed that the link with Missing Gate began when Nick Speakman put out an email looking for someone to make a still wine from his Pinot Blanc. Ben and Itasca were happy to help and Missing Gate Pinot Blanc 2020 was named as white wine of the year in the England 2022 special report by Tom Hewson. "It was also recognised by Vineyard's own Matthew Jukes as the best Pinot Blanc ever made in England," Ben added.
Nick was full of praise for the winemaking skills of Ben Smith, pointing out: "He has made us some spectacular award-winning wines from our grapes. Itasca have been our only winemakers since we started the vineyard in 2018 and we are delighted to be working with Malcolm and the team on this project."
Missing Gate is currently planted with Bacchus, Pinot Blanc and Sauvignon Blanc, with the vineyard's first Chardonnay and Pinot Noir expected to be planted later this year or at the beginning of 2024. Nick said that the aim was to double the amount of land under vines from 100 acres to 200 acres over the next three years.
"The winery will be an amazing facility for us but, more importantly, it will serve the Crouch Valley as a whole. As a contract facility it will be available for all the growers in the area, and with the number of vines seemingly increasing hour by hour it can't come too soon," he went on.
Nick, who owns a US-based food technology company called Food Physics Ltd which specialises in pulsed electric field (PEF) applications, which could be used to extract more colour and flavour from grapes and help the fermentation process, planted his first grapes in 2018, referring to the experience as "a bit of a gamble" – but one that clearly paid off.
Alongside the Chardonnay and Pinot Noir to be planted in the next phase, he also plans to grow more grapes for "larger volume, good value wines to give Missing Gate a broad product base". He added that he was "delighted to be working with someone as professional as Itasca".
Crouch Valley's popularity with growers, he commented: "We have always called this area 'the hot hills' because we enjoy long hot summers, with the weather often staying dry until October. It's ideal for ripening fruit."
Ben, who will remain in charge of the teams at both the Hampshire and Essex facilities, said that while the Hampshire winery would focus on sparkling varieties, Missing Gate would aim to set new standards in still wine making.
"The good thing is that we have full lab, bottling and packaging facilities in Hampshire which will act as a bridge between the two venues and unify the teams," he said. New staff will be appointed to the Missing Gate site in good time for them to be trained in 'The Itasca Way' so that they can "hit the ground running," he added.
Missing Gate wine will be made in the new winery but will still be bottled at Penn Croft.
The focus on "ultra-premium still wine production" at Missing Gate will mean nothing but the best equipment to cater for hand sorting, including a basket press and sorting table. Ben expects to focus his skills on Pinot Noir and Chardonnay but may include Pinot Blanc and Sauvignon Blanc varieties.
"We will have the right equipment for still wine making from day one, with no compromises," he pledged. "It will set us apart from most English wineries, but we have the advantage of being able to use Penn Croft if we want to make sparkling wine."
Both Ben and Malcolm are aware that machine picking will become increasingly important over the next few years, particularly given the Brexit-fallout labour shortage, and a separate work stream will allow machine-picked fruit to be dealt with alongside the high-end vintages. "The aim is to produce both ultra-premium and high quality volume wines," Ben explained.
"I'm really excited about the prospect. I've been making wines from Essex fruit for the past three years and they have been highly acclaimed so I can see the potential. Having a specialist facility in the region that is focused on making the best of the quality of grapes grown in the Crouch Valley will be an amazing step forward for English wine."