I read a tweet from a fellow wine writer the other day.  He is someone I very much respect in our industry and he said, 'Why isn't the trade – and consumers – more excited about English wine? Is it dull? Inconsistent? Not as good as we think?'
Of course, this is the point of Twitter – say something contentious and then sit back and watch the pile-in. He knows he is poking a hornet's nest, which is his point. 
We all need to talk more, engage consumers more, stop hiding our light under a bushel, and sing about our very best wines. As you know, faithful reader, I have been doing this for decades, not least in this wonderful magazine, but the main issue here is that while we all have fantastic stories, we need to tell them more often and with a lot more conviction. 
Stand out from the crowd, show your personality, and be brave – these are topics I have covered on this page over the years. Some more established brands work hard to differentiate themselves from the pack, while others refuse to conform. Some buck the trend, others look to the future, and to my mind, the most exciting innovators in our business enjoy pushing the envelope. 
Many years ago, I remember an Aussie winemaker telling me he had to run fast to stand still. I could not agree more. You only have to look to one of the most reliable and sagacious personalities in our industry, Bob Lindo, at Camel Valley, to see how much effort this family puts in to forging forward with unrelenting energy and commitment presenting calm, controlled, and sophisticated wines. As a Hollywood actor once said, it takes a lot of sweat to look this laid back. 
This month's theme looks at an established brand, a relative newcomer, and also a bright and shiny toddler to give inspiration to all wineries in our land to go a little bit further than might feel comfortable in the hope that communicators and consumers alike recognise the skills involved, take the plunge, buy a bottle and, crucially, come back for more. Pushing the envelope doesn't mean taking risks but performing at your very best, plus a little more.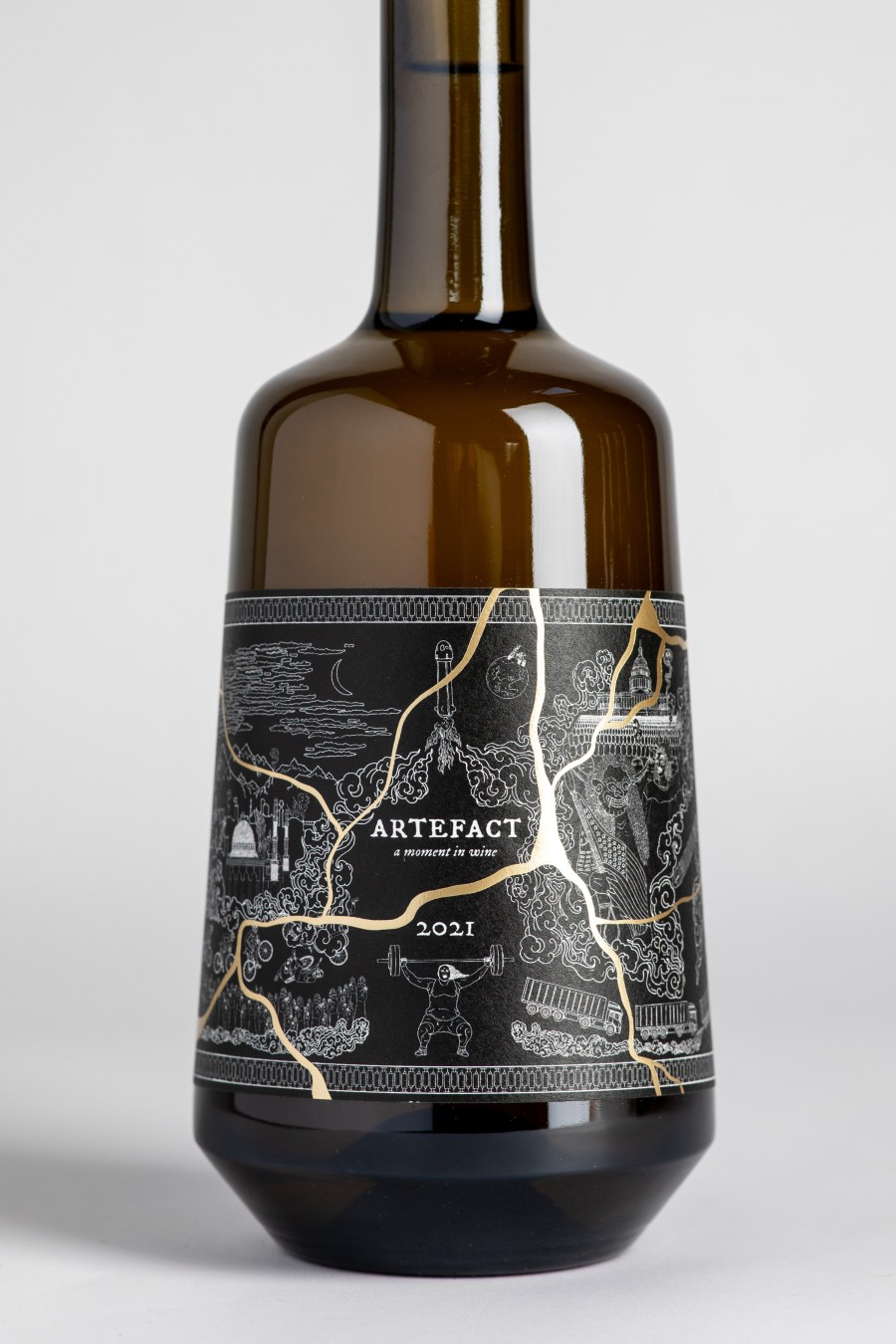 2021 Artefact, Castlewood Vineyard, Devon
£22.00 www.castlewoodvineyard.co.uk
£26.00 www.forestwines.com 
We are three vintages into the Artefact story, and while I have yet to taste the 2019 or 2020, I can tell you that this new 2021 release has more attitude than a pallet of run-of-the-mill Bacchus found elsewhere. Born of restless experimentation (an 'envelope-pushing' synonym), Artefact comes from a small plot of Bacchus clone GF1 vines lying west of block HH on the Castlewood property.  
The grapes were crushed and destemmed into four 300 litre Tuscan amphorae. Twenty-one days of skin maceration was followed by indigenous fermentation and 11 months of lees contact. It was then racked into a stainless steel tank for a final three months. The label tells the story of the vintage, with curious etchings of the world rebuilding after the pandemic, following the Japanese art style of kintsugi! See for yourself the vaccine rollout, the bike crashes at the Tour de France, lorries backed up outside Dover, the sad passing of Prince Philip, the ice cap melting, the Mars rover, and Jeff Bezos' space race! 
The bottle alone is arresting and unforgettable, but the wine… Orange blossom and blackthorn crowd the palate, and a bizarre, marzipanny texture is followed by a brutally dry finish. While the socks-and-sandals brigade will go nuts at the ancient and modern worthiness of this experience and, admittedly, this might have been a step too far for my innocent and unsullied palate, I bloody love it. It is a Tarantino of wines – with an extrovert, audacious, devil-may-care attitude, and it works. So I say to creators Rob Corbett and Luke Harbor – 'the envelope has been pushed and pushed well.'
2018 Wiston Estate, Rosé, South Downs
£54.00 www.wistonestate.com 
We all know by now that 2018 was a terrific vintage in the UK. It gave our industry a large and ripe harvest – the magic dice of ingredients for success. 
This wine is one of the many successes in 2018, but it is more than that. It was whole bunch-pressed into old French oak barrels for fermentation and nine months later bottled and lees-aged for 42 months. A blend of 80% Pinot Noir and 20% Pinot Meunier, the resulting wine is one of the most quietly disruptive and punkish rosés on the market. Yes, demure, elegant, and sophisticated Wiston has made a rock 'n' roll rosé with a dark colour and a powerful, rich, and full palate. 
This vinous and combative wine stands tall in a world of pale, weedy, undernourished wines. It challenges the palate, demands great food, and would only like to be opened for people with sufficient Wine IQ to cope with its exquisite flavours. 
This is not an envelope-pushing wine; it is an envelope-shredding wine. Its best years are ahead of it because it has serious potential thanks to the acid engine underpinning the glorious bittersweet red berry fruit. I love this wine, and I hope other wineries take note because this style of rosé will bring droves of wine-savvy people to their knees.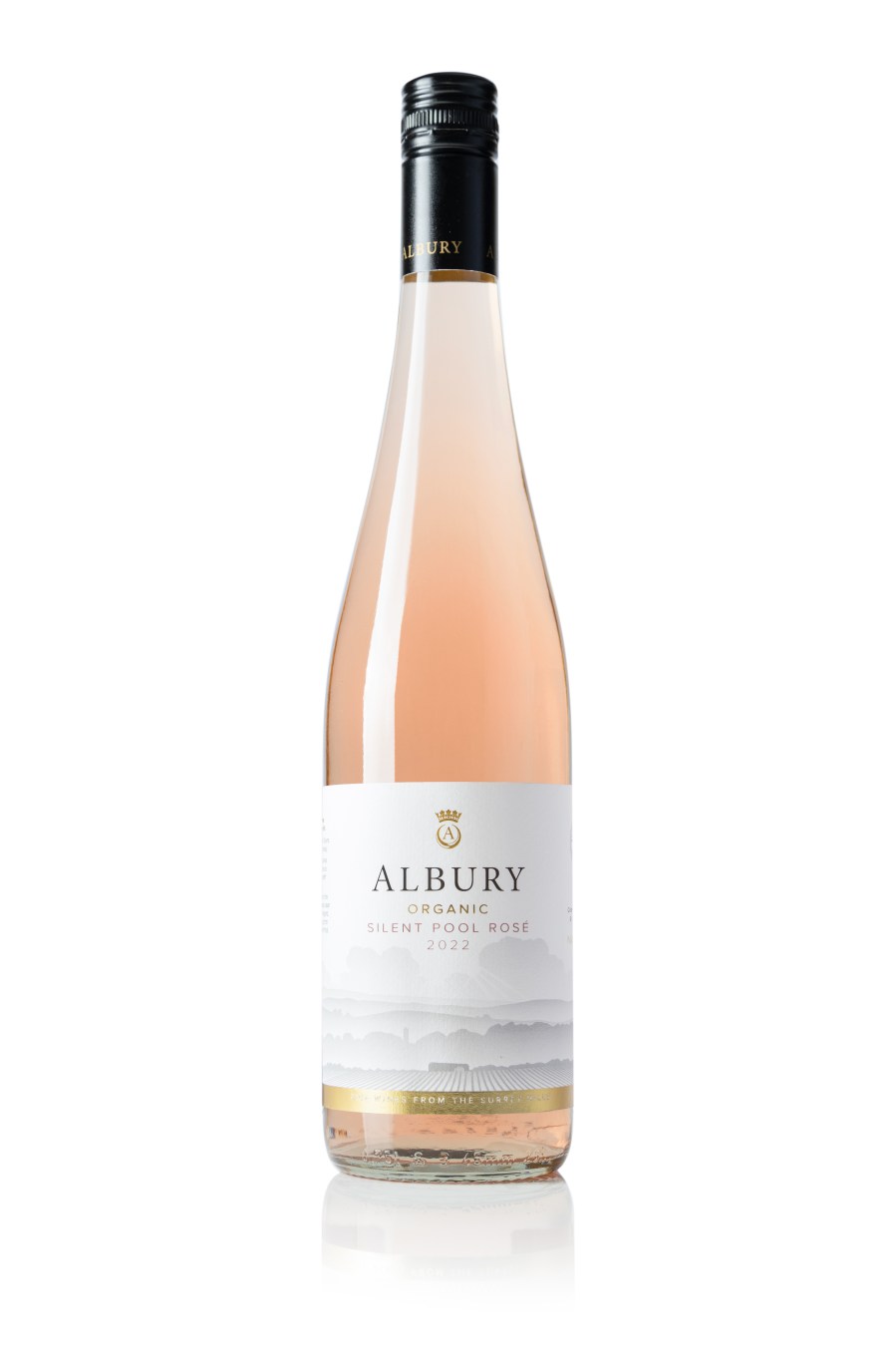 2022 Albury Organic, Silent Pool Rosé, Surrey Hills
£19.95 www.alburyvineyard.com 
I am a massive fan of this wine, and we featured the 2017 vintage four years ago on this very page. So why is this wine, one that people might think is a conformer and not a rebel, part of this trio? The answer is that along with the neat new label tweaks, there ought to be a warning.
This is not an easy drink. It is not an innocent glugger. It is not a wine for beginners. While it starts with a hint of raspberry coulis on the nose, and a silky-smooth texture follows, the finish here involves so much tension and drama that you must sign a disclaimer before you are allowed to pour yourself a glass. The super-bracing herbal finish makes this a roller-coaster ride of excitement that puts it at the top of the English Rosé league table. 
In addition, this wine has supreme ninja skills with all manner of global cuisine. Every Michelin star outfit in the UK take note. Silent Pool is a silent assassin, scared of no one and always on point. And when you take your parochial hat off and stare out at the big bad world, nothing changes – this is a sensational wine on a world stage. Envelope obliteration complete.