As the old joke goes, wag one asks, 'What time is it in New Zealand?', wag two replies, 'About 20 years behind Australia'.  I have decided to write about Welsh wines this month and I refuse to adapt this joke as much as I am sorely tempted to. 
It was easy enough to find three wines to feature below and opposite. I actually wrote up a wine from Ancre Hill Estates seven years ago, so I have always had one eye on the progress of  Welsh wine even though the wine business is a fraction of the size of the English wine scene.  
Having said this, this month's delivery of cutting-edge content might not be as forensically assembled as I would like. My main gripe is the rather nebulous stockist information I have for the various wines.  
Devon Tipping designs Vineyard Magazine and she manages to make my sow's-ear-content look silk-purse-like each month, and I would rather stick to our stylish and tried and tested formula, but this month Devon and I are both way off piste.
Instead of listing a simple winery website and having the ease of knowing what the price of each wine is and the convenience of a one touch purchase option, I have been given a host of delis and assorted victuallers who may or may not sell the wines because the vast majority of them don't post their wine lists online.  
So, this month, good luck, these are all superb wines, worthy of your attention, but the infrastructure and experience needed to build confidence in supply and ease of purchasing leaves a lot to be desired. 
In Wales's defence, the wines that I have picked are all excellent and they are unlike anything that I have tasted from the English wine landscape. There is skill here and also the willingness to experiment and bravely take on challenging styles which will bring even more diversity to our national vinous offering. 
For my part, I hope that every single retailer here does indeed stock the wines featured and that this column manages to send some traffic into these shops to push stock through and reward these talented wineries with much-needed sales.
NV Blanc de Noirs
Ancre Hill Estates, Wales 
£45.00 approx
www.fortnumandmason.com www.theremedylondon.com www.noblerot.co.uk www.vagabondwines.co.uk www.bintwo.com www.fieldandfawcett.co.uk www.lokiwine.co.uk www.vinovero.co.uk www.blasarfwyd.com www.cheerswinemerchants.co.uk www.marchesdeli.co.uk www.mumblesfinewines.co.uk
Richard and Joy Morris' operation is certainly impressive. They are both certified organic and also biodynamic and the vineyard is now 12 hectares. It is estimated that they will be making 100,000 bottles of wine, from their own grapes, on site in their winery by 2021. 
Some of their labels are way out there. Orange Wine #2 is a step too far for me, but Shoreditch trendies will lap it up. A 2014 Chardonnay is quiet, nicely-weighted, Demeter-approved and delightfully calm. 
My featured sparkler is organic, bottled in November 2018 with 'Dosage Zéro' and it is fantastic. Rich and deep with a formidable Pinot noir-driven theme there is a low-throb of profound fruit here making this a gastro-friendly wine as opposed to an ephemeral aperitif style.  
Wild strawberry and sloe notes run the length of the palate and there is a strict acid line which will no doubt ensure that this wine will mature well, too. You would be well-advised to check this wine out – it is a very assured piece of winemaking.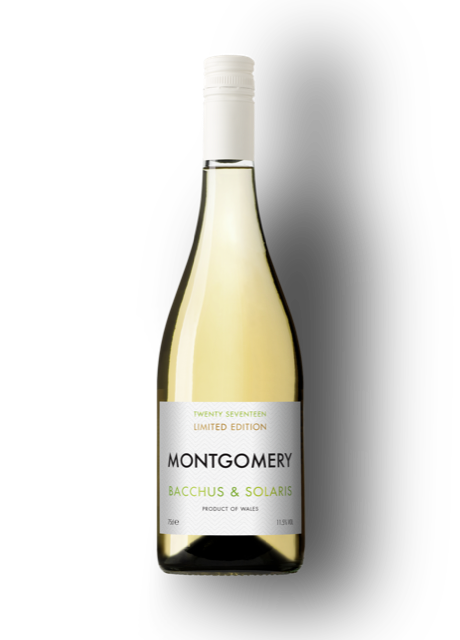 2017 Bacchus and Solaris Limited edition
Montgomery, Wales 
£20.00 approx 
www.checkerswales.co.uk www.castlekitchen.org www.thehighstreetdelicatessen.com www.tuffinsonline.co.uk www.cheerswinemerchants.co.uk www.thewhalleywineshop.com www.latitudewine.co.uk www.albionwineshippers.co.uk
I liked the 2016 Montgomery Solaris a year ago, so I called in both the 2017 Solaris and my featured Bacchus and Solaris blend for a taste off. After a good chat with Montgomery vineyard manager Denise Lennard, we hatched a plan for me to also sneak a peek at a tank sample of the 2018 Solaris, which was apparently showing early signs of being a cracker.  
I am excited to report that the 2017 Solaris is an even more complex and rewarding wine than the 2016, but I wasn't expecting the 2017 Bacchus and Solaris blend to be an even more accomplished effort with Bacchus adding tension and zestiness to the languid, silky Solaris chassis.  
I have not seen this blend in action very often and there is definitely something here, with these grapes snugly fitting together and working in harmony. Track this wine down – it is set to be a favourite this summer. 
In the event that it sells fast, and you are offered the 2018 Solaris, which will be bottled soon, you will be in for a treat. Flashes of honeysuckle and pear, fluid and textural, with raspy acidity balancing the whole make this the finest Solaris I have tasted to date. The future seems bright at this dynamic winery.
2014 1581 
White Castle, Wales
£26.00, half bottle approx
www.whitecastlevineyard.com www.beaconsfarmshop.co.uk www.marchesdeli.co.uk www.cashells.co.uk
There is every reason to try to stand out from the crowd, but I didn't expect to taste a 'Port-shaped' wine when I met White Castle's owners Robb and Nicola Merchant. In 2014, these pioneering folk set aside one barrel of Regent, fortified it, bottled it in September 2017 and first released it in December that year.  
With eighteen months of bottle age under its belt, this wine is looking good and while only 500 bottles were made, there is still some stock out there, so hurry!  
Named 1581 after their Grade II listed Croft Barn, which the couple restored in 2015, this wine most reminds me of the French fortified wine style, Maury, but with an extra level of sweet, plum juiciness, cola tones and bramble jelly notes. 
While this is a fruity number, it is also tangy and carefully balanced and I venture it would adore being matched to top level Welsh cheeses like Celtic Promise, Rhyd y Delyn's Caws Caled, Pwll Mawr cheddar or Hafod. Finally, it must be the finest 'blind wine' to serve to your most pompous wine pal as there is a 'snowball's chance in hell' that they will get it right!