It's not a new thing – urban wineries. There are some superb examples in Australia where the fruit comes in to the wineries from hours, and sometimes days, away and they manage to make epic wine. It's not a question of transporting grapes; we know how to do this. London Cru has made delicious wines from grapes transported from the Languedoc, Limoux and Calatayud, in Spain, so distance from harvest is not a factor here. These foreign wines and foreign wineries don't concern me this month though. 
Today I am writing about urban wineries in our own city jungles. Now, these are new concepts, just as our own wine business is still only a toddler in the greater scheme of things. I have picked the three hero London wineries to focus on and while their wine styles could not be more different, there are a number of similarities between these brave, new alchemists.  
Using carefully developed relationships with grape growers and wineries who are prepared to sell parcels of grapes, these daring individuals have decided to move into the centre of their market rather than sit on the outside of it and engage directly with their consumers, both trade and private clients. 
This is intriguing because small wineries, like distilleries, in unlikely places, are always fascinating places to visit and when you have mercurial winemakers at the helm, who communicate with enviable fluency about their creations, you are sitting on turbo-charged marketing machines. 
Of course, scale is often a problem and therefore cash flow is sometimes tricky, but with regular orders, clever business acumen and great stories these trailblazers could win big. In addition to the compelling mantras they chant, these people also make good wines. This has not always been the case, but today all of the ranges from the wineries mentioned overleaf are thought-provoking and rewarding.  
The obvious link between this trio is superb, characterful, winemaking skill, but when you combine this with stunning labelling and reasonable prices, I don't know what can hold them back. Hand crafted wine in a city centre might always seem an odd concept, but after tasting their wines I think it is going to be a vital weapon in the English wine armoury.
2018 PÉT NOT
Vagabond Winery, Battersea 
£18.50
www.vagabondwines.co.uk
While I like this wine, I don't actually love it. Not yet anyway. It is a like a new Radiohead album. Painful for the first few listens and then it begins to make sense. Winemaker Gavin Monery is an experienced urban winemaker and I think that he sets himself a challenge when he makes this wine. He wants it to ask as many questions as possible without giving any answers away.  
It is light-hearted, playful and uplifting, while at the same time being irreverent, combative and irritable. In Gavin's words, 'it is a traditional method sparkling wine with no added sulphites that's not disgorged'. Well that makes sense, I think.  
Only 83 cases were made and they will inevitably be lapped up by adoring fans any minute now when it is released, but while this is a very young, raspy, sparkling rosé with a yeasty tang on the nose, it is also a vinous two fingers up to convention. I rather like that, and I venture I will love the wine next time I taste it, too.
2017 Chardonnay
Painter of Light
Black Book, Battersea
£18.50
www.blackbookwinery.com
It must be said that this was one of the fastest and also most impressive winery visits I have conducted in my life. I live in Battersea, so it was a doddle to get to winemaker Sergio Verrillo's railway arch. Unfortunately, I was moving at speed but that didn't stop me tasting every wine he makes and also a good array of barrel samples, too.  
It is clear that this chap knows exactly what he is doing, and this is not surprising given his impressive CV. I love the attention to detail here. Complex blending, clever use of oak formats, coopers and toasting, sensitive winemaking, maximum respect for his parcels of fruit and stunning labels all add up to one of the most exciting new brands I can think of.  
My chosen wine, a first release Chardonnay, wine comes from 11-year-old vines in the Crouch Valley and it is bright, tangy and lifted on both the nose and palate. Having worked for De Montille, in Burgundy, Sergio has an accuracy with the flavour and tension in this wine which is sensational. I got too excited when he said, 'every ferment has its own kinetics'. He gets it.  
Underpinned by scratchy salinity and haunting fruit this is a must buy for all fans of discreet, precision-made Chardonnay. Oh, and his 2018 Pinot Noir and Chardonnay barrel samples look epic, too!
2018, Rosaville Rd
Pinot Noir Rosé
LDN CRU, Fulham
£15.00
www.londoncru.co.uk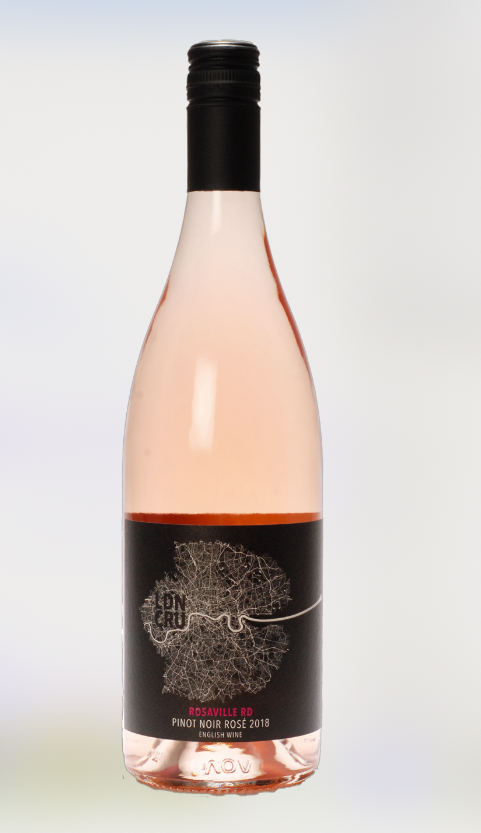 Winemaker Alex Hurley showed me his full range of wines at London Cru and I liked them all. Gavin Monery made the older ones before he moved to Vagabond, so I naturally wanted to choose an Alex wine, not least because they were the English ones anyway!  
I loved the 2018 Bacchus (£15), with its floral clarity, calmness and lack of raw nettle notes, which people still think is a good flavour(!) and this wine could have reasonably taken top spot in this column. It is the grape that they concentrate on and this new vintage is a star.  
But when he opened this rosé I was immediately converted. Made from Pinot Noir coming from Greyfriars, in Surrey, this is a real treat with lean, focussed fruit and white wine-shaped delivery. It is amazingly thirst-quenching and also beautifully subtle and sophisticated.  
Another wine with an incredibly stylish label, there are only 2700 bottles to go around, so hurry along. This is a classic summer stunner and I wouldn't even bother to look at a Sancerre rosé for at least twelve months!