In wake of climate change, the accepted wisdom about the latitudes where the very finest sparkling wines can be grown is slowly shifting too. Still wine is also experiencing changes, and the English and Welsh market looks set to match its most well-respected rivals in terms of quality and reputation in the near future. Production volumes across the United Kingdom are way up too. Some industry leaders project a quadrupling of output within 20 years.
Big numbers and big growth attracts big names. The deserved respect for British grape growing and winemaking is drawing investment from some of the most venerable names in the wine industry. Notably, this includes some of the oldest Champagne houses, already no strangers to foreign investment. Moët & Chandon, G.H. Mumm and others have been producing sparkling wines in California since the seventies, in parallel with that region's own rise to prominence on the global stage.
Now we are seeing similar moves on British soil. Research published in OENO One in July 2022 not only highlighted the increasing suitability of the UK climate for the production of high-quality sparkling and still wines but also gave a detailed insight into the areas of England and Wales that will be best placed for wine production over the coming decades.
In 2015, Taittinger became the first Champagne house to plant a vineyard in the UK. Domaine Evremond, a 70-hectare estate in Kent, was purchased in partnership with UK wine distributor, Hatch Mansfield. Taking advantage of the chalk sub-soil which has the same geological structure as parts of the Champagne region, Chardonnay, Pinot Meunier and Pinot Noir have been planted. The first vintage is slated for commercial release in 2024.
Domaine Evremond is named for the 17th century poet and epicurean, Charles de Saint-Evremond. He fuelled the popularity of Champagne in England when exiled from France and is buried in Poet's Corner at Westminster Abbey. The Evremond team are building a winery on-site, but it is not due to be finished until November, so their wines are currently vinified at a temporary facility.
Read the research:: https://oeno-one.eu/article/view/5398
Cause Célèbre
Of course, the wine world isn't just attractive to those already within it. We have seen celebrity collaborations popping up across the globe in recent years. From Kylie Minogue to Kurt Russell, Gary Barlow to Snoop Dogg, it's very much in vogue to have your name – or your face – on a wine label.
One of the first, and most interesting, partnerships that paved the way for all the rest is New Zealand winemaker Invivo's work with Irish TV presenter, Graham Norton. After hearing Graham was partial to a New Zealand Sauvignon Blanc, they invited him to make a wine together in 2014. Invivo founders Tim Lightbourne and Rob Cameron even flew some grapes over for him to personally tread (or 'stomp' in the local parlance!)
From a first run of 14,000 bottles, they have now sold more than 18.5 million bottles of GN wine worldwide with Graham now assisting with the blending and owning shares in the company. This year, to celebrate the 10th vintage, they made a film of Graham tasting and blending with Tim and Rob to show that their co-star is genuinely hands-on with the process.
"Graham is so involved in the process," co-founder Tim commented. "He personally tastes, blends and signs off on every vintage with us and he has a great palate. It's always a blast coming together and making great wines."
"It's surreal thinking that our little collaboration together started out all those years ago with just one New Zealand Sauvignon Blanc," Graham adds. "And now it's all over the world with ten wines and spirits. I don't just put my name to the wines, I'm happy to be so involved and I love being part of the process. It really shows we're building the GN wine brand for the long haul."
Top of the Pops
Household names collaborating with specifically English winemakers is something new. With significant media fanfare the bassist from rock band Blur, Alex James, has launched his own sparkling wine with Laithwaites in recent months.
Alex has form when it comes to championing British produce. He is well known for making cheese on his Cotswolds farm, where he also hosts an annual music festival and celebration of food, the Big Feastival. His popular product range also includes a 5.5% oak-conditioned English cider made from a blend of bitter-sweet and bitter-sharp apples.
I will happily confess to being a long-standing Blur fan. Alex's move into the wine sphere is not a particular surprise to me. In seemingly every photograph from the early nineties, if he wasn't holding a bass, he was holding a glass of red wine. I've no doubt that his influence played some part in leading me to give wine a try.
Britpop Brut by Alex James NV is made by the Furleigh Estate in Dorset, led by Ian Edwards, who was named UK Winemaker of the Year in 2012. They have 22,000 vines, of which 15,000 are Chardonnay, Pinot Noir and Pinot Meunier for sparkling wines. Bacchus and Rondo make up the rest of the numbers for still production. Furleigh's chalky Thorncombe Sand soil has produced a fruity wine that I found to be surprisingly sweet for something named Brut. However, its soft, persistent effervescence, apple and white blossom aromas and nicely balanced acidity make Britpop a thoroughly enjoyable wine. I asked Alex to tell me a little more.
What drew you to English sparkling wine?
Someone told me once that all men develop an interest in classical music and wine when they hit forty. I started early on both. I think the wine side of things was because I spent so much time in France as a teenager. The French are Grand Masters of food and beverage production and marketing but nothing has really changed there since I was a kid. In Britain, pretty much everything has changed since then.
I'm a lifelong fan of sparkling wine and English sparkling is certainly having a moment. The best of British is up there with the very best in the world. Cheers. 
How did you select a vineyard partner for this project?
It's taken years to find the right one. Laithwate's made the introduction to Furleigh and we hit it off right away. It's a great liquid: simple as that. 
How hands-on are you with the winemaking?
One of the benefits of getting older is knowing what you're good at. I love growing fruit but I'm not a winemaker. We have thousands of fruit trees here on the farm. I've been planting them continuously for the past twenty years. This neck of the woods is better for apples, really. Cherries do very well, too. Plums and even figs have been good this summer and we've just started picking the pears – best ever crop of those.
I do have an audience who trust me and Big Feastival is a perfect opportunity to sample stuff, so it all seems to work ok. 
What is your opinion of English wine generally?
These are absolutely the golden years of English winemaking. The past twenty years have been an incredible time for British food culture – we were still recovering from the effects of rationing in WWII until the nineties. It took a generation to recover but Britain is the most exciting place in the world for food development right now.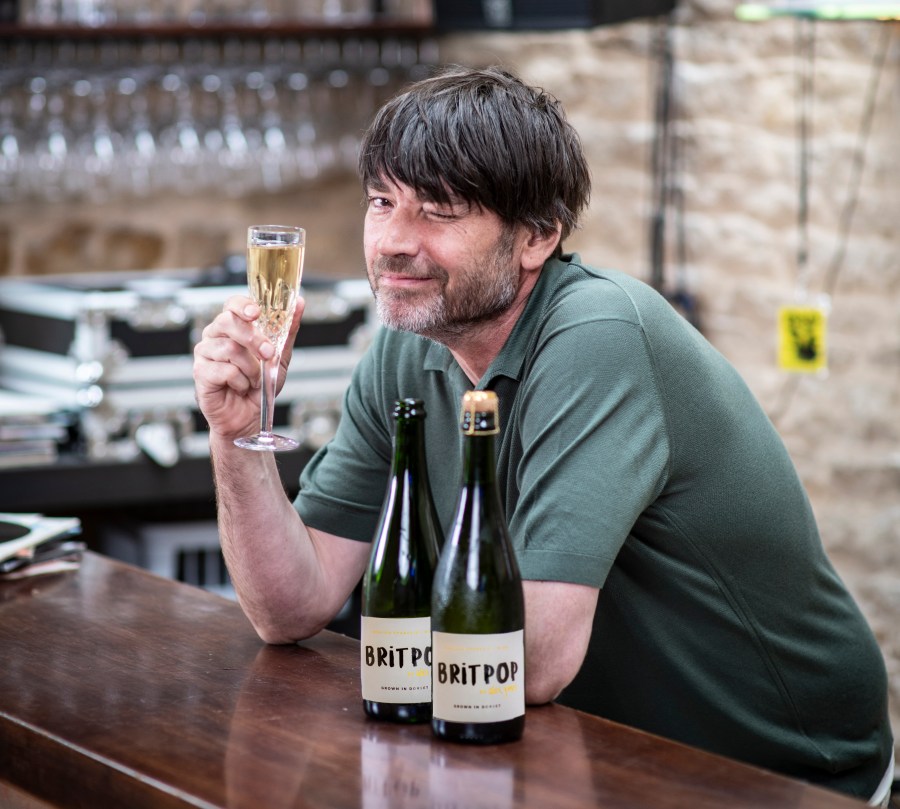 Louis Pommery UK
The second Champagne house to set down roots on British soil was Vranken-Pommery Monopole. The innovators of brut Champagne back in 1874, they are now the biggest wine growers in Europe. I had a chat with Julien Lonneux, the CEO of Vranken-Pommery UK and International Director for Vranken-Pommery Monopole about their experience here.
How did you come to plant a vineyard in the UK?
The group has always been looking for other places in the world where we could produce sparkling wine. Champagne is our core business, but we produce sparkling wine in the South of France too, for example. Around 2015, we started to look at other wine-producing regions and visited a wine company in Hampshire. We literally all fell in love with the region, with the wine – it was already very qualitative.
We did some research on the technical parts with the winemakers and experts we have in Champagne. They did soil analysis, looked at climate and latitude etc. Next, we visited a little town called New Alresford, 15 minutes from Winchester. We were driven around by some local agents who showed us different fields that we could buy. Eventually, we saw one little hill, three minutes from the village. It wasn't for sale at the time but a few days later we got a call that the field owners were happy to meet and see what we could do together. That's how it started.
How do you think English wine is viewed globally?
Obviously, it is a very, very young industry compared to any other wine-producing country. But I genuinely believe the global market and wine connoisseurs understand the quality of the English terroir and the quality of English sparkling wine production.
The quality of the product, thanks to the quality of the people on the ground, is amazing. Even the pure Champenois people, you know, born and bred in Champagne – breathing Champagne from the morning to the evening – they all have their minds blown by the quality of what's being produced in the UK. And not only by us. The average quality is very good. We are very happy to see where this will lead us tomorrow.
Loads of vineyards have been planted in the last few years. You've got loads of quality people coming to the UK or English winemakers being trained abroad and bringing what they've seen in other regions but adapting it for the UK. It's very exciting.
An important thing for us as a group is that we have got that global distribution. What we've seen is that we didn't have to push to sell our English sparkling wine internationally. People in the wine world do know about English wine, and English sparkling in our case. We hadn't really thought about that at the beginning of the project. The premium feel of the English brand is very strong globally.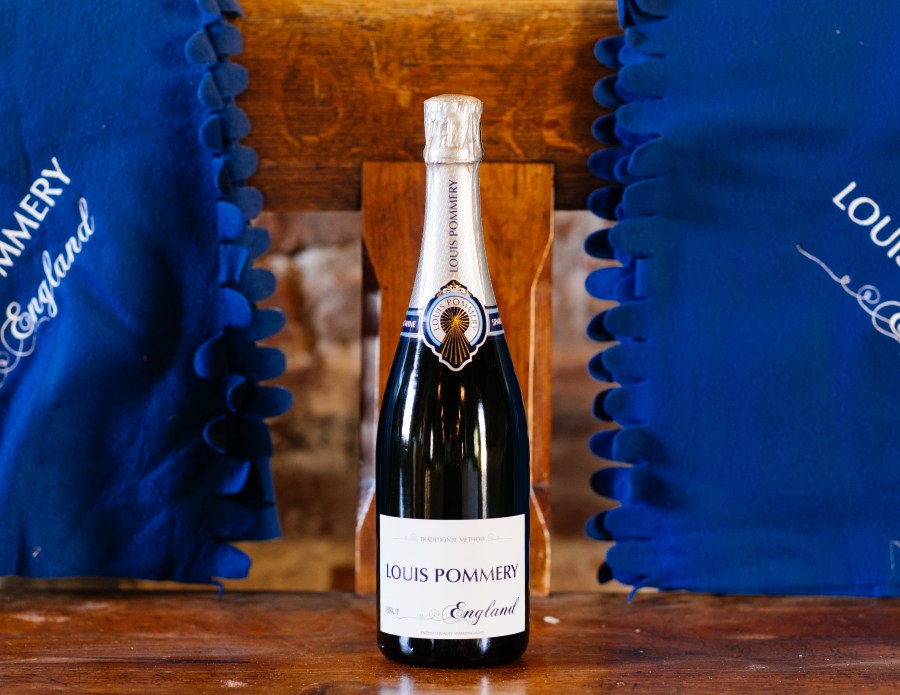 What have you enjoyed about this project?
Our vineyard is called Pinglestone. It was such an adventure to bring people from Champagne to buy some land in the UK and eventually be so proud of what we've achieved. We planted the first vines in 2017 and ended up with 40 hectares of plantings. As one of the first two Champagne houses to come to the UK, it was amazing because we felt a little bit like pioneers.
Intentionally, the team on the ground is 100% English. We wanted people who knew the terroir. We hired an amazing Vineyard Manager called Jim Bowerman with 15 years of experience. The skills of the English team and the French team [in Champagne] are very complementary. They feed back to each other daily to learn from each other so we can improve the average quality in both regions. We came very humbly, trying to discover what we needed to do to produce the best sparkling wine from the English terroir. Then we try to add to that by bringing some of the good practices we have in Champagne.
One thing we loved about coming to the UK and starting this project is that we were pretty much free to do what we wanted in terms of planting and production. It's very, very different from the way the Champagne region is run which is very regulated. We can have a pure entrepreneurial mindset without being forced to work in a very strict structure.
What are you hoping for from this year's harvest?
This year will be the largest harvest in kilos that we have ever produced. We've got twice the previous vintage in terms of fruit so it's quite exciting to see all that fruit coming in. As the vineyard becomes older it produces more, so we were expecting this year to be bigger but the weather conditions this year have been decent so the production is looking good. We're just fearing the last 6 weeks before harvest because if it stays humid we might have some unfortunate issues in terms of fungal growth and stuff. But so far so good let's say.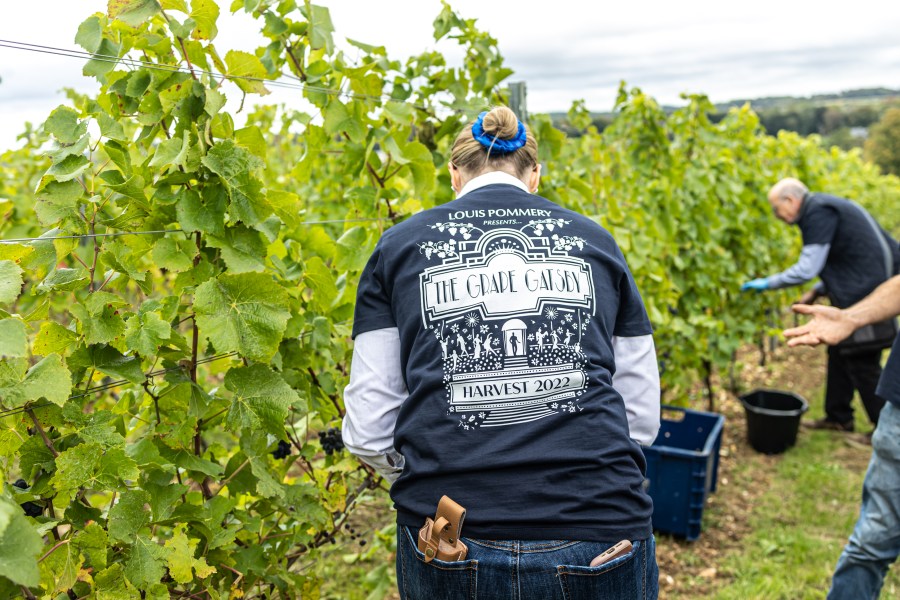 And looking further ahead?
We expect to produce on average roughly 200,000 bottles a year. It may be a bit more or a bit less depending on the weather conditions and what we decide to keep as a reserve. We will also grow the range, so we've got a few more products coming in at the end of this year, like our first English sparkling rose.
We will continue to take our products to as many countries as possible to dial up the English sparkling wine brand and project globally. We know that sales will remain very strong in the UK and that is a focus for us, but we are seeing that demand and traction for English wines around the world. We don't have to convince sommeliers, buyers or food and beverage (F&B) people about the quality of English wines because they know that the average quality is very high.