In an ideal world, you want to make sure that every potential new customer is introduced to your wine with a tasting, gently guided by your own in-house expertise. Nothing beats that face-to-face interaction and the opportunity to 'sample the goods.' But since you are unlikely to fancy conquering the British wine-drinking public on an individual basis – armed with a small river of free samples – your wine labels need to do a lot of the heavy lifting in marketing your product. It may well be the only thing a customer sees before choosing to try your product.
Have you ever stopped to think about the number of jobs your wine labels are doing? So much more than simply identifying the contents of the bottle, they are fulfilling your legal obligations, showcasing your brand values, capturing attention and hopefully, regardless of how they are treated or how long they are kept, staying put on the bottle. Let's take a deep dive into the world of the wine label.
Allergens and ingredients
The Food Standards Agency sets out the labelling requirements that wine must meet to be sold in the UK. This includes the category of the product – usually simply 'wine' for still wines. The correct provenance for wines without a geographical designation or the appropriate terminology where the liquid meets the UK Quality Wine Scheme criteria is also specified. The nominal volume, alcoholic strength, bottler details and a lot number are of course necessary.
Another legal requirement is appropriate allergen labelling. Allergenic ingredients must be specifically emphasised every time they appear on the label using the format:
"Contains [name of allergen]"
Many producers choose to list allergens as part of an ingredients list in a bold font, an alternate colour or underlined. There are 14 allergens designated by food law, but most likely wine producers will only need to consider sulphur dioxide and finings.
There has not previously been a requirement to provide an ingredient list on wine labels. This is set to change under a new EU regulation from 8 December 2023. Ingredients, allergens, energy and nutrition information on wine produced after that date must be disclosed. The regulation states: 
"In order to provide a higher level of information to consumers, the compulsory particulars … should include a nutrition declaration and a list of ingredients," although some of this information can be provided via an electronic label via a link or QR code on the bottle. Take note if you distribute your wine in the EU.
Some producers have already decided to volunteer information about the contents of their bottles despite not being obligated to do so. The first was Randall Grahm at Bonny Doon in California in 2008. He felt that it was important to give consumers full disclosure of any additions to the wine so they could make an informed purchasing decision.
Here in the UK, the same practice is followed by Rothley Wine Estate in Leicestershire, who have included a full ingredients list on their back labels since 2013.
"I follow the former Bordeaux tradition of fining red wine with egg white to give a soft finish," says director Liz Robson. "Bordeaux had used dried egg white, but after some official rumpus stopped because they could not product trace to an individual hen.
"I am an artisan winemaker with hens who lay different coloured eggs, so I can product trace. I even put the hen's name on the King Henry red wine label. Customers love the tale of the hens, especially when they can meet the chosen one. Some even buy a bottle of our King Henry based purely on the story."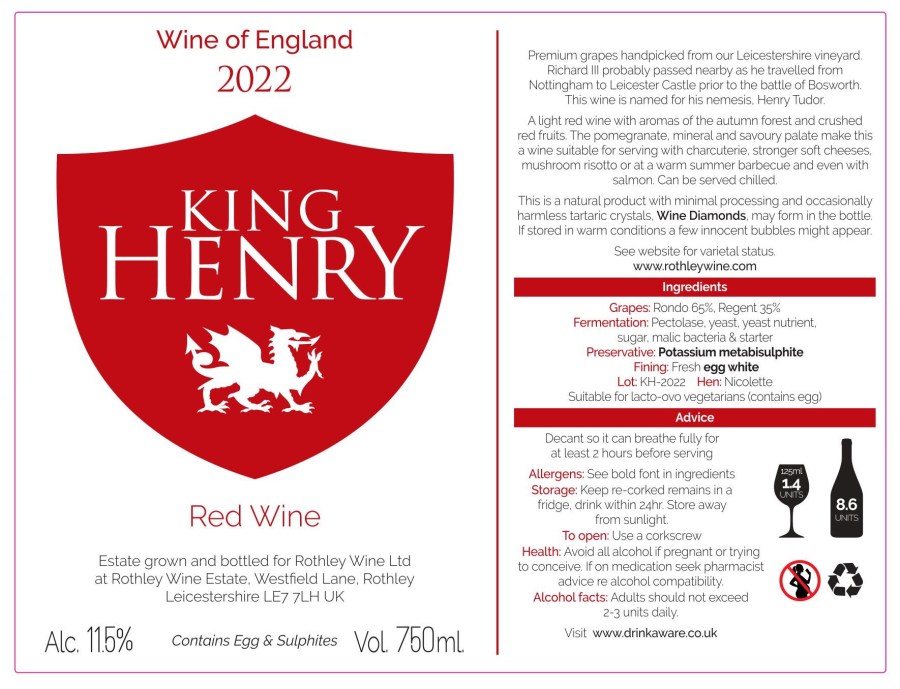 Crafting an impression
As Liz has shown, wine labels are an important vehicle for capturing consumers' attention and conveying your brand identity. Whether you choose a traditional or more contemporary format, they should all fall into line with your brand voice to help tell the story of your vineyard. Getting this right will have an impact on the type of customer you attract.
If you haven't found your brand's voice yet, try to think about what your core values as a company are. Why did you choose this business in the first place, and what excites you about the wine you are making? Perhaps most importantly, what makes your wine unique? This might be tied up with the people behind the wine or the place where it is grown and made. These are the chapters of your brand story.
It can be helpful to try and identify a brand personality that you can use consistently across platforms – from logos to labels, online and in real life. Do you want to come across as serious, funny or something in between, for example? It may seem strange, but an easy way of visualising this can be to think of your business as a person and decide what language they would use to address a potential customer.
Once you have decided on the key elements of your business' story and voice, all of the design elements should fall into place. Typography, colour and imagery will flow from the message you are trying to convey.
"Our brand, tone of voice and labels are all based around elements of our family and farm," says Charlotte Self of Whitehall Vineyard in Wiltshire. "It was important for us to stick with a brand that meant something to us, that represents who we are as a family and where we are from. The brickwork on the front on the labels is based on the bricks from our family house, and the gold leaf is inspired by the wisteria that grows up the house. The names of the wines are inspired by local landmarks and members of our family, creating a strong personal touch from every bottle.
"I think that this has worked well for us as customers like to connect the product to the origins and when I've been speaking to customers they like the idea that the Charlotte May Rosé is named after me and the Madeline May Chardonnay is named after my sister. Being a family business creates a really strong brand voice."
Practical considerations
There are an incredible number of decisions to be taken when designing a label. The material might have a gloss, matt or woven finish, for example. There are different adhesives that can be used and different methods to actually apply the label.
This choice should be led in the first instance by practical considerations. If a wine is likely to spend time in the fridge, it needs to be able to withstand those temperatures, and the drop down from ambient when it arrives there. The label and its glue may need to survive a spell in an ice bucket or simply resist peeling off when it comes into contact with condensation. Finally, how long is this label going to stay on the bottle? Will the whole vintage be consumed within a year or two, or does that glue need to hold fast while a bottle is cellared over a number of years?
As in all things, aspiration needs to be balanced against budget. All the little extras like embossing or hot stamped foil print soon mount up, but there is anecdotal evidence that customers associate these features with a higher quality product. A higher level of finish might make all the difference to sales of a limited edition bottle and justify the additional cost.
If your brand story is deeply entwined with themes of sustainability and environmental sensitivity, this needs to be reflected in the materials that you choose for labelling. Biodegradable, compostable or recycled labels are all widely available, giving a new palette of texture and finish to play with.
Size, shape and placement of the label will all impact on consumer perceptions of your product. Since most wine bottles tend to be a similar silhouette some makers have taken to commissioning bold designs to catch the eye. Recent trends in label design have included typography-led styles, minimalist design and a more contemporary, freeform approach to the use of images and illustration.
The latter picks up on a labelling trend in the brewing world, where artists and illustrators are routinely being commissioned to develop a house style for a consistent and impactful aesthetic. Burning Sky in East Sussex, for example, have a long-standing relationship with the artist Simon Gane. His popular illustrations reflect the natural ingredients and countryside with a punky cut-and-paste aesthetic. The brewery have even offered Gane's prints for sale on their website.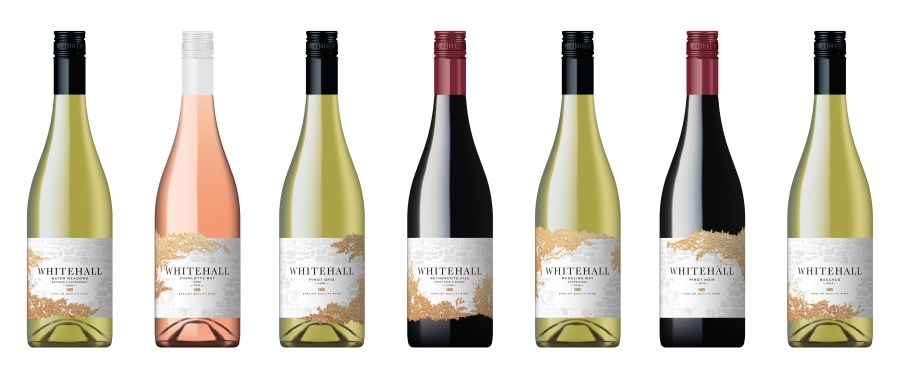 For more like this, sign up for the FREE Vineyard newsletter here and receive all the latest viticulture news, reviews and insight