While we are huge advocates of the Pellenc mechanical harvesters, we recognise that not all fruit is suitable for machine harvesting. A large majority of English and Welsh wine producers will continue to harvest by hand.
Thankfully, a range of modern equipment is designed to make life as easy and efficient as possible for those hard-working grape pickers. This month, we thought giving a quick round-up of the harvest essentials we always have in stock and ready for delivery would be helpful.
Cut above the rest
One of the standout tools that has become indispensable for grape pickers is the ARS harvesting snips. 
These Japanese-manufactured fruit pruners have become an instant industry favourite due to their lightweight design and extremely impressive cutting power. 
Fitted with a high carbon steel blade, these snips are known for their unmatched sharpness, which allows for quick and accurate picking. Suitable for left and right-handed pickers, the ARS fruit pruners are also robust with a comfortable, ergonomic, non-slip handle.
The red 300L and HACCP blue 300L-BL models are 190mm long and just 110 grams. Both feature straight blades with a pointed tip, allowing pickers to cut right into hard-to-reach areas. 
While the red 310 and HACCP blue 310-BL models are 160mm long and 90 grams, both feature curved blades with a juice drain, preventing build-up on the blade and increasing its lifespan.
For those buying in bulk, we offer a 10% discount on purchases of 10 or more snips.
Self-unloading bins
One of the most crucial aspects of harvest is logistics and planning the most effective way to get fruit from the vineyard to the winery.
Our vineyard picking trailers manufactured by Agrofer have been specifically designed for carrying bins of grapes, making easy and light work of harvest logistics.
Lengths are available for carrying three or four standard 120 x 100 bins, and growers can opt to have the trailers fitted with a roller track chassis to allow easy self-unloading of the bins. For those who are short on staff, this means you can unload quickly without the need for a forklift and certified operator.
Both 3-bin and 4-bin models feature a clever 'bascule' drawbar system that gives fantastic turning in and out of tight rows. With the optional self-unloading possibility, this drawbar design also enables gentle tipping of the trailer, so the bins gently slide down the roller track to the ground and don't cause any damage to the fruit.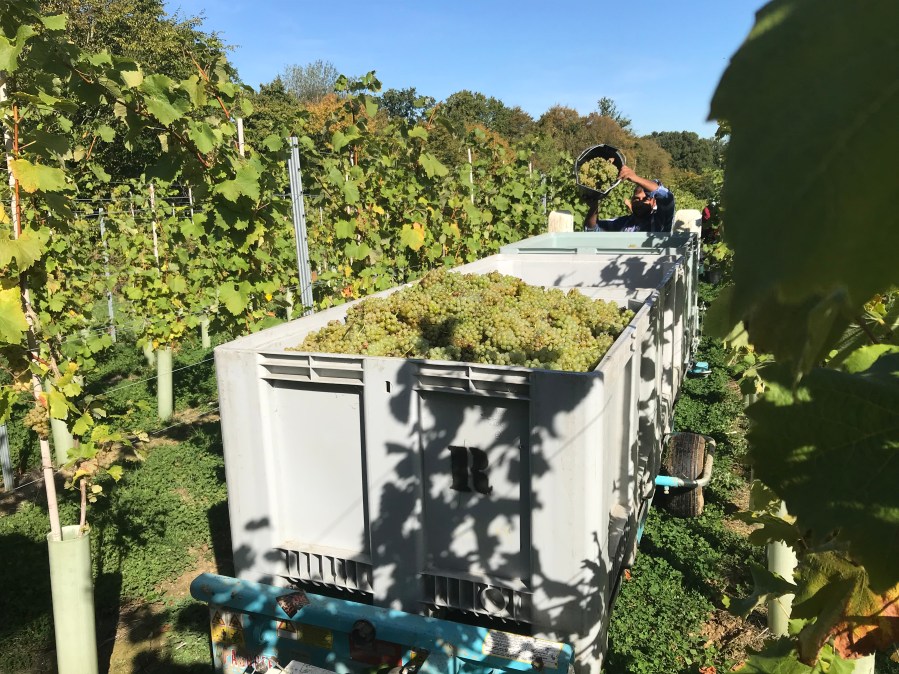 Lifting the burden
Forklifts are a great asset on any farm and are especially useful around the vineyard at picking time for moving bins of grapes.
If you're unlikely to use a forklift outside harvest season or don't want to invest in a whole new vehicle, then the tractor-mounted forklift is the perfect solution.
Manufactured in northern Italy, the Tecnoagri Super Hydraulic Forklifts are powerful, heavy-duty machines that can easily carry heavy loads of up to 1500kg.
Easy to operate, they offer the utmost reliability and are equipped with folding forks, tilt and side shift. Growers can choose from either 1.8m or 2.20m lift height for tractors of different dimensions.
We can also manufacture a special framework to fit pallet carriers or forklifts to the front of your tractor, even if it does not have a front linkage.
Another useful addition we stock is a bin rotator attachment to forklifts allowing bins of fruit to be gently tipped into a hopper.