Regenerative viticulture maybe the latest buzz word, but its principles and practices stem from traditions established long ago and are perhaps now being rediscovered as a more genuinely sustainable and logical way of farming – for both the crops and business. Jo Cowderoy speaks to some of those practicing regenerative viticulture to find out the benefits of a more soil focussed and holistic approach.
A vine in optimal health functions best, produces a quality crop and is more resistant to disease – just like us. The vine's environment, particularly a living healthy fertile soil is a hugely valuable resource as it can provide so much of the nutrition and water a vine needs – in the way that nature intended. 
Simon Porter, Vineyard Owner, Penn Croft Vineyard, Hampshire, has farmed for over 45 years, and for the last twenty as a tireless advocate for regenerative agriculture, and now viticulture. "The benefits of regenerative viticulture are growing healthy grapes but with far less intervention especially from chemicals, while having an environment that is perfect for an increase in biodiversity of insect species and other beneficials," explained Simon. "Then there is the excitement of seeing your soil come alive with all sorts of invertebrates and worms, and to see organic matter building and storing carbon in the soil. Of course, the important parts of the soil are far too small to see with the naked eye – at the mycorrhizal, protozoa, bacterial and fungal levels." Simon added.
Charles Palmer established Charles Palmer Vineyards in 2006, initially farmed organically, but now with a regenerative approach. "The aim is to remove only the grapes from the vineyard and take nothing else away, so, for example, we mulch all of our prunings in the row, as its important to return their goodness and organic matter to the soil," commented Charles. 
Further afield, in the Provence region of Southern France, Stephen Cronk who heads up the Regenerative Viticulture Foundation is producing his wine at Domaine Mirabeau using this approach. "There is a growing awareness surrounding the importance of maintaining and increasing soil organic carbon (SOC) stocks in vineyard systems. Increasing SOC positively influences numerous soil properties and removes atmospheric CO2, thereby helping to mitigate the effects of climate change. It can also create a healthier natural ecosystem supporting greater biodiversity above, as well as below, ground which helps maintain vine health and improve water tables – whilst at the same time reducing input costs and increasing fruit quality.  
Vine health
"Whilst the changes to soil health are many and unmistakeable, we also believe we are seeing improvement in our vine health with less disease," commented Simon. "I started out in viticulture determined not to get on to the carousel of always spraying, spraying, spraying… Yes, our vineyard is young, but with the greater air circulation and more sunshine opportunities, plus the healthy soil, it means that we are spraying far less than most vineyards." Simon added.
"Fungal diseases are managed with a reduced, but safe, chemical input along with trace elements. We tissue test for nutrient deficiency and do Brix testing all through the summer to determine our sugar levels in the leaf. A high sugar level is a plant's natural defence against disease and insect attack. I must admit that I am still learning about vines, but this principle has stood the test on all other crops that I have grown," said Simon. 
Managing disease
 "As we mulch our prunings there is an increased risk of creating a fungal load," Charles explained. "We are mindful of this, and so do it immediately after winter pruning late, as the sap is just starting to rise, and the grass rich understory starts to grow and envelope the mulched prunings. 
"In terms of controlling fungus, we apply sprays according to the risk levels the season brings. Sulphur, phospites and IWS product BIO-MAX have been the backbone of our approach having zero withdrawal periods. If the situation dictates, we supplement with conventional products only if needs be," said Charles. 
In terms of vine nutrition, Charles explained that they use, "a combination of organic and proprietary fertilisers, with the aim being to maintain soil phosphate, potash, and magnesium levels. We provide nitrogen at just the right amount to feed the vines but not give them too much vigour. Seaweed extract has been an important foliar spray for us that we provide throughout the growing season," Charles added.
What about weeds?
"The advantage of regenerative over organic is that we can choose what is the best response to a particular problem," explained Simon. So, if despite all our work in providing healthy soil, we have a high disease threat, then maybe the best option both to the grapes or the environment is a safe chemical that will treat the disease while having no effect on the environment. It is important to know which chemicals are a threat to the environment and which are harmless so that informed decisions can be made," he added. 
"Now we have the tricky political question of glyphosate! Regenerative farming makes limited use of glyphosate and sees no reason not to. I have had people in my vineyard who insist that I dig the soil where I have sprayed glyphosate because they believe that all life will have been killed. They are in disbelief when they see the same teeming life whether sprayed or not! I think that using limited glyphosate is better for my soil and the environment than running up and down the vine rows periodically with a blade in the soil to destroy weeds – and it uses much less diesel!
"Weeds in the vineyard are either allowed to grow for a time, especially if they are going to produce some good roots and biomass, or managed with topping, spraying or a tractor mounted strimmer. Cover crops between the vine rows are cut and used as a line of mulch along the vine row. This is used to reduce weeds under the vines, build organic matter and more importantly, essential nutrients are transferred back into the vines. If we do not need to mulch the vines the crop will be cut and left for the worms to pull into the soil. This cover crop area could also be used for a commercial crop in the future," Simon added. 
Reducing the impact of climate change
Dr Alistair Nesbitt a Viticulture Climatologist, Vinescapes CEO, and trustee of the Regenerative Viticulture Foundation said: "Regenerative viticulture encourages carbon sequestration through both 'no till' and biodiversity promotion practices. Sequestering carbon in SOC is seen as one way to mitigate climate change by reducing atmospheric carbon dioxide. Small increases of SOC over very large areas in agricultural and pastoral lands will significantly reduce atmospheric CO2. 
"Every tonne of organic carbon is the equivalent of about 3.67 tonnes of atmospheric CO2. For the reduction to be long-lasting, organic matter needs to be in the more stable or resistant fractions. The process relies on plant photosynthesis to carry out the initial step of carbon "removal" from the atmosphere. However, rather than increasing the storage of carbon contained in plant biomass, soil carbon sequestration relies on management practices that increase the amount of carbon stored as soil organic matter. Increases in soil organic matter/soil carbon content are also beneficial from the standpoint of soil health and soil fertility, which provides additional incentives for adopting soil carbon sequestering practices," Alistair added.
What are the barriers?
"Some of the barriers to regenerative viticulture adoption stem from a lack of education and/or research about the value and adoption potential of regenerative viticulture practices," explained Alistair. "In turn there is a perceived risk of breaking the status quo, doing things 'differently', losing crop, quality, or reputation (or all three!), that makes change harder to achieve. 
"Directing resources, research, and knowledge exchange to support practitioners in adopting regenerative viticulture practices is essential. Regenerative viticulture isn't one or more techniques that can be adopted by all growers, site specific considerations are required so as not to compromise viticulture or vineyard performance. One of the steps the Regenerative Viticulture Foundation is taking is to support research into regenerative viticulture in different environments and to develop toolkits for those looking to adjust their conventional or long-standing viticulture into more regenerative practice. Some of the other barriers are cultural; vineyard businesses that are individually or family owned and operated are more open to adopting regenerative viticulture as a means of business preservation, and scale too plays a role where smaller producers have greater agility to change," said Alistair. 
Stephen added: "Habits have been formed and passed down through generations, fuelled by advances in synthetic inputs and vineyard machinery, taking farmers further away from understanding how to work in concert with nature rather than against it. There are whole industries juxtaposed to regenerative farming and so we need to work hard to provide compelling and thorough evidence to persuade farmers to rethink how they work their land."
"Probably the biggest barrier to anyone changing to regenerative growing is being able to think objectively and to be brave enough to discard some traditions and professional viticulture advice," commented Simon. "It can be hard and lonely at times as you discover what works and what doesn't, so joining forces with others, who are on the journey, is a help whether it is other farmers or those advisers who have had many years of soil care and have learnt essential lessons the hard way. I use Soil First Farming who have been advising for over 20 years on all soil types and on many different crops. It is having a sound understanding of your soil and its constituents and what mineral in excess may be locking up another needed mineral and thus reducing the health of the plant. 
"I may still make some mistakes and make some wrong choices in my vineyard, but I am learning what works and what doesn't. For me, it is all about producing healthy food by using the least amount of unhelpful intervention whilst caring for the environment to a higher and higher degree. In 47 years of growing crops, the chief lesson that I have learnt is that it is all about the soil. I ignored it for half of that time but now I am learning to treasure it and feed it and care for it, and I am discovering that if I look after the soil, the soil will look after me," Simon added. 
"There is no one solution fits all when it comes to regenerative viticulture, and it isn't wise to 'convert' overnight without due care and consideration. Professional advice is available, from the Regenerative Viticulture Foundation, or Vinescapes, to provide experienced guidance on your regenerative viticulture journey," commented Alistair. 
Top tips 
"There are several important points that I think are lost to many when planting new vineyards, with a view to regenerative, sustainable, and organic viticulture," explained Charles, "These include planting density, the alleyways and under-vine area. 
Planting density
"This is typically too high in the new plantings that I have seen, to be good for the vine and landscape. I see time and again, plantings around 5,000 vines per hectare. When we planted organically, we chose to go for inter-vine spacing of 2m and row widths of 2.7m, which is 1850 vines per hectare. Over the last 16 years of planting and growing vines, we have settled on what we consider to be optimal for us – a vine density of 2666 vines per hectare. 
"The issues are airflow, sunlight penetration into the canopy, and accessible water reserves in the soil. There is also the consideration of machinery wheelings within the vine row – narrower rows mean an increase in wheelings and soil compaction per hectare. Since we are looking at the vineyard as a whole, it's important to consider how the vines share their position within the landscape.
"Sunlight and water are essential for life, taking too much for the vines, means not only will they suffer, but so will the flora and fauna in the alleyways between the vines. We are looking at hotter summers, with less rainfall going forward, so this is a very important issue to address.
Establishing the alleyways
"So often I see people with good intentions, planting new vineyards with green manures, to build organic matter. Whilst on the face of it, this makes sense it can only be a short-term fix, constantly cultivating the soil and aerating it is not good for the system. Ultimately the system must find equilibrium, that means it has to find its way back to its roots so to speak.
"When we plant our vines, we plant only the vines and do not attempt to plant any non-native species to the area, we cultivate the soil to a good depth to allow the young vines to get their roots down quickly and avoid issues with water shortages. We then cultivate the top layer of soil between the rows to a fine tilth and roll the soil to finish. This is because any small seeds from the native seed bank need a fine tilth to germinate. 
"Typically, when we plant here, the main species that predominates is Chenopodium album or Fat Hen. After it has grown to around three to four feet, we mulch it with a flail mower. After this the next native plants will appear and as time goes on, we mulch these as well. Eventually we end up with a wild grass predominant understory which is rich in flowers native to the area. This process can take three to four years before it is established. 
Cultivating under the vines
This is another process carried out in many vineyards, we do not agree with this, as it constantly disturbs the soil's microflora and risks damaging the base of the vine – as well as liberating precious soil water reserves. Again, it's important to consider the long-term equilibrium of the 'vineyardscape'. This brings us to the issue of controlling plants that grow directly under the vine. Herbicide used judiciously where it's needed has been our approach until now. Some native plants in our vineyard can and have been able to grow up to four feet tall, into the canopy, in the space of a month in a wet season. We are now looking at a rotating belt machine that could be used to mow the under vine instead of using herbicides.
Areas that surround the vines
Our 14-hectare vineyard is a group of seven smaller vineyards next to one another each with slightly differing topography – from sandy loams to clays and shingle, each one surrounded by hedgerows and trees. Within these native hedgerows are a variety of different species that give diversity and provide protection from the wind in our coastal location.
Grower embracing regenerative viticulture
Stephen Cronk, Domaine Mirabeau, Provence, France
Our family moved from London to Provence in 2009 to create a Provence rosé brand called Domaine Mirabeau. 10 years later we acquired a wine estate inland from Saint Tropez with 14 hectares of Grenache, Cinsault and Rolle. When we bought it, we immediately converted it to organic (it had been conventionally farmed for 20 years) but this wasn't going far enough as far as we were concerned as it was just doing less of the bad stuff, but not necessarily making anything better. A friend of mine had sent me an article written in The New York Times about Mimi Casteel and regenerative farming  and we began our story towards regenerative farming at Domaine Mirabeau – www.nytimes.com/2019/10/17/dining/drinks/climate-change-regenerative-agriculture-wine.html.
We're only a few years into our regenerative journey, and we are needing to find the right balance in moving away from a typical vineyard monoculture towards working with cover crops and moving away from ploughing but without damaging our precious vines. If we push too hard or too fast, then we're risking the health of our vines so we're experimenting with different techniques in various parts of the vineyard. 
Simon Porter, Vineyard Owner, Penn Croft Vineyards, Hampshire
We first started to change our arable farming in the year 2000 when we sold the plough, adopted a shallow tillage system, and left all crop residue on the surface. We quickly noticed increased earthworm activity and subsequent soil improvement along with the increased workability of our more challenging soils. We adopted full no till along with cover crops in 2014. This led to a further increase in soil health and particularly in our soil biology. 
We have continued to modify our system as we have learnt and now, we include among other things molasses in our home mix fertiliser, along with applying trace elements, grazing sheep, and growing varietal blends of the same crops in the same field to assist in general crop health. Insecticide use has ceased for some years. The result on our wheat is a 30% reduction in applied nitrogen and 50% reduction in fungicides along with a reduction in herbicides whilst still maintaining our long-term yield average.
The above 20-year experience committed me to growing vines on the same principles when we planted our first vineyard in 2019. I am the first to admit that I know very little about viticulture and so I am learning as I go. However, the most important change regarding regenerative growing of any crop is learning to think differently. It is necessary to be able to think out of the box and to discover which 'rules' for growing vines are there just because of the original method of production and so can be dismissed in a regenerative vineyard. 
Charles Palmer, Charles Palmer Vineyards
We planted our first vines in 2006 and ran our whole farm operation spread across 750 acres, including the vineyard organically, certified by the soil association for 11 years. During this time, I gained a good level of knowledge about preserving the local environment in which the vines grow and learnt a lot about how to get the most from the vines without too much intervention.
We no longer farm organically, due to the financial constraints associated with low yields. In hindsight it was not a good idea for us to plant young vines in a newly establishing organic system. Instead, I prefer a more free-range approach that allows us to investigate new ways of working that will allow both the landscape and our family business to be sustainable.
I feel that our vineyards are now in balance with their surroundings, we work alongside nature, that includes the rabbits and badgers that inhabit the vineyards, as well as a thriving population of birds.
Our Pinot Noir and Chardonnay grapes yield on average between 8 and 10 tonnes to the hectare of top-quality fruit, I believe that this is a sustainable yield for these grape varieties in our environment.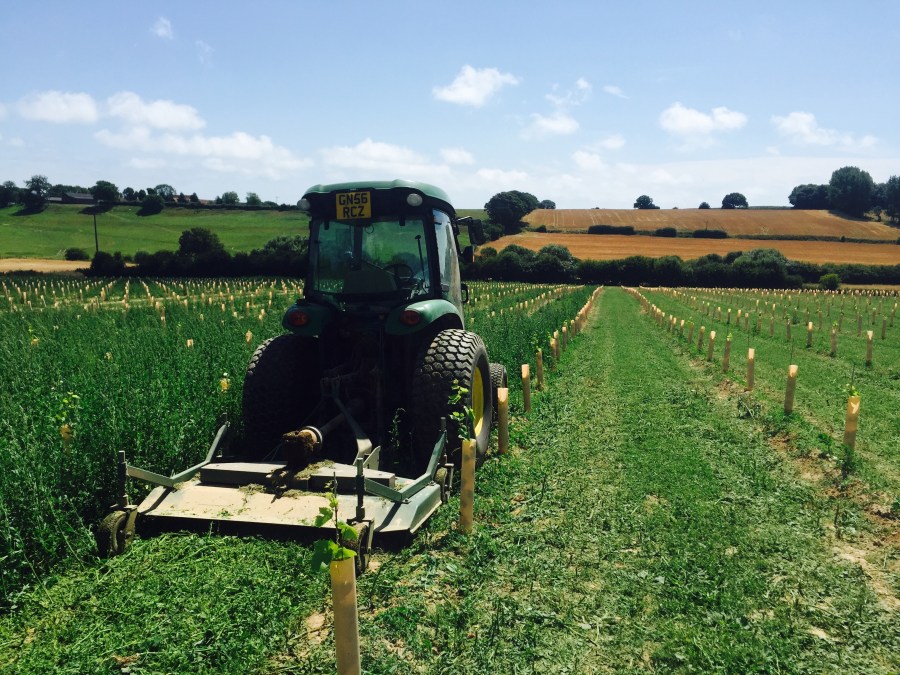 Regenerative Workshop Day
5 September,
Penn Croft Winery, Hampshire
Join Justin Howard-Sneyd MW, the Dartington Trust, Wine GB, Penn Croft Farms Ltd / Itasca Wines Ltd and the Regenerative Viticulture Foundation for an informative and collaborative discussion. 
You will learn the principles behind Regenerative farming and have the chance to discuss such matters as vineyard establishment, weed control, cover cropping, balancing soil indices, animal grazing and biodiversity.  
For more information and to register: www.regenerativeviticulture.org