I see the complex and often difficult decisions that vineyard managers have to make and understand the huge logistical challenges that vineyards face at harvest. But I am still blessed with the freedom to entertain mostly romantic notions as the sugar levels reach their optimum point. I have the time to enjoy the first touches of yellow and red appearing on the leaves of the vines, as they still hang heavy with fruit. Savour the cool morning air, that is bracing as the sun rises from behind verdant hills. Stomp my feet through grass heavy with dew on my way to pick.
I have volunteered at harvest every year since 2015. Sadly, I don't have as much time available as I once did, but I always make sure that I put in at least one day. As you can probably guess, I adore it, despite the sore back that inevitably follows for me! It's my very small token, a way of giving something back to this wonderful industry.
With a busy family and working life, my time is probably the most valuable thing I have to give. Like most vineyard volunteers, I get a lot from the experience and don't have any expectations of repayment in kind. But nonetheless, it really jumped out at me when I recently saw a vineyard's call for volunteers that offered a discounted wine tasting session at the end, with 20% off the regular price.
Don't get me wrong, these volunteers were being offered a great day, being well looked after. There was the ubiquitous croissant on arrival before the safety briefing, and a nice lunch at the end with a glass of sparkling wine thrown into the bargain. You certainly wouldn't leave hungry, especially with a relatively short shift of just 3.5 hours picking. But it just struck me as strange to ask people for help and then try to sell them a ticket. I think it's a great idea to give volunteers the opportunity to try the wines they are supporting, but why not just crack two bottles at lunch rather than one?
Perhaps I'm being too harsh and they are simply making the most of a cross-marketing opportunity. Either way, it got me wondering about how vineyards around the country manage their harvest teams. Most of my experience has been gathered at Rothley Wine Estate in Leicestershire. For seven years in a row, I helped out there, so it's quite possible that my expectations have been cemented by the luxurious treatment I received there. I determined to find out how volunteers, paid staff and machine harvesting are managed around England and Wales to see how the experiences compare.
---
Important to treat volunteers as guests
Volunteer pickers: Rothley Wine Estate, Leicestershire
I must begin with Rothley since it is my own personal barometer for the Volunteer Gold Standard. In my time volunteering with Liz Robson, owner, winemaker and sole paid member of staff, I have seen her management of the harvest and her unpaid helpers evolve and develop over the years.
"I feel it is important to treat volunteers as guests. Make them feel welcome, give adequate information in advance and keep motivating them. A hot lunch with dinner party atmosphere is important and this contributes to the camaraderie. Some only come once, but others come back often for pruning and assisting at wine tastings. It is great to see friendship clusters forming. My vineyard could not function without my stalwart volunteers," said Liz Robson.
Volunteers are signed in and emergency contact numbers are noted, while hot croissants and tea are served. After a safety briefing and the issuing of snips and safety gloves, pickers trundle down to the rows for the first session of picking. A mid-morning coffee break is signalled via the ringing of a great bell which can be heard all the way down the long field. Some people choose to keep working on through until lunch, such is their enthusiasm.
There is a dedicated volunteer who creates the most delicious hot lunches for the team. She is not able to help with the harvest, so this is how she prefers to contribute. Her cooking is now the stuff of legend amongst regular attendees, enjoyed over a leisurely lunch hour with a couple of glasses of wine. Having a dedicated field cook has massively taken the pressure off Liz in managing the logistics of the day, although she always still finds time to prepare a homemade pudding in advance.
Somehow, we also find time for a quick coffee break in the afternoon, before people start heading off at around 4pm or 5pm, or whenever the particular variety we are concentrating on that day has all been picked.
"Volunteers always go away with something that goes clink," Liz is fond of saying, and true to her word pickers take away a bottle of wine for a half-day session, or two if they put in a full shift.
I have fond memories of those convivial lunches on the terrace, and I think I may still have one or two of those parting gifts stashed away for a rainy day. You can see how I've been spoiled. The occasional 12+ hour day in the driving rain still passes by in a blink.
"I love to be able to participate in the vineyard harvest and enjoy meeting old & new friends. I've worked on beautiful sunny autumn days and occasionally in the pouring rain. To see the crates of grapes which will provide vats of wine to bottle and sell next year (or later) is very satisfying. Of course, we are always looked after extremely well by Liz and her volunteer team," said June, who was one of the volunteers.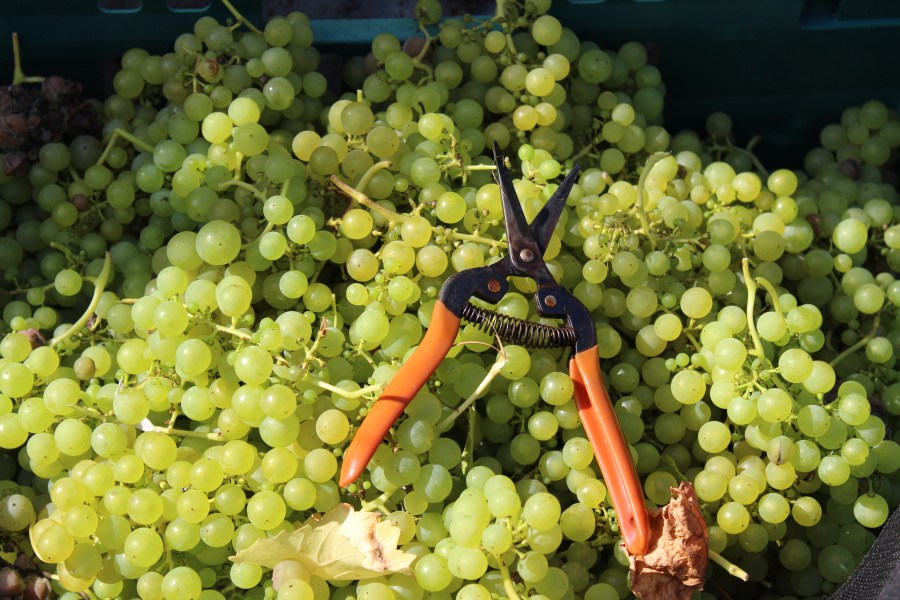 ---
Locally recruited
Local labour: a'Beckett's Vineyard, Wiltshire
"We are about to do our last harvest as we are selling the vineyard after 23 years of fun. We've always paid our pickers, I guess as a commercial venture seeking folk to work for free doesn't sit well with us," said  Paul Langham.
"We've always recruited locally as we are only 3.5 hectares so we have enough people locally who will fill our needs. Our picking teams are usually around 14 strong each picking day. We pay the national living wage and we recruit via social media and a sign up form on our website.
"It is fascinating to watch pickers who grasp the reality of what a hard day's work actually is. Sometimes they come back for more, and sometimes they are never seen again.  Thankfully we have a bank of 40 pickers to call upon so we are never short staffed.
"We always supply lunch, and morning tea and coffee. It adds to the good humour even if the weather isn't perfect.
"In the future, I'm sure a'Beckett's will go from strength to strength, we are the perfect size for someone starting out and with space to put in another four hectares there's room to expand."
---
Great
Volunteer pickers: Goodworth Clatford Vineyard, Hampshire
"We are a one-acre vineyard run by my husband and I. We are fortunate to have family, friends and villagers volunteering at harvest time. 
"We do it over three days finishing up with a lunch for everyone after each harvest. All great fun!" said Cecilia Rydstrom Haszlakiewicz.
---
A community celebration
Bantham Vineyard, Devon
"This is our first harvest, and we are incredibly excited about it. Our vineyard is located in Bantham, famous for its surfing beach and within an Area of Outstanding Natural Beauty on the south Devon coast, said Manon Fosburgh.
"We have 6.2 hectares and five different varieties (Pinot Noir, Pinot Meunier, Chardonnay, Pinot Gris, Pinot Noir Precoce) spread across two sites. As part of our commitment to the environment on the Estate, we are actively involved in various agricultural schemes and conservation zones. Our goal is to enhance and protect this beautiful area, and we apply the same principles to our vineyard operations.
"To make this harvest a truly special occasion, we have decided to turn our first harvest into a community celebration. We will be hosting an open community day, inviting our local residents to participate and be part of Bantham Vineyard's first harvest. It is with the support and involvement of our community that we hope to make this harvest an unforgettable moment.
"We have limited the number of participants to 30 people per day, and places are already filling up quickly. The overwhelming support and interest from our community has been truly heartwarming.
"We will be providing breakfast and lunch for all participants to make sure they get all the necessary energy!
"We will be harvesting only a small tonnage this year which is ideal for our first harvest. It allows us to focus on learning and perfecting the process, ensuring that everything runs smoothly and efficiently."
---
Flexibility to choose the day for optimum ripeness
Machine picking: Sandhurst Vineyards, Kent
"We are contract growers of roughly 111 acres, contracted to six different wineries. We do a mixture of local labour, contract labour and machine harvesting," said Alex Nicholas.
"Back in my school days, I would do seasonal labour during my summer holidays on the family farm. With vineyard work being very labour intensive, it meant we always could offer work to any of my friends who wanted some summer money. Each year we always asked them back. Obviously, as they got older they didn't return, but sent younger siblings or friends along instead. This way has essentially gone on for the last 15 years.
"As we have expanded and needed more labour we have had to start using contract labour as well. Our main provider is Vitis Labour run by Oana Preda. 
"Since Brexit, labour has been a lot harder to get hold of. In the build-up to the harvest of 2022, I knew we wouldn't have enough pickers to get through everything. I had to ask the wineries we grow for if they would accept machine picking. Four wineries agreed for certain areas to be machine-picked. The varieties were Bacchus, Reichensteiner and Seyval Blanc.
"Machine picking gives the wineries the flexibility to choose the day for optimum ripeness. If those grapes were hand-picked it might take three days that need to be spread across two weeks because of labour issues. Another benefit of machine picking is that when it gets dark you don't need to worry about snipping your fingers!
"We don't own our own machine. As it is only about 18 hectares we hire a machine from S J Barnes. Sam's a great guy and easy to talk to. He's got two Pellenc machines at the moment and has been very accommodating when planning picking dates, even when the wineries have given me short notice.
"As a grower, I can't comment on the quality that comes from machine-picking, as in whether it changes the taste, but we have had no complaints from the wineries and all were happy to carry on machine-picking the same blocks this year. It looks to be only for still wine for now though. 
"Two of our contracts are for sparkling where we pick into little crates. Personally, I think they are the worst days of harvest. There is far too much double-handling. It is the slowest and least efficient way to get fresh fruit quickly into the winery not to mention the plastic waste from the pallet wrap."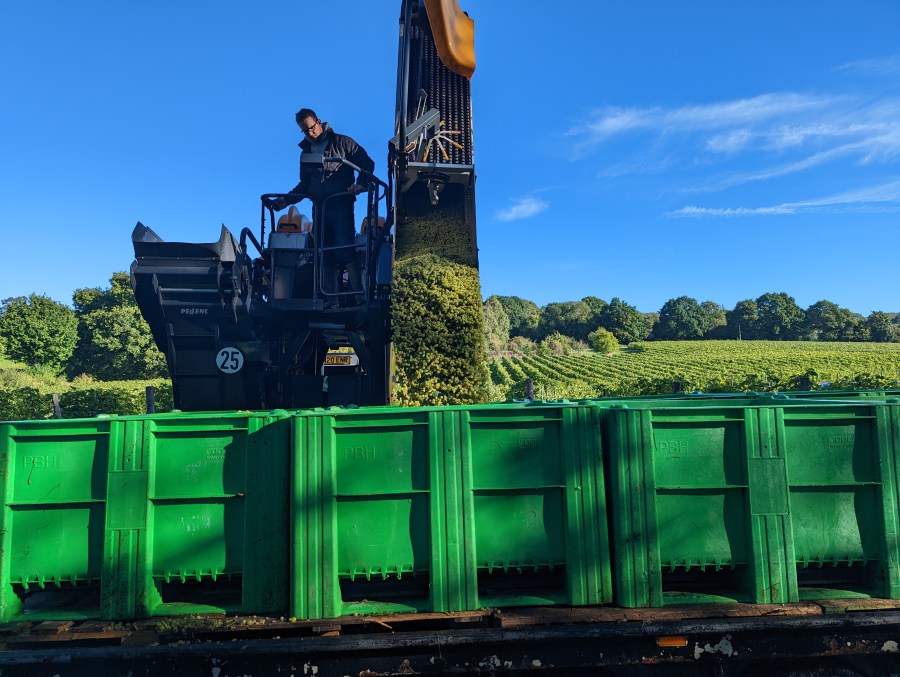 ---
Sense of neighbourliness
Volunteer pickers: Rowton Vineyard, Shropshire
This year, I wanted to experience something new, so I joined Zoë and Mel Evans to pick Solaris on a bright day in late September. In fact, you couldn't have asked for more perfect weather to be out amongst the vines. This was just their second harvest, with the young vines still planting their feet in the picturesque Shropshire countryside.
The twins are third-generation farmers, adding a new string to the family's bow by diversifying the way they make use of the land. Volunteers were drawn mainly from family, friends and neighbours. A number of people I spoke to talked about the sense of neighbourliness and community spirit they felt in supporting the new venture, it was clear that everyone was behind the Evans' and wanted them to succeed. As most pickers knew each other well, there was a jolly feel to the work. Neighbours caught up with each other's news and regaled one another with tales of recent holidays. Several friendly dogs joined us in the rows, adding to the sense of bonhomie.
The five-acre vineyard is planted with three varieties aimed at making the most of the local climate and topography – Solaris, Seyval Blanc and Pinot Noir Précoce. Botrytis had its dusty grey grip on much of the Solaris grapes by the time we came to pick, although the Pinot was still looking in good shape. Picking the afflicted fruit was slow going, as we sorted the healthy bunches into buckets. Happily, with yield growing year on year as the vines mature, they had already picked enough to match last year's haul of Solaris on previous days so we weren't under any pressure. But everyone was diligent and the crop came through clean.
We were indulged with a warm croissant and a coffee during a morning break, but the real star of the show was the harvest lunch prepared by Zoë and Mel's mother – fresh cauliflower soup, a tasty savoury tart, a robust cheeseboard and more besides, even fresh tomatoes from the farmhouse garden. We were housed in a cosy tent with handwashing facilities mercifully provided after a sticky morning of selective harvesting. Next year there are hopes for a more permanent structure to be in place on the land after planning permission was recently granted.
Our feast was accompanied by our choice from Rowton's selection of three still wines – including last year's Solaris, which had recently won both a bronze medal and the Members' Choice trophy at the Wine GB Midlands and North Award. No small feat for their first vintage! I was delighted to take a bottle home too for my trouble, and I am looking forward to it taking pride of place for a locally sourced lunch in the not-too-distant future.