While there is undoubtedly an art to making wine, one Sussex vineyard has gone further by putting art at the centre of its entire operation.
Artelium Wine Estate, based in glorious countryside at Malthouse Farm, Streat, not far from Ditchling, collaborates with renowned artists to create unique labels for its bottles, hosts regular exhibitions in the tasting room and is planning a sculpture trail through the estate's 45 acres of vines. 
In fact, as hospitality manager Hannah Simpson-Banks pointed out, at one stage the gently sloping south-facing area of former pasture was considered as the venue for a sculpture park.
Fortunately for lovers of fine English wine, the two entrepreneurs behind the venture, husband and wife team Mark Collins and Julie Bretland, decided that they could find plenty of space to celebrate their interest in art amongst the vines while using most of the land to pursue their passion for producing fine wine.
And while 'good' art can be a very subjective decision, good wine is judged by experts, and those that have put Artelium to the test have already found it to be a winner. The 2017 Nature Series Cuvée, which features a series of three labels designed by artist Judith Alder, won Gold at this year's Independent English Wine Awards.
The Nature Series was released as a collaboration with London-based wine bar Vagabond, with the three labels representing light, soil and water, the three vital elements needed to sustain life in the vineyard.
Collaboration – with artists, winemakers and the local community – is central to the Artelium philosophy and has helped the relatively young business establish itself successfully at what was previously a dairy farm and equestrian centre.
Remarkably, perhaps, the Covid-19 pandemic played its part, too, with the increased numbers of walkers on a footpath from Ditchling to the South Downs that runs through the site watching with interest as vines were planted and farm buildings took on a new life. Once restrictions were lifted, Mark and Julie were able to turn interested observers into potential customers with the aid of signs and new paths.
While Artelium seeks to marry wine and art, it was another wedding – Mark and Julie's own – that proved to be the launchpad for the business.
Both successful entrepreneurs, they wanted to serve an English wine at their wedding in 2013 and embarked on a comprehensive tour of vineyards to find the right choice.
After an in-depth search, their wedding guests were served an English wine made by Owen Elias, one of the most respected winemakers in the business with decades of experience at the likes of Balfour and Chapel Down, so it's no surprise to find that he is now Artelium's consultant winemaker.
Artelium has been conceived as a long-term investment and based on a collaborative approach to winemaking. Hannah pointed out: "Mark and Julie want to create something that will last, and they also want to take the opportunity to showcase the work of craftspeople of all kinds, from expert winemakers to the artists designing our labels."
It's an ambition that is supported by the vineyard's location, in the heart of the Sussex countryside and close to Charleston House, famed for its connections to the Bloomsbury group and formerly home to Vanessa Bell and Duncan Grant. The typeface for the London Underground was designed in Ditchling by Edward Johnston. 
The complex of converted farm buildings at Streat now includes the Skelton Workshops, founded by the late John Skelton, letter carver and sculptor, who lived nearby and spent 50 years working in the county. It offers a range of courses, events and exhibitions.
Artelium's focus on long-term investment and quality craftsmanship is highlighted by the fact that the first wines they released at the tail end of 2020 were a Curator's Cuvée 2014 and a Maker's Rosé 2015. "The wines were made by Dermot Sugrue in collaboration with partner vineyards," Hannah explained. 
"The aim was to make wines with generous time on lees while creating the brand and developing a niche for the wine ahead of Artelium's own grapes being available."
Mark and Julie are active in every aspect of the business but also know the value of surrounding themselves with the right people.
While they had already been sourcing fruit, making wine and setting up partnerships for the future, Mark and Julie didn't discover Malthouse Farm until 2017. They had been looking at, amongst other options, buying an established vineyard, but the former dairy farm and equestrian venture, with its spectacular views of the South Downs, seemed too good an opportunity to miss.
Although wine tourism was then in its infancy, they could see that the buildings would lend themselves to welcoming visitors and there was space to display artworks, both indoors and outdoors amongst the yet-to-be-planted vines. The first outdoor sculpture, Futures Past, by Will Nash, was unveiled just a few weeks ago.
Artelium currently welcomes locals and tourists to its tasting room, wine bar and terrace, all open from Thursday through to Sunday. It offers vineyard tours and wine tastings alongside 'small plates' of locally sourced produce.
The first vines were planted in November 2017, and as lockdown began, Mark and Julie moved to the site permanently and, like many other couples during this time, bought Poppy, a friendly black 'springador' who has quickly become one of the vineyard's top attractions.
The ambition had been to launch the Artelium brand in the summer of 2020, selling directly into the trade, but that plan had to be pushed back to Christmas. Meanwhile the team realised that people walking the footpath that runs through the site were watching the changes and were keen to find out exactly what was going on.
As soon as things opened up, Artelium began offering tastings and tours and selling wine from the site, as well as online. "We also benefited from established wine tour operators who could no longer travel overseas and instead sought out experiences at UK vineyards," Hannah explained.
Artelium now has established vineyards at two locations, with 40,000 vines at Artelium East, Streat, and a further 65,000 at Artelium West in nearby Madehurst, where the couple has a long lease on another former dairy farm and planted vines in 2020 and 2021.
The majority of the grapes are Chardonnay, Pinot Noir, Meunier and Pinot Gris, but Mark and Julie have also planted a number of PIWI International varieties which are designed to be more disease resistant and require significantly less pesticides than traditional vines. It's part of a broader move towards sustainability.
The small parcels of PIWI vines planted at Artelium include Cabaret Noir, Pinotin, Sauvignac and Voltis. They may be used in Artelium's single varietal Artefact range, but the team is keeping an open mind. "We are confident that they will grow well here and produce a good crop, but we are keeping an open mind as to their use within the range," explained Hannah, who joined Artelium in 2021 with a background in retail and hospitality businesses.
The Artefact range consists of small volume wines which fall into the 'premium boutique' category, made by Owen Elias and illustrated by British artists like Nash, whose Futures (Past) release of 250 bottles of a blend of Chardonnay, Pinot Noir, Meunier and Gris features an intriguing geometric design on the label.
With artistic descriptions often rivalling those of wine aficionados, the Artelium website describes the label: "Here multiple grids of simple triangles and curves are superimposed to create prismatic patterns; orderly sequences decay into chaos then combine to find new order."
In a further bid to support art, the label has been used as the inspiration for 100 one-off framed prints in different colourways that are on sale in the tasting room. Meanwhile the aisles within the vineyard are deliberately wide to allow more sculptures to be placed there in the future.
Artelium's sparkling wines spend a minimum of four years on the lees, while their Blanc de Blancs 2015, named Supreme Champion at the Wine GB Awards 2022, spent six years in the cellar. On the way to the top award, the wine was named Best Blanc de Blancs and Best Sparkling, while the team was named as Best Newcomer.
Again with a view to the future, Mark and Julie commissioned their own winery and climate controlled storage, built for them by G J Elgar Construction, based in Ashford, Kent. In a further reflection of the collaborative theme that runs through the business, the winery space is shared with another producer and there is an opportunity for more to join in the future.
The winery was commissioned in October of last year and was designed to be expandable as the business grows. Still and sparkling wines will in future be made on site, although Artelium will continue to collaborate with guest winemakers.
While Artelium's initial throughput is set to be around 100,000 bottles a year, the winery will have capacity for half a million, and as the 'best newcomer' continues to win new customers, even that may soon not be enough.
Satisfaction for customers
Building specialist G J Elgar Construction is beginning to be well known in the world of viticulture after building the winery for Artelium.
The Kent-based construction company, with over 30 years' experience in the agricultural and industrial sectors, began work on the project in 2021, stripping the old asbestos fibre cement roofing material using trained and certified staff.
"We then removed the existing single skin sheets from the walls and stacked them for the clients to re-sell after pointing out that the sheets were valuable and could offset the cost of the project," explained director Neil Elliott. 
"We then supplied and installed 120mm thick composite roof sheets and 80mm thick wall sheets that gave our client the U-values they needed to keep the wine at the correct temperature."
G J Elgar Construction then supplied and fitted concrete wall panelling and installed the high-spec stainless steel drainage needed for the wine-making equipment. "This was a bit of a challenge because of the geography of the building so we needed to alter a number of levels to meet the customer's requirement 100%," Neil went on. 
Since completing the winery for Artelium,
G J Elgar Construction has built another winery in Hamstreet near Ashford for "another satisfied customer". 
"We now have another order for a winery in East Sussex thanks to a word-of-mouth recommendation and the satisfaction we have given our customers," Neil added. "We are committed to delivering quality buildings for wine makers throughout the South East and making the most of the upsurge in viticulture in this part of the world."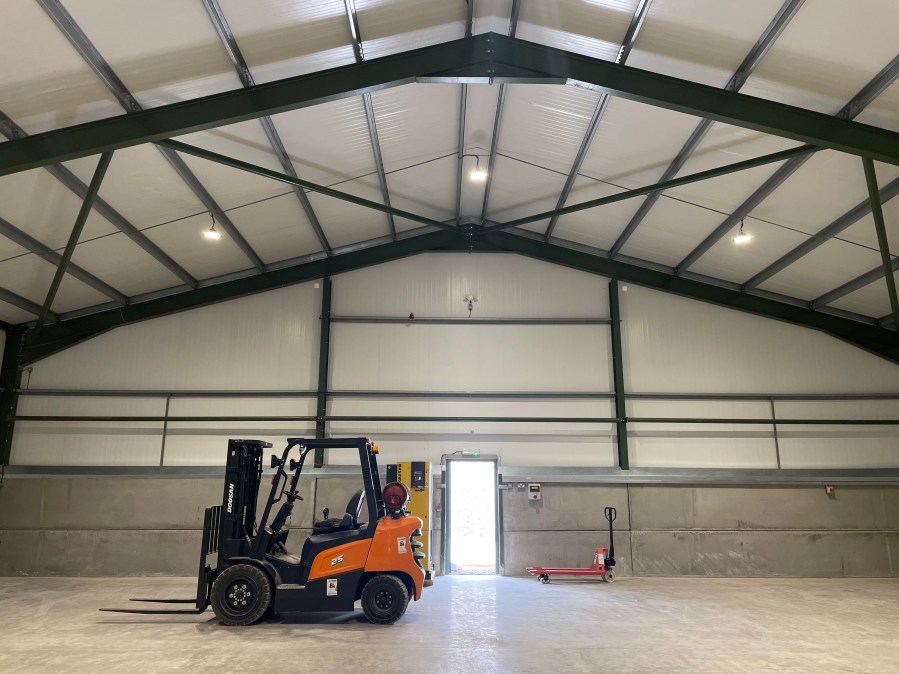 For more like this, sign up for the FREE Vineyard newsletter here and receive all the latest viticulture news, reviews and insight