Since 1774 Rankin Brothers & Sons, a leading supplier, manufacturer and designer of closures, stoppers and corks has been supporting the wine, beer and spirits industry. Vineyard speaks to Jim Rankin, commercial director and sixth generation, to find out how innovation and new technology will drive the transition to more environmentally positive materials and shape the business for the next 250 years. 
Closures have an important function, but it's easy to overlook how critical they are to a wine's overall packaging. "The label catches the eye, but the closure is the first touch point for the customer when interacting with the product. If it is not right, if it is poorly applied, ill fitting or not decorated, it negatively impacts the brand value and what the brand is aiming to express – a good closure is subtly sophisticated and goes beyond function," explained Jim Rankin, Rankin & Sons Commercial Director. For nearly 250 years the Rankin family business has been growing, harvesting and producing cork from their own forests in Portugal, as well as producing a range of closures for different sectors.
As the sixth generation of the Rankin family Jim tried his hardest to escape the clutches of the family business. "I worked in Australia, at Penfolds in the Barossa in the 1980s and I was half a cork away from pursuing a career as a winemaker. But my grandfather reached out and said there were opportunities for me to develop the family business. I leapt at the chance – but took the scenic route back from Australia via South East Asia arriving in the UK over nine months later!
"When I started with the family company, in the early 1990s, there were five cork businesses in South London alone, competing for the same space – all with long ties to Portugal and the cork industry. However, we felt that Rankin had a better offer, and it was my job to promote it further. In those days the large importers, such as Scottish & Newcastle, with their wine division Waverly, were bottling bulk wine in London for their own tied business in the on-trade but now everything has consolidated, and bottling is done by a few large facilities such as Accolade and Greencroft.
The 1990s also saw the emergence of the English wine producers, and I am proud that we were part of the early developments in the 1990s, with pioneers such as Peter Hall at Breaky Bottom, the Carr-Taylors and the Cowderoys at Rock Lodge. It was a sector in its infancy, and my goodness how it has changed seismically in the last 30 years," added Jim.
Rankin Brothers & Sons currently employ 48 people over two sites, the head office near Oxford and the production facility in Buckinghamshire. Rankin's own 4,500 acres of cork forests in Portugal employing a core team plus seasonal harvesters.
Supporting UK wine producers 
"During the pandemic, which was a challenging time for so many, we were so impressed by the UK wine sector and how businesses were quick, agile and imaginative, establishing new ways to sell their wines – online, home deliveries, drive throughs and click and collect – enabling them to ride the storm," commented Jim.
"We are excited to be part of this UK wine journey, to see how the industry has developed over time, how it has grown from artisanal and hobbyist into a sector that is now producing wines to better their competitors elsewhere in the world, exporting and winning international accolades. We genuinely enjoy being in this space and supporting our local industry," added Jim.
Rankin Brothers & Sons are patrons of the national body, Wines of Great Britain and sponsors of the Vineyard & Winery show. "Our patronage of WineGB is crucial, it allows us to reach out to producers individually or collectively and it's an ideal forum for sharing ideas, knowledge, innovation and of course for education.
"For Rankins it's all about giving back and UK producers need a local, loyal and expert supply base if they are to achieve their future ambitions as regards quality and volume. We want to see the sector continue to thrive and prosper. For a family business like ours its hugely important that we give back and our sponsorship is just one example of us making a positive contribution – and enjoy sharing the success.
"There is now no doubt the UK is able to produce quality wines, and that it has the chance for a successful future. However, I would like to see more of a diverse offer, even if that means we see some producers with only vintage wines for special occasions, some with only charmat wines for every day, but with others producing a range including, with hopefully a little more warmth, easy drinking reds," added Jim.
Sustainably cork 
Twenty or so years ago supermarkets started to shy away from corks, due to problems with cork taint, selecting screw caps or plastic 'corks' instead. "Rankin, fairly early on, developed a range of natural, micro-agglomerated and other cork hybrid closures, that mitigated cork taint, and nowadays it is no longer a problem, due to innovative technological advances and robust production controls. In fact, cork taint or musty aroma can originate in damp cardboard and even to the wadding element inside screw caps. Our partners at Cork Supply offer a buy back bottles guarantee for genuine cork taint issues," commented Jim.
"Cork is increasingly popular – and people have come back to cork for two reasons. Firstly, it's now more reliable and consistent, with better manufacturing controls that meet quality expectations. Secondly buyers, brand managers and consumers are aware of the positive sustainability and eco credentials of cork, as a natural material," said Jim.
"I passionately believe in cork and the role it plays in environmental sustainability and the mitigation of climate change. We have had our own cork forests since the 1800s, located by my ancestor, William Rankin. We are custodians of a rich and biodiverse ecosystem and activities in the cork forests, their management and conservation are part of our long-term strategy of sustainability. Our cork trees are not felled, the cork bark is harvested on a nine-year cycle, and we are continually planting new trees. The cork trees are hugely positive for the environment, they sequester CO2 and are a significant carbon sink. They also host many unique habitats and support rare and endangered species, such as the Iberian Lynx and the Shrike," explained Jim.
"We are aware of our responsibilities in supporting the local economy, sustaining unique skills and livelihoods and preserving the environment. We are members of the European Cork Confederation. We are committed to managing the forests in a manner which is ecologically, economically and socially sustainable. We are proud to have FSC (Forest Stewardship Council) certification for our environmentally sustainable working practices," added Jim.
Corks can be recycled, but not currently through kerb-side collections, but by an increasing number of schemes, such as Recorked (www.recorkeduk.org), who offer collection points around the country, including many UK wineries. These corks can be returned to Portugal for grinding up to make other cork products, or they may be used to make household products. "We need to improve uptake of this process, it needs promoting and the cork and wine industries need to collaborate to encourage consumer behaviour.  The danger of the corks entering the kerb-side recycling is that they may end up in landfill," commented Jim.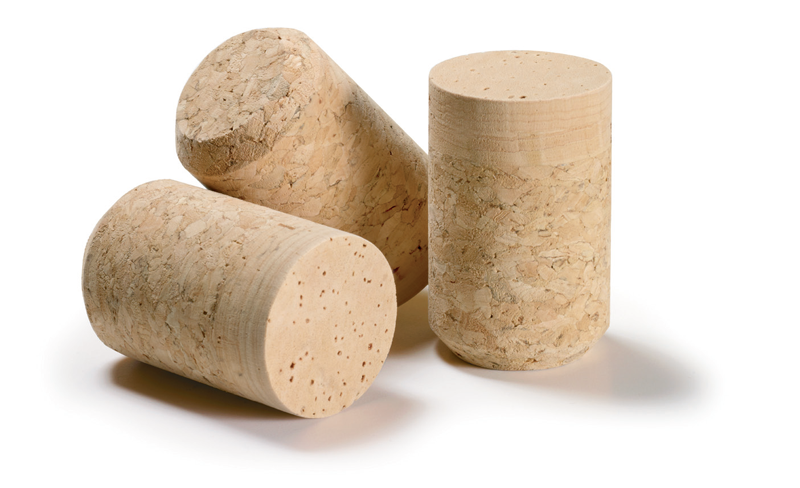 Tools for future 
For Rankin Brothers & Sons the future is about sustainability as well as continued investment in research and innovation. "We have lots of exciting projects in the pipeline so that we can transition as quickly as possible from industrial products to more environmentally positive materials. Sustainability is not just about recycling, although important, but also about having a tool kit – such as a range of materials and options to select from that are more environmentally positive. If a product can't be recycled, at least we can ensure that it is biodegradable, or produced from sustainably sourced biomaterials," commented Jim.
"We have a dizzy matrix of trials incorporating lots of different materials, including using ocean waste. Our partners and manufacturers of quality foils and capsules, Sparflex of France, have a Green Line range that uses biomaterials derived from sugar cane, bio-sourced polyethylenes and water-based inks in place of oil-based products and solvents.
"As plastic injection moulders, we are reviewing all the materials we currently use in order to transition from oil-based to environmentally positive options and thereby lessen our impact on the environment. There are many materials we would like to use, but we do have to prioritise optimal performance – the fit and function of a closure.
"Our corporate strategy and pathway towards a more sustainable future is called NOVA – and it is a project with ambitious goals. It is about developing a tool kit which will enable us to move to the adoption of more environmentally positive materials. This will help keep us ahead of the legislative changes that are coming down the track and importantly, knowing that we are reducing our carbon footprint, it will energise the business to do more and achieve more ambitious goals.
"People want a more sustainable choice but often the infrastructure to support their demands is lacking, as an example if corks go into kerbside recycling, they are likely to end up in landfill. We need to lobby hard to local and national government to ensure that organisations are incentivised to put in place robust solutions," commented Jim.