Vineyard Magazine speaks to the Nyetimber head winemaker to get her take on English wine, how it's changed and where it's going.
How are you spending your time during English Wine Week?
We are still pretty busy in the winery. We're at the bottling stage of the 2019 harvest, so we're trying to get the last of that sorted and begin preparing for our harvest 2020. 
Has your opinion of English wine changed since you started working at Nyetimber?
I would say no, but I think other people's opinions have changed. It's interesting coming into an industry from "the outside". I came to the UK with a heritage, because my father was from England, but I hadn't lived here before. I didn't have any of that baggage walking in, I was just thinking what can we do with these soils and this climate. We felt very early on that the potential at Nyetimber was enormous. To the degree that we decided that we were going to make prestige cuvées, for example. It's been more than 13 years that I've been working in this country and this climate and I still think the potential for sparkling wine is really second to none. We have been and will continue to stand with the best in the world. 
Have reactions to English wine changed? 
Absolutely, without any question. When I started in 2007, it wasn't unusual at all to have people who didn't know grapes were grown in this country or that we made sparkling wines on an international level of quality. The level of awareness, across the UK, was quite small. Now, when I meet people and they ask why I'm in England, I don't get strange looks when I say I'm a winemaker at Nyetimber. 
Do you feel more pressure with more producers appearing?
I think we feel the pressure, but not necessarily because there are more producers. It's so much part of our company ethos that we are pioneers, we lead the way and we need to challenge ourselves. In fact, we've always compared ourselves to Champagne and it hasn't changed from that perspective. There is no getting comfortable at Nyetimber, it's just not the way we work. 
Are you feeling there's a growing appetite for home-grown products recently?
I think I have an interesting perspective on this, again coming from the outside. When I came here in 2007, I felt that no one seemed to appreciate what was so incredible in their own country. It was like there was a reluctance to show pride in the amazing things made in England. I think when you come in from the outside, you see those things and think that's great without the cultural need to feel reserved. I do think that now, people feel a little bit more comfortable to be proud of some of these things. Some of the products in this country, the asparagus, strawberries, that are grown, they're world class. I think now people are just starting to feel more confident and are taking pride in those great things. 
Is the amount of grapes you produce every year important?
I think it's important to know that Nyetimber will only use fruits from vineyards that we own, and therefore in order to grow the business, the only way to do that is to buy more land. The reason we do that, I lovingly say, is we're control freaks. We want to be able to choose the perfect blend and the soils that we believe in with the right varieties, clones and rootstock. That is important to us and it's harder to have that control when you're working in the market of buying fruit.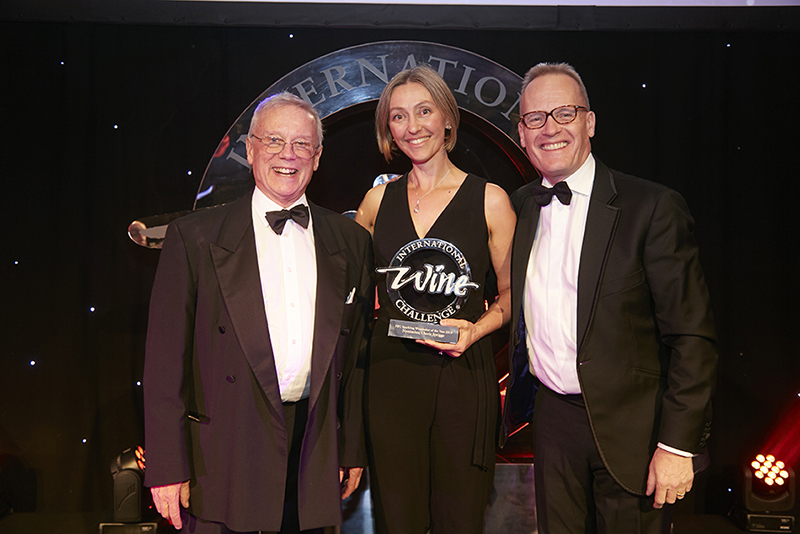 What are you excited about at the moment?
I think at the moment my head has been to the grindstone trying to operate differently in Covid-times! It is quite busy but looking out the window now I'm excited for the potential of 2020 no question. We are right in the middle of flowering and when we have this sort of warm weather during flowering period, that's such a perfect way to take us through to harvest in autumn time. I smile every time I look out the window right now. 
What's been your proudest moment since working at Nyetimber?
If I think of what I'm most proud of and my proudest moment, they're distinctly different. My proudest moment would have to be when I was the first person outside of Champagne, and in fact the first woman ever, to win the winemaker of the year award and the International Wine Challenge. That competition has been running for decades and they've awarded it to champagne every year since it started. The thing at Nyetimber that I feel I've been able to achieve is the consistency of the quality. I feel that you can rely on Nyetimber from bottle to bottle. 
What are your predictions for English wine globally?
It's definitely going to grow. Part of our predictions for the future are driven by the fact that up until a couple of years ago our exports were zero. A lot of UK producers began exporting before Nyetimber. I feel like we've barely started and we have a lot to do. We need to tell the rest of the world how fantastic this English Sparkling Wine is and that will take time but there's no doubt in my mind that the potential is there.