Sustainability should be high on the agenda for all businesses and this month Matthew Jukes looks at the wineries doing it well.
• www.matthewjukes.com  • admin@vineyardmagazine.co.uk
If you said, 'name two sustainable wineries' to me, my knee jerk response would be Ancre Hill and Forty Hall. Sustainability is now so vital to us and our planet that its message ought to be woven into every single business alive, but it is not. It is a real pain in the backside when you start to think about this vast subject and then try to find answers to every single minute question that it throws back at you. In the wine business, or rather the wine farming business, sustainability is seemingly more attainable than in many other walks of life. We have a good record of sustainable pioneers in the GB wine scene and we should support them as well as take note of the lengths that they go to to embody these worthy challenges.
Sustainability, in its purest form, is the ability to exist without diminishing your environment. These days it more commonly means that us humans and the natural biosphere around us need to find agreeable harmony so that we can perfectly coexist. Of course, most of us, myself included, fall a long way short of an ideal sustainable standard, but some in our business excel at the care and attention to detail required to maintain a sustainable business and they inspire and illuminate the rest of us.
So back to Ancre Hill and Forty Hall. Richard Morris, of Ancre Hill, wrote me a long email over a decade ago which inspired me to visit his estate in Monmouth. It was this snippet of a sentence which originally fired up my imagination, "with viticulture practised to a level and degree I doubt is commonly seen elsewhere in the UK". Of course, he was right because Ancre Hill is a leader in the production of organic, biodynamic and natural wines as much as in the closed circle principles employed for sourcing of materials from within their farm and its near carbon-neutral set-up. Just taste my favourite current release to see just how pure and vital it is – 2018 Ancre Hill Chardonnay has superb balance, with a bitter grape skin tang and a juicy, lemongrass core. 
Forty Hall Vineyard, on the other hand, is not only a superbly-managed organic vineyard which makes delicious wines under the calm guidance of organic guru Will Davenport but it is also a fantastic community project, too. Please take the time to visit their website (www.fortyhallvineyard.com) to read about the exemplary, ecotherapy work they do. Buy a bottle of 2017 Forty Hall Vineyard Brut or 2018 Bacchus and drink the fruits of their labour while you learn more about this vineyard and its human-sustainable initiative. You will then truly understand the unavoidable link between the nervy, tender, balletic, refreshing and memorable wines and their creators. All of the profits from the sales of Forty Hall's delicious wines are put back into the project to enable them to deliver health and well-being benefits to often vulnerable people in their local community. Let's hope that every winery in our land makes more of an effort to pursue a sustainable path – there is no other realistic choice available. Opposite you will find three more remarkable examples of this genuinely life-fulfilling mantra.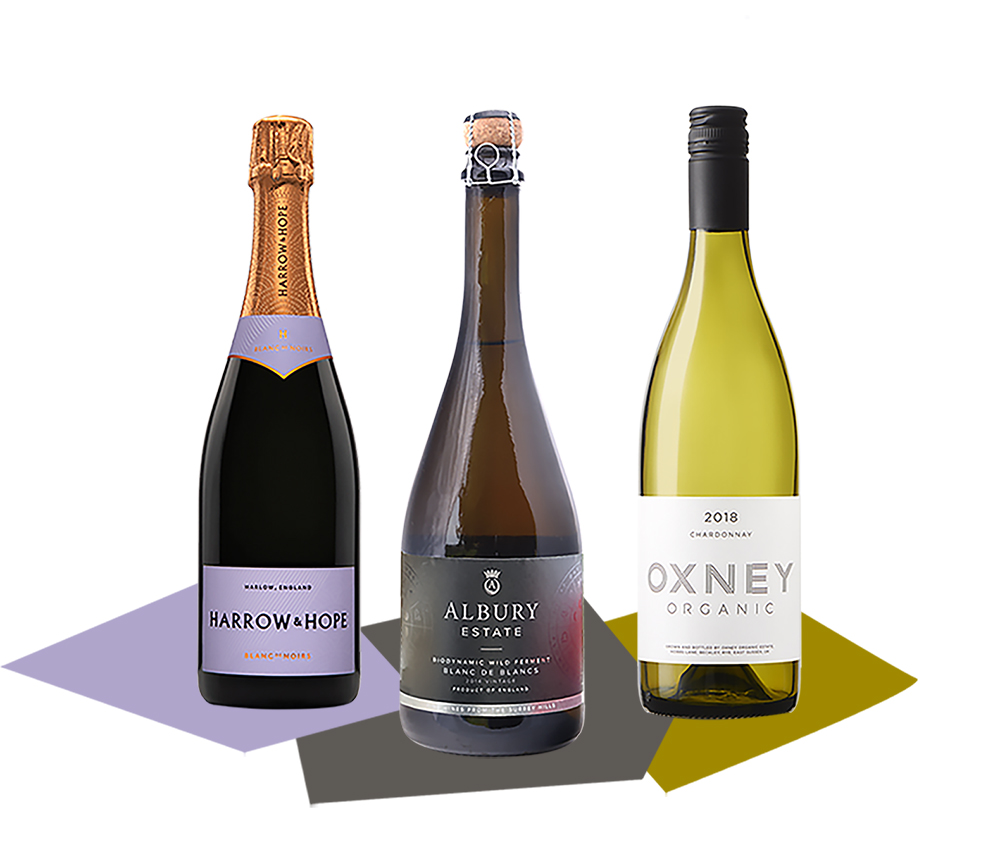 I am a little late to the Harrow & Hope party given that they have been totting up awards and recognition for a few years now.
I have always wondered when the wines would transition from honest and decent to those whose flavours truly represented the property with flavours that soar, and it seems to me that 2015 is the vintage. Henry Laithwaite is justifiably excited about his beloved, chalky, flint-gravel soils high above Marlow and he is working slavishly to extract as much gravitas as he can from this site. His organic treatments, composting and cover crop work is, after ten years, yielding the results he hoped for. The small matter of hammering in 35000 wooden stakes, to protect the vines, clearly focussed his mind on the task in hand! This 70% Pinot Noir 30% Pinot Meunier Blanc de Noirs is my favourite wine released from H&H and even barrel fermentation cannot hide the raw energy, derived from this remarkable vineyard, in this tangy but already flirtatious wine. Harrow & Expectation has arrived.
Two years ago, I wrote up 2017 Albury Organic Silent Pool Rosé in Vineyard stating that it was near-perfect in every respect. 
The 2019 would have taken its place in this epic trio were it not for my featured wine gliding past in and onto the page. Before I mention my featured BdB, I must let you know that I will be amazed if there is a finer or more elegant English still rosé release this year and so you must track a bottle down. But onto the superstar sparkler – a wine which blew my palate away. Only 600 bottles were made of this 100% biodynamic, wild yeast fermented Chardonnay and it is utterly sensational. Albury is a haven for bugs, bees, butterflies and biodynamism and this sherbety, ultra-fresh and super-delicate wine shows gossamer lightness coupled with steely integrity on its palate. I love the story, the packaging and the flavour here and it is the sort of wine which would convert any sustainability-atheists to the cause.
In addition to the notable sustainable practices used in the finest vineyards and wineries in our country, Kristin Syltevik, the mind behind Oxney, listed for me a load of other random things that she thought were important for Oxney's deeply felt sustainability position. 
Biomass boilers using their own coppiced wood; Fendt tractors which use less fuel; electric vehicles for deliveries; manure from the farmer next door; composted prunings and marc are returned to the vineyard; upcycling, most notably the shepherd's huts in the vineyard which are partly fabricated from recycled corrugated metal from a big feed tank and oak felled and milled on the farm and, my favourite, the satisfying switch from Sellotape to recyclable paper tape. I wanted to mention two wines in this piece, but thanks to this fascinating list there is only space for one and I have left the best until last. My featured wine comes from the Thomson Block and it is hand-picked and barrel fermented, using 50% wild yeasts. This is the most resonant and beautiful English wine I have ever tasted and I have waited 34 years to say this. Finely assembled, nothing short of exquisite and refreshingly innocent this Chardonnay is the proud possessor of a firm core of mineral-soaked fruit and this makes is a phenomenal release. I will go further – I cannot think of a way in which this wine could be improved and this sets it apart from every other English wine I have tasted. By definition, this is my first ever 20/20 scoring English wine.