Wine in cans are filling the shopping baskets of discernible wine drinkers, those looking for quality, convenience and to tick the sustainability box. Reports indicate that canned wine sales in the US have doubled in the past year, and that they are now on the increase in the UK. There is even a dedicated International competition for canned wine! English wines are joining the party with four brands already on the market and one more to follow soon. But making a wine suited to a can and selling the product is not plain sailing. Editor, Jo Cowderoy, looks at the opportunities and challenges for brands in cans.
Trendy craft beers in cans are easy to chill, unbreakable and light to carry which makes them popular for picnics, festivals, as well as for taking home. With developments in technology, wine is now able to explore this exciting market. In response to this growing demand, two of the UK's largest packing companies, Kingsland Drinks and Greencroft, have invested heavily in canning lines for wine. Their customers include supermarkets and large international wine companies who import wine for UK packing. Apparently, the first wine to go through the Kingsland canning line will, in fact, be an English wine! 
Waitrose currently stocks The Uncommon, which was the first English wine in a can to be produced. Launched in 2019, The Uncommon have two wines, a bubbly white and bubbly rosé, that both retail at £4.99 per 250ml can. Marien Rodriguez is the wine buyer for the can format. "Cans have numerous advantages and we have witnessed a robust following that has been consolidating this year and I expect to see growth in this category in 2021. Cans are extremely successful in the US market and the UK customer following is very positive. Our target customer market is the age groups of 18-45 years old, however, my aim is to attract any type of customer looking for high quality wine in a single serve portion," commented Marien. "The quality of these wines keeps improving and the level of innovativeness and newness being presented is both exciting and very promising for this category of products. Quality is key, especially with this non-conventional format, in order to gain customer loyalty," she added.
Hush Heath's Pink Fizz 2019 rosé, with a little aeration and a pressure of just over two bar, is in a generous single serve 200ml eye-catching can. The first batch of 60,000 cans will be launched in the New Year, but is available from the cellar-door for Christmas. 
Winemaker Fergus Elias is enthusiastic for the new format. "I think this is a market that when it gets going will be huge for English wines. English wines are innovative, we have fewer rules, and are not constrained by tradition. The tall slim cans look really cool and I am really excited," exclaimed Fergus. 
Hush Heath are planning to sell through the multiples and also have a route into a pub network. "A winery will need to go multi-channel if they have a significant volume and I think the market is very broad-church with every demographic likely to buy at some stage. However, it's a tricky environment at the moment for new products," said Fergus. Hush Heath will consider expanding the range to include a white wine next year. "We will move away from glass where we can. Cans are an obvious choice as the recycling is efficient and they are very light to transport," commented Fergus. 
Three Choirs launched a still rosé wine in can 18 months ago. Winemaker, Martin Fowke, explained that this was after seeing that the first English wine in a can on the market, The Uncommon, had such a positive response. "We had plenty of wine from a large 2018 harvest and decided to do 187ml cans, as this size seems to be favoured by the on-trade. Jascots wine merchants were interested, so we had a potential market lined up," explained Martin. The wine was well received and sold well for Three Choirs, but they have faced challenges in sourcing cans this year. "There has been a shortage of 187ml cans, as during lockdown the demand for cans for beer, cider and soft drinks has increased!" Martin added. This year Three Choirs are planning to use 250ml cans. "We feel that this is a different market, more for retail. We were going to launch for Christmas but will now wait until the Spring and hope to also do 187ml, for restaurants," Martin added. 
A challenge for Three Choirs has been getting the wine canned at packing plants as their volumes are relatively low. Three Choirs are now using the contract packing facilities at Chase Distillery in Herefordshire. "With our current volumes, producing a wine in a can is no cheaper than putting it in a bottle, but the perception by the consumer is that a wine in a can should be cheaper," commented Martin. 
Like Hush Heath, Three Choirs have considered the sustainability angle, the ease and efficiency of recycling. "An aluminium 'can' can become a 'can' again within days, where it is unlikely that a bottle will become a bottle again," explained Martin. 
James Bayliss-Smith launched his English wine in a can from Nania's vineyard in July 2020. A chance meeting on an Italian beach with a producer of an Italian wine in cans planted the seed and James returned to England to get his business plan underway. "But not fast enough for The Uncommon launched before me!" James explained. "We have a vision to bring English craft drinks to a wide audience, through the sustainable and convenient choice of cans," commented James. He decided to do a spritzer style product, "mostly to keep the alcohol below 5.5% for a lower duty rate and therefore sale price," he explained. 
So, taking a leaf out of the craft beer industry, for the 2020 vintage James decided to partner with specialist rosé producer Off the Line vineyard in Sussex, who are creating a bespoke wine for Nania from Rondo to make a spritzer rosé. James would like to develop his product range in collaboration with a range of vineyards. "Craft beers have been very successful in collaborative ventures and I see this as a great way of creating unique products to market," commented James. The 2019 wine in a can has sold well so far to local delicatessens, farm shops and retailers in the Bristol area. "Online sales have been good but could benefit from more digital marketing and social media," he added.
Nania's vineyard also found it hard to find a suitable canning facility as they have such small volumes. "It would be great to be able to have the benefit of printing on the cans and be at a scale to reduce the per can production cost," James explained. 
Bruni Erben say that they can supply fully decorated cans, depending on quantity, which are fully recyclable. "Labelled cans can face issues in the recycling streams as they are viewed as a mixed material and can't always be recycled easily or at all," explained Mark Crumpton, Bruni Erben. "Testing is important and we can provide full support along the way from a technical perspective as we understand the importance of maintaining quality and the risks around the packaging," he added.
Students at the Royal Agriculture University (RAU) were challenged with a business project as part of a social enterprise programme. Their solution to the large harvest from the RAU's vineyard at Down Ampney, Gloucestershire and to sell the wine at events, was to produce wine in cans. They were involved with all aspects of the business, from concept to sales, and the wine is named after the programme, Cotswold Hills. The wine is made by Three Choirs, a fizzy white from Ortega and Bacchus, in a 250ml can. "The students have done really well. The first run of 4,000 cans from the 2018 vintage sold fast, mainly through Midcounties Coop and we are now selling the second run of 4,000 cans," said Katy Duke, Head of Enterprise at the RAU. "It was a bit like marmite at first, with some people loving the concept of wine in cans and others thinking it just wrong! But that is changing, and I think there are lots of opportunities for wines in cans, such as festivals and events," added Katy.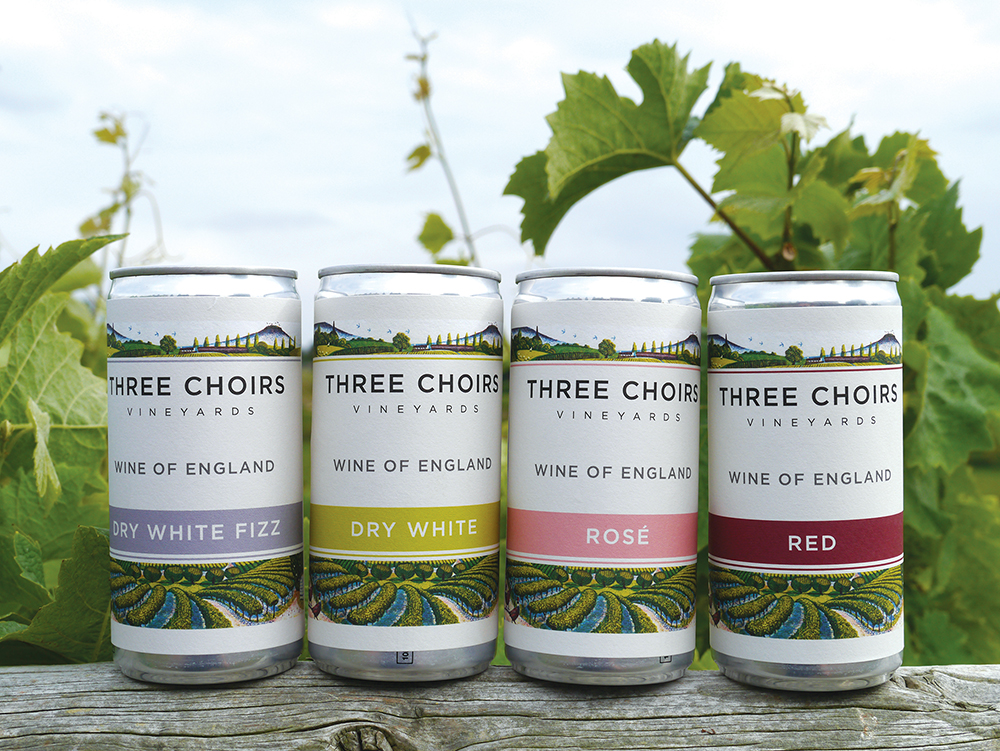 Preparation of wine for canning can be challenging and a little different from preparing wine for bottling. "The free SO2 levels need to be correct, too much and it can react with the can, but there needs to be enough to ensure a decent shelf life," explained Martin. "To can a still wine a liquid nitrogen droplet 'doser' is needed to avoid the can collapsing. Carbonation by CO2 is either added in tank or in-line to around 2.7 bar, with canning under pressure," he continued.
Fergus agrees that free SO2 is a problem for wine in cans. "We have found that dimethyl dicarbonate (DMDC) is the panacea for producing wine in cans as the free SO2 can be reduced to a low level. DMDC is commonly used as a beverage preservative and sterilant. It also has a low organoleptic threshold," Fergus commented. "Also for the can liners we went as 'hard core' as possible to ensure that it remains intact," he added. 
A spokesperson from the technical team at Kingsland Drinks explained that, "one of the key things we need to watch out for in terms of canning is the integrity of the can liner or lacquer. It is vital that the levels of components of the liquid are within specified tolerances, otherwise the liner or lacquer can react, leading to faults. As well as keeping free SO2 low, other considerations would be pH, CO2 level, headspace in the can, total packaged oxygen level. All need to be monitored throughout to ensure the liquid is not affected. It is important that a can manufacturer monitors application of the lining or lacquer. If there is any inconsistency in the application of the lacquer, this means that liquid comes straight into contact with aluminium and this creates serious issues," they added.
It appears that labelling is also less than straightforward, not only the practical aspect, but also meeting legal requirements. "Labelling needs to be done when the wine is canned and the specifications are very important. We went to a supplier of can labels rather than a normal wine label supplier," explained Martin. 
Hush Health used Amphora, a well-known wine label designer for their cans but Fergus describes the legislation for the label to be a bit of a 'rabbit hole'. "Trying to find out what is and what isn't legal was hard, but luckily both the Wine and Spirit Trade Association (WSTA) and Wine Standards were a great help," he explained. 
Dominic Buckwell, Director of WineGB and lawyer, does not provide advice directly on labelling, as this is the role of Wine Standards, but is knowledgeable on the topic. "Because the names of PDO and PGI appellations for 'Quality' and 'Regional Quality' sparkling wines include the words 'English' or 'Welsh' and define the production method as fermented in the bottle, and in which the wine is packaged, it is therefore not permitted to label or promote a canned sparkling wine as 'English' or 'Welsh'," explained Dominic. "Still wines made from grapes grown in England can potentially be PDO or PGI wines and use the 'English' or 'Welsh' term as appropriate, provided they have been passed through and otherwise comply with the relevant scheme," he added.
 To add to the complexity there are regulations governing bottle and format sizes. Contrary to popular misunderstandings Dominic clarifies that these originate not from the EU but the UK's own ancient weights and measures laws, and that the metric sizes currently in force are based on harmonized EU rules. " This 1985 Act remains in force and the various regulations made under the 1985 Act can be found on the website: [www.gov.uk/weights-measures-and-packaging-the-law/specified-quantities]. To summarise these dictate the following: sparkling wine sizes as 125, 200, 375, 750, 1500ml; and still wine as 100, 187, 250, 375, 500, 750, 1000, 1500ml," Dominic explained.
The lively artistic designs and convenience of cans are attracting consumers, but sustainability is also a significant consideration. Chris Foss heads the WineGB Sustainable Wines of Great Britain (SWGB) scheme and explains that, "two key objectives of the SWGB Scheme are to reduce the environmental impact of wine packaging and to reduce the carbon footprint per bottle of wine." The SWGB working group publish regular bulletins providing information and guidance to producers. The September 2020 SWGB bulletin Sustainable Wine Packaging says that almost half of a wine bottle's carbon footprint comes from the packaging and that only 20% of glass is actually recovered in the UK, with the rest ending up in landfill, as the cost of the energy required is too high and the demand for recycled glass is too low. However, the recycling rates for aluminium are very high and rising. They are currently at around 75% in the UK and there is no loss of quality when recycling this product. In fact, recycling a can uses 90% less energy than recycling a glass bottle, the bulletin concludes.
There may be a few hurdles to clear, but the canned wine market appears to be a category seeing growth and greater respect with premium brands, from both old and new world wine regions recognising the advantages of the can format and exploring the market.