Three's the magic number.
The pandemic has prompted many vineyards to re evaluate their route to market as they find their tourism and on-trade sales vanish. Vineyard speaks to Elisabeth Else, the founder of a new e-commerce service, the3bottles – aptly named as each bottle sold directly to the consumer is worth about three sold to the trade.
When did you become interested in English wine?
Gosh, probably around 2012 or 2013.  A group of us set up a wine tasting group and one of the blind tastings included wines from Devon and Cornwall. I remember Tamlyn Currin (who now works for Jancis Robinson) wondering out loud if they were perhaps from the Loire. I think this tasting, as well as a bottle from Sharpham Estate I'd received as a gift, were probably the seminal moments.  I started a blog called English Wine Lovers which eventually led to creating Wine Cellar Door. 
What is your background?
I did a degree in Statistics at University of Bath and started out in the pharmaceuticals industry but decided supply and demand would be more in my favour and I (plus my mathematical skills) moved into a business environment. I worked in banking, CRM, management consultancy and then public sector tourism, before I found myself implementing e-commerce solutions for major retailers. 
Why did you launch the Wine Cellar Door website and the online shop? 
When I started visiting vineyards as a tourist for my blog it became clear that while it wasn't difficult to identify vineyards, it was almost impossible to search for those you could visit, their opening times, and what facilities they offered.  To me, it was like an online shop – finding a dress that is red with long sleeves is technically similar to finding a vineyard with a restaurant that is open on a Tuesday! I built the first simple website myself and we are now on the third iteration, with upgrades happening all the time. Our growth is up 50% year on year overall, with the second half of this year almost double because of the online shop.
The Wine Cellar Door website and App are tourism resources, so during the pandemic, the lack of visitors led to building the online shop.  I don't hold stock, the shop links to the individual producer's website to process the purchases. With some nice PR, that's really proved a growing area. Also we are increasingly being approached about partnerships, which are great for exposure as I'm very keen to get producers seen outside the world of wine. For example, Ashling Park are now partnering with Nick Munro, who makes gorgeous wine coolers, so they will be generating content for one another. Lots more of these are in the pipeline, too.
What is the3bottles e-commerce service?
During the pandemic all online shops, even the more ropey ones, saw increases in wine sales – and some realised they were only making a fraction of their potential.  I think that reaching consumers through direct sales will not only continue but become an increasingly important part of the 'pie'.   I launched 'the3bottles' to provide English and Welsh vineyards and wineries with a modern, profitable e-commerce approach.  The route to the on-trade will return, and we certainly need local restaurants, but the focus of the3bottles is direct to consumer, as a tool for increasing revenue. 
We provide bespoke e-commerce online solutions, working with the vineyard's brand and designers.  We are neither the most expensive, nor the cheapest. What our websites do deliver is a tool that will help producers make money. It doesn't need to be scary; we guide clients through the process, but the more they put in the more they will get out. Most people don't have experience in briefing a state-of-the-art website, so we adopt a duty of care. That's why it's upsetting when we see people charged a fortune for websites that don't deliver sales.
We have built websites for clients such as Dermot Sugrue, Winbirri, Fox & Fox and Ashling Park as well as educator Enjoy Discovering Wine. While initially we focussed solely on selling online, we are now working across the whole of direct to consumer, integrating not just tours and events, but also tasting room bookings, cellar door sales, wine clubs and more. This new approach is what we've just delivered for Furleigh Estate and Rebecca, the owner there, can barely believe how much turnover has increased.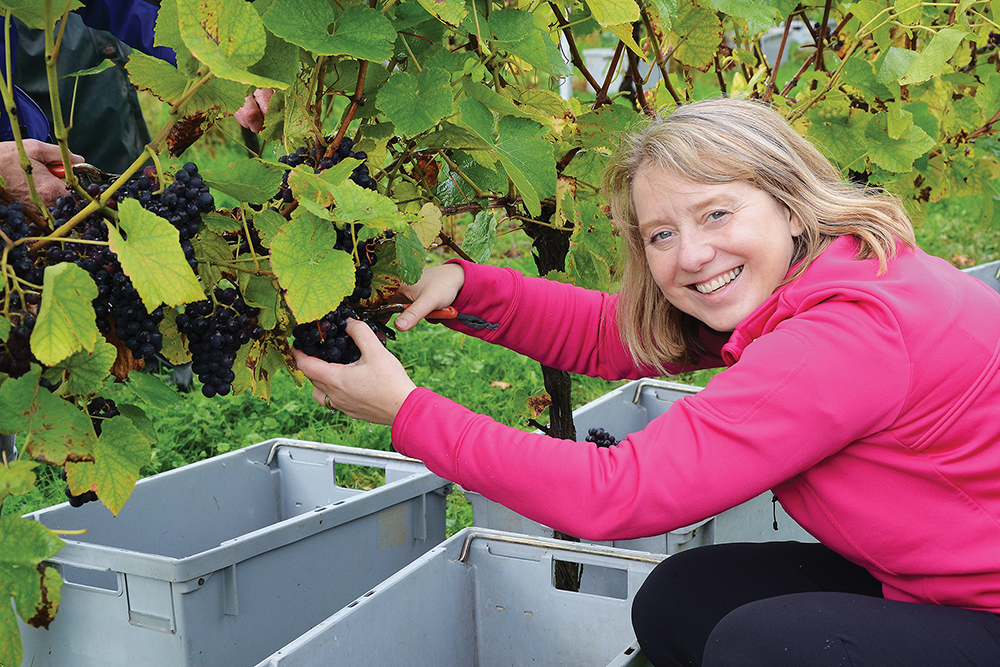 The future of Wine Clubs 
For the past couple of years, I have been attending the' Direct to Consumer Wine Symposium' in California, as well as visiting vineyards and wineries there.  So many US wineries have fantastic mailing lists and wine clubs. In fact, during the horrific wildfires earlier in the year, many said that the regular income of their wine club customers was crucial.  I think UK wineries should follow this example as there is so much potential for the subscription model here, giving exclusivity to, and rewarding, loyal customers.  We can integrate a phenomenal piece of wine club software, used in the US, into the website build.  
Mailing lists are the single most important way to direct traffic to your website and generate sales. It never ceases to amaze me when I see producer websites that don't even allow email address capture, or producers who are "shy" about emailing their subscribers!
You must have a team – or are you superwoman?
The same team works across Wine Cellar Door and the3bottles. My developer is the key player, he is very geeky and a bit shy; we work incredibly well together and he is brilliant at taking my ideas and bringing them to life.  Luckily, I speak quite good 'geek'!  We have a regular photographer, stylist and graphic designer. A new member of the team is helping with software implementations, with a view to becoming technical support. We've also recently started an informal intern programme aimed at giving people a bit of work experience and something to talk about in an interview.
What is your view of the future?
We all know that more and more vines are being planted and that there are big stocks of wine – not least the 2018 sparkling which won't even come to the market for a year or two yet. In very simple terms, those producers who get their heads around selling effectively will do well, those who don't will end up discounting, being bought out or going out of business. 
Even those without sophisticated websites are making online sales at the moment and some are now wondering how much more they could add to the bottom line if they do it properly!
Commenting on the3bottles, Justin Howard-Sneyd, wine business consultant, said "There's no doubt that an integrated Tourism, Cellar Door sales, Wine Club and E-Commerce strategy is crucial to the future success of English Wine Producers. It is not easy, but we need to build the skills."