Paul Olding is a man who has spent years completing risk assessments for filming in the most dangerous locations but he's now working on one to get his vineyard back to work with social distancing in place.
Can you tell me a little about your background?
I'm a television and film maker, so producer, director, write the theme tune, sing the theme tune.  That's my trade – 20 plus years making documentaries for BBC or channels in America. I brought Professor Brian Cox to the BBC, made films on science, history, natural history, ancient history and sociology – basically everything. That's my trade. However, I'm trained as a biologist and I've got a doctrate in Australian frog calls. So turning my hand to growing grapes and vines, there's a whole other science, and I've kind of gone a little bit full circle.
Why did you want to set up your own vineyard?
I sort of fell a little bit in love with wine in the early 2000s, not in a wine snob way, but I like wine and I like vineyards. I love the design and the spatial layout of vineyards. They are very OCD places; all lined up and all very regimented and I just like that. I had a notion in early 2000 that it would be fun to have a vineyard. Alongside my growing interesting in wine, and the love of vineyards, was a love of English vineyards. I walked before I ran, I got myself an allotment and I set up an urban vineyard. I went to Plumpton and had the crash course – so not a degree in oenology, I did their crash course in viticulture with Chris Foss back in 2007. I set up a little vineyard that was literally an allotment vineyard, where we had four rows of vines, Regent, Phoenix and Orion and in the alleys I grew butternut squash and whatever. What was good about that is I did the training at Plumpton but then I learnt on the job. Then we made homemade wines at home in the kitchen winery. I also wrote a book about it called The Urban Vineyard. That was the learning process, I have Stephen Skelton's books always there in the background. Then the notion came, could we have a little commercial vineyard? That's when we started looking at lots of land and it took a very long time.
When did you start work on Wildwood Vineyard?
It was in 2014 that we bought the land. It's basically a field and the copse of ancient woodland and that's where you get the name Wildwood. Then I worked with Duncan McNeill. I've got a lot of training and I was on top of everything but it's nice to have a viticulture consultant say 'yeah, this is a good place'. With his guidance it took 18 months to ameliorate the soil because it had just been left to grass. So, 18 months of chemicals and nutrients. We followed his guidance to the letter, and it worked out very well for us with the vineyard being established very well and very quickly. We planted Bacchus, two German clones of Pinot noir and Regent. It's only an acre under vine, we planted in 2016 and we had our first harvest in the amazing year of 2018.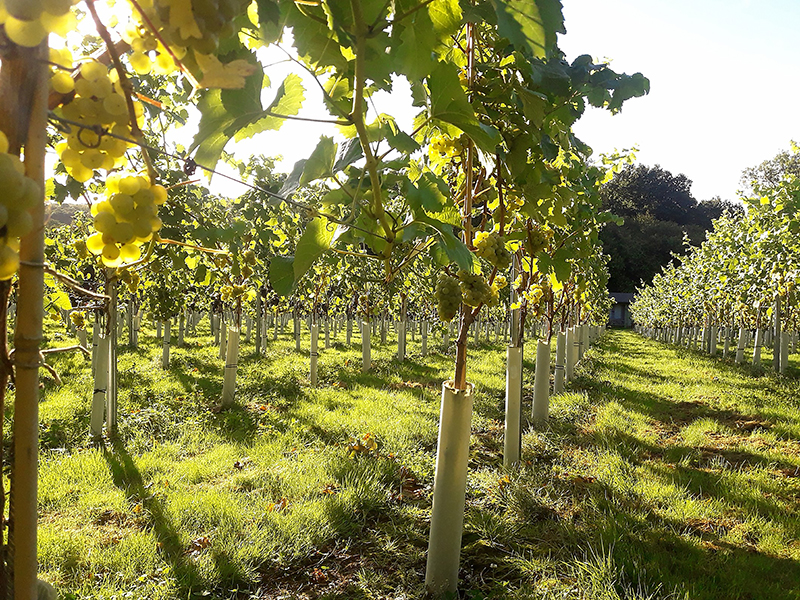 Was there a big difference going from an urban vineyard to your commercial vineyard?
The interesting thing is my urban vineyard had 40 vines on it, and our commercial vineyard has 60 vines in a row. I went from being able to go to the urban vineyard and do everything in 30 minutes to an hour, to something 30 to 40 times bigger. It wasn't really a shock because it's obvious if you think about it. I'm the one who's trained, which limits what everyone else can do because most of it is trained work. You need to know what you're doing. It was a question of time, as well as doing more training, courses at Plumpton, spraying courses and PPE. We had a lot more of those sorts of things that come with making a commercial vineyard; the licensing, the planning and we managed to get through all that. We had a fun time with planning permission for our two wooden sheds. We were helped immensely by WineGB. Then we had the same with getting a premises license. Again, it's just a lot of paperwork.
How has the lockdown affected you?
We closed immediately following the government guidelines. We assume we would have had a really bumper Easter weekend. It was really sad, I was sat there by myself having done a day's work thinking it's such a shame that people aren't enjoying this. At that time however, it was very much a complete lockdown and I had my DEFRA papers with me should anyone wish to question why I was not home. We closed the vineyard and the cellar door but as with many other vineyards we started doing deliveries and sending bottles out. But we are very small and I think our clientele and the people that come to us very much like coming to us to see the vineyard.
What have you done to allow you to reopen the vineyard and cellar door?
We've been closely following the government guidelines but actually I'm more closely following WineGB's guidelines because their approach is both sensible and practical. I'm a member of WineGB, I really appreciate what they do and all the work they do. There's very clear advice about social distancing and limiting numbers, but the vineyard is big enough to accommodate quite a lot of people. We also have a composting toilet and to use the toilet you'll be required to wipe everything down with antiseptic wipes. There won't be any tasting, because again that's the very sage advice coming from  WineGB. However, people can come and buy our new 2019 Bacchus, Pinot Noir, Rose and Regent. We are doing a risk assessment for selling wine by the glass but in a plastic glass, so I pour it, they take it and then its thrown away. We'll see how that goes. It's about following the guidelines, being sensible and practical.
Will you be wearing face masks or putting anything else in place like that?
If  WineGB said we needed to then we would, but it's not currently in the guidance. It's tricky, because I suppose pouring a glass of wine for someone is quite a close proximity because my arm isn't that long. In that situation it's a possibility because then you are giving confidence to the person. I think I'm going to work that through with our risk assessment.
You sound like someone who's been doing a lot of risk assessment recently. 
I worked in TV, I could do a risk assessment for anything. I've filmed in live volcanoes, hanging out of helicopters and underwater so I've done risk assessments that aren't just box ticking, they're how are we not going to die? It's confidence though, you want to give your clients confidence that there's no shortcuts being taken. There's clear and obvious methods put in place – it's not just tick, tick, tick. At the same time it's your responsibility to keep them safe and your staff safe.
What's your biggest challenge in the vineyard at the moment?
The biggest challenge at the moment is man power. There's only one of me and around 1900 vines. We did suffer from the late May frosts too. We didn't have bouges, so we did a Heath Robinson. We did bonfires, incinerators all throughout the vineyard. Not 80 bouges, 10 fires and I drove around with the sprayer going to get the heat moving. But we still got quite frosted, so the challenge at the moment is nursing the vines back to health. It's been quite exciting really, because I found out that the crispy bits at the end of the vine, well that's terrible, but a lot of the stems are still very green and alive. At the very end, just next to the crispy bit, they've pushed out another bud. By not going through the vineyard and taking off all of the dead stuff, we just left it and treated it with a tonic and seaweed at the advice of our agronomist, and quite rightly. We've now not just got secondary buds but we've also got buds coming out of the burnt green stems. We are going to have a considerably lower crop because secondary buds by their nature are less fruity than primary but the fact that these well-established vines just shrugged that off is positive.