A discovery of amazing wines from our own shores inspired Neil Walker to leave his banking career and set up e-commerce site The English Vine.
Vineyard speaks to Neil to find out how he de-mystifies and simplifies wine to make it fun and accessible to all – and how he must be getting it right as his business goes from strength to strength.
Why did you set up The English Vine?
I had worked in banking for 13 years and finally had enough. At the time I was Head of RBS in Poland with a team of 2000 people. One day after a very boring Risk Committee (if you have worked in banking you know how boring it is) I said to my wife – fancy travelling the world with our two-year-old son? She said yes… and the rest is history.
In New Zealand's Central Otago, after jumping off a bridge (another story), I found my passion while on a tour of Felton Road vineyard. That night I wrote my application to Plumpton College to learn the journey of making wine.
The idea of starting an English Wine business came to me one sunny day whilst studying for my MSc Viticulture and Oenology at Plumpton College. We spent the morning tasting a lot of English Wine during a sensory session. I just couldn't believe how awesome English wine was. Later, during a lecture on the anatomy of the grape, I was doing some serious daydreaming or rather business dreaming – and by the end of the lecture I had the beginnings of The English Vine.
What is the mission?
The team and I want to deliver really great wine in a no-nonsense way. We want to remove the snobbery, the pretentiousness and the intimidation – and make it understandable to all. We feel it leaves so many folks, who just want to grab a bottle on the way home, after a long day at work, no other choice but to judge a bottle by the label, price or a vague hope that 'this might be a good one'. It's time to make wine for the majority not the minority.
English Wine was the underdog and suffered for too long under a veil of misconceptions or preconceived notions of it being a bit rubbish. Yes, back in the 1980s and early 1990s it might have been a bit rubbish but the industry has made significant advancements – learning from established wine producers across the World, utilising the latest technology and now becoming a globally recognised producer. We just need to wake people up to this.
Why is The English Wine different to other online stores?
Fundamentally we talk about wine in a relaxed way that everyone can understand and relate too – and with a little humour. For example, our wine descriptions follow our no-nonsense attitude. Think 'try this with a curry on a Friday night' or 'this goes really well with a wispa and Netflix' or 'if you like a Spanish Rioja then give this English red a go'.
Through the website we also offer our 'Alternative Wine Tasting' online Zoom sessions which allow people to experience English Wine – often for the first time. Folks get our no-nonsense approach – with laughter, smiles and my bad jokes!
It's all about letting everyone enjoy the magic of wine. Something I really believe it. Wine is magical – it can take you on a journey that no other drink can. It transports you to memories and places, I adore it and love it. I want other people to find the magic like me.
Who are the team?
I am the dyslexic asthmatic ginger kid, founder and chief troublemaker. Chris Bagnall is our marketing guy who spent many years living off-grid in Africa providing rural companies with solar power – and has returned here with a thirst for English wine. Elizabeth Mellish is a budding sommelier, fellow Plumpton College MSc graduate and my co- wine hunter. She is on a mission to hunt down the best wines across the country. Paul Bernard, an ex-tube driver (who has seen the light at the end of the tunnel – sorry!) is our stock, operations and smiles manager. This bunch of misfits don't conform to the usual convention for a wine business. It shouldn't work – but that is precisely why it does.
Are sales increasing?
Absolutely, e-commerce as well as English wine is going from strength to strength. People are realising that English wine is really good, and it's fuelled by the desire for consumers to support and buy local, especially during these times.
Our new website, www.theenglishvine.co.uk, launched mid-last year is seeing sales growing at a rapid rate each month, with December being the pinnacle – and 2021 is looking just as strong. In fact, so much so we are about to lease a much bigger warehouse just to keep up. I just hope the English Wine industry can keep up its production too! We have also seen regular European orders coming in – an order to a French customer near Bordeaux before Christmas was a particular highlight.
How do you select your wines?
We only sell what we love. If our customers don't love it, then we will give them a complete refund, with no questions asked. Lockdowns allowing, I will personally visit every vineyard, talk to the winemaker and find the ones that have the passion. Working with these winemakers makes life so much easier – and the wine so much better. I buy passion and I want our customers to benefit from that too.
After tasting, comes the numbers of course. Being an ex-banker and economist, I can't help it. I need to know the numbers will work not just for me, but for my customers. If they don't, we will walk away. We want amazing wine at the right price and currently given the size of the industry, this can be incredibly hard to achieve. I really hope as the industry scales up, so we can start to get end-consumer prices down to attract a much wider market.
Which are your best-sellers?
In fact, in amongst the whites, it is our very own wine, Number 1, an easy drinking Bacchus made for any situation. We love it – but of course we do!
Our best sparkling is Westwell Pelegrim NV. In a recent blind tasting between English sparkling wines and Champagnes (as featured in the Daily Mail no less), Westwell Pelegrim NV, produced in Kent, came out on top, beating the likes of Veuve-Clicquot, Moët & Chandon, Lanson and Laurent-Perrier.
Top of the rosés is Albury's. This was the Queen's tipple, was on the Royal Barge during the jubilee and deservedly so. A great selling red is the Sharpham Pinot Noir. It's a super smooth English Pinot Noir – and I drink too much of this.
Another star is Winbirri's Signature. When someone told us to check out this 'Norfolk Rioja' we laughed. But we were not laughing when we tasted it. This is the real deal and is indeed a bold red. It is smooth, fun, has fantastic plum fruity flavours and has that oaked Rioja finish. It's the perfect red with Sunday roast.
How can producers help you sell their wines?
I would encourage producers to realise that the world of wine is so competitive, and that price point really matters. It's also easier if producers have their own unique style; as I find this is what customers want.
Oh – and think about delivery charges. Some producers whack massive delivery costs on top of the order (which I can't understand, as we know the costs ourselves) and then wonder why we don't buy. We may only want a few cases but can't sell them competitively because of this.
Non-traditional fizz?
As you can probably tell I think there is far too much snobbery in wine and people get caught up far too much on production methods or regions. Wine is there to be drunk and enjoyed. I recommend trying new things – what is the worst that will happen? Why not try Davenport Pet Nat for example, it's amazing and was particularly popular over January, as it has one of the lowest alcohol levels.
The market and the future?
As more English wines are becoming available, I worry that the consumer market is not there for them yet. I hope that there will not be an oversupply of English wine in the next few years. In my opinion more generic marketing is needed, and the industry needs to decide what English wine is all about – what are the unique selling points. If we can continue to scale the industry, we have got to find ways of making it more price competitive. This will mean we can open up sales channels to a much bigger market, who tend to be more price sensitive and are typically searching for £10 or less a bottle. We have a powerful product so let's get behind it and become a world player. Let's be proud of who we are and stop trying to impersonate others.
Number 1
Number 1 is a super easy drinking English Bacchus, made by us. It is not trying to be something it is not – it is there to be drunk. I thought this was the best name for a wine before I started making the second one – Number 2 – which is not a great name. We will be experimenting with Number 1 in kegs, cans and hopefully paper bottles this year.
Watch out for our special labelled Number 1, with a rainbow-coloured rainbow flag. Sales will help a LGBT+ charity in Poland that I support.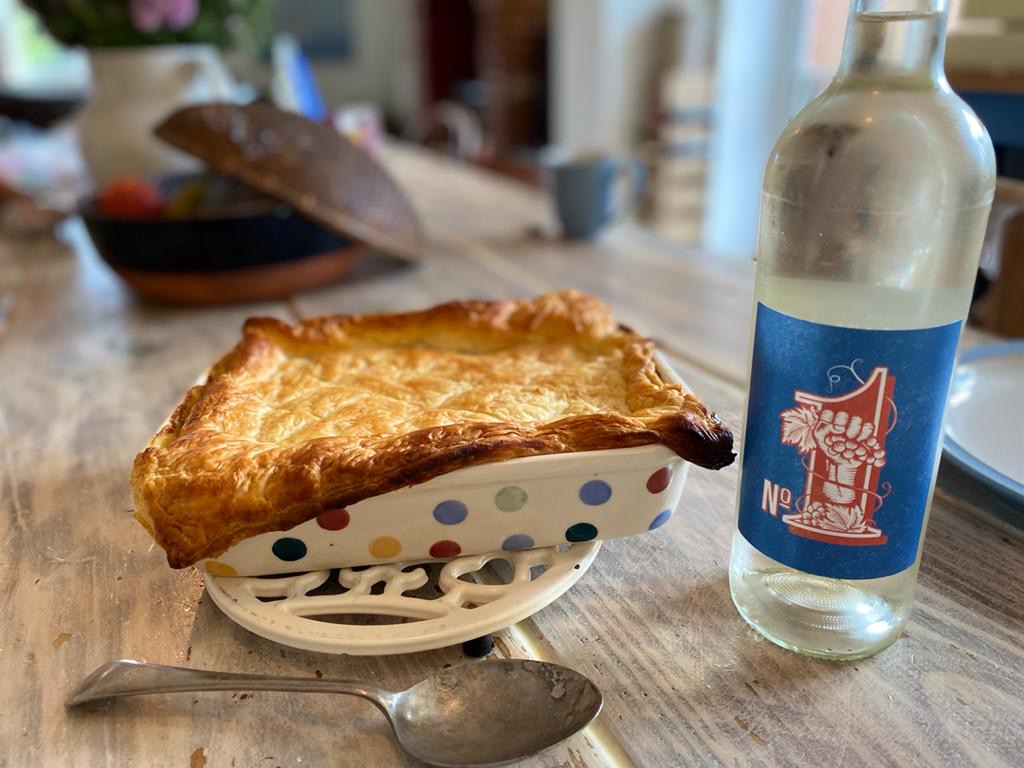 Which are your favourites wines?
My favourite sparkling wine is from Westwell, in Kent – it is stunning. It is my go-to English sparkling and is great value for money. We have high hopes for it on the return leg for our blind tasting in Paris. My favourite red is one made by Will Davenport, from his vineyards in Sussex. It is amazing and the quality is kept to such a high standard that I understand why there are only limited volumes of this wine being produced.
In my view the best region for still wines is East Anglia, and I would happily challenge anyone from another region to a blind tasting and be proved wrong. Did you know wine from East Anglia was bought by the Crown to celebrate the signing of the Magna Carta, need I say more.
Do you have any spare time?
Running a fast growing start up like The English Vine is rather all consuming – just ask my wife Jess who finds herself surrounded by wine boxes most days but I am hoping to climb Mount Blanc, so I'm in training for that. I now spend most of my time thinking which English Wine I will open if I make it to the top.