Barry Phillips started what became The Four Walls Wine Company half a century ago when he got together with a group of friends to share a love of wine. The club he set up grew steadily and in time became a commercial enterprise affiliated to the White Horse at Chilgrove, Sussex, where Barry was the landlord for more than 30 years. Perhaps not surprisingly, the White Horse wine list won every award on offer during those three decades. Now retired from the restaurant business, he continues to sell fantastic wines. 
Where did you learn about the wine trade?
My grandfather lived in a rather grand house at the back of Eastbourne. Although the house was fully staffed, it was my grandmother who was in charge of the kitchen. All the traditional dishes were of course home cooked.
Bollinger was consumed daily at 12.30 before luncheon and Krug on a Sunday, all delivered in wonderful wooden boxes and individual straw sleeves. The family entered the dining room by the right door. On the sideboard, against the right wall, were the bottles decanted and waiting to bestow pleasure on that meal.
There was always Claret and Port. On weekdays, Pauillac, Graves or Margaux and Port of 1935 or older. On Sundays it would be Pomerol or St. Emilion and Port from a post war 40s vintage. Ronald Avery had persuaded grandpa of the virtues of Pomerol, but grandpa felt that Petrus and friends were not serious enough for weekdays. Besides, Petrus was always dressed with an Avery label. I was always most delighted to see the Lafite and the Latour labels.
It may have been the Lafite and Mouton whose aroma seduced, but it was Latour that made me feel that there was another man in the room. The wonderful rich masculinity filled my glass, although the portion was of course in keeping with my young age. And the label for which I searched was the 1926. It was that vintage of Latour that made me want to spend my life in the wine game. 
What is the origin of the Four Walls Wine Company?
On 6 December 1970, six of us got together to spend an evening enjoying some good bottles and arranged to meet monthly. The original total cost of the wines would be shared between us.
The first evening we drank – Dom Perignon 1961 (£3/10 now £3.50); Home-made Pinot Noir Burgundy Superieur (free); Chateau Petrus 1962 (£3/10); Mackenzie 1963 (10/ now 50p).
How did it develop into today's retail operation?
When I was the landlord at the White Horse in Chilgrove, I began selling wines to take away at the price on the wine list. They were strictly for consumption at home and not for commercial trading. That trade grew, and when I retired I carried on selling great wines.
So how did you become a pub landlord?
My grandfather had several pub tenancies in London at the start of the first world war in 1914 and by the end of the second (1945), he had more than 20, some of them complete with the freehold, and they were passed on to my father and uncle.
When I was at Rugby school, my housemaster used to call me into his study at the end of every term and announce: "Phillips, you seem to be bottom again. I cannot understand why your father spends £600 a year sending you to a school like this so you can go and run a pub."
I left Rugby a year early and went to university at Grenoble. I have my degree certificate hanging in the lavatory at home. I then worked in stocktaking and for an accountants before being made manager of the family hotel at Herstmonceux.
Watney decided they didn't want me continuing as the next generation running the tenancies and offered me the tenancy of The White Horse at Chilgrove rent-free for the first year to get rid of me. My wife Dorothea (Dot) and I took over the very dilapidated pub in November 1969 but were fortunate to be joined by a great chef who had worked with the family in London, a fine front man to run the bar and a wonderful handyman to help me look after the cellar.
We ran it as a pub with a fine restaurant and 10 years later Grand Met sold us the freehold of the White Horse, at which point Dot and I turned it into a restaurant with a bar.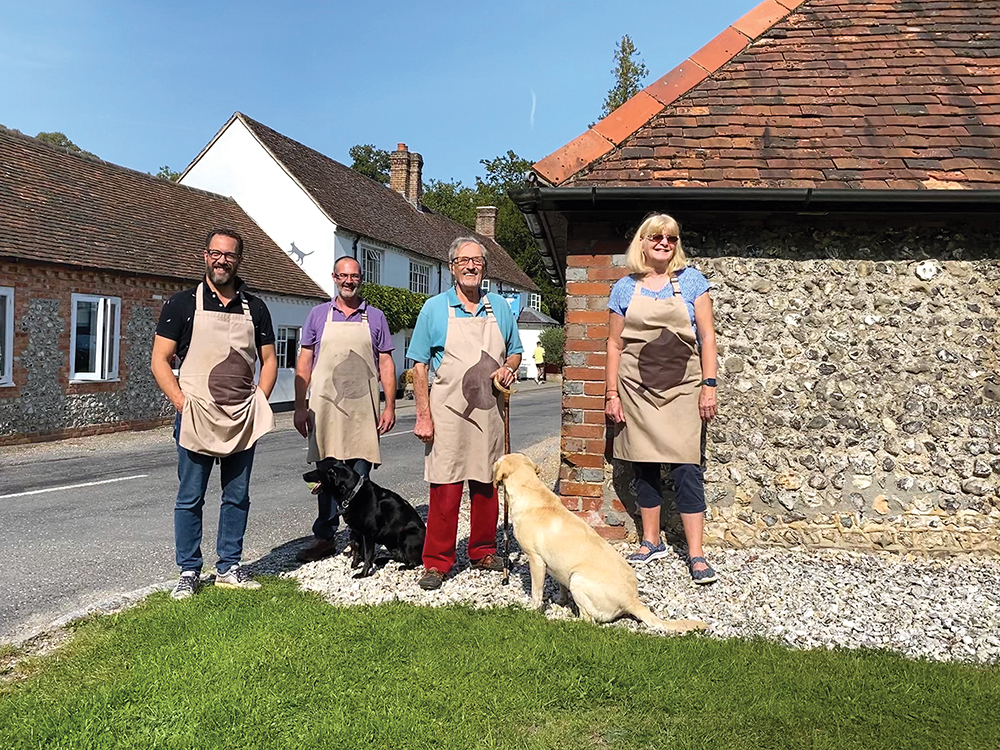 Where did the company name come from?
Over 30 years of offering great food and a fantastic selection of wines at the White Horse, my team welcomed many famous people to the restaurant, but we were always absolutely discreet and kept many secrets. Everything stayed within "these four walls".
Were awards important?
The White Horse won many awards over the years, including one for the best wine list in the world, but awards are no longer of any interest to Chas, who now runs the business with me, and myself. All we are concerned with is the happiness of our clients. We both love what we do and try to be 100% honest.
Do you miss anything about the restaurant trade?
Nothing. After 35 years working with Dot, we just enjoy spending time together. We celebrated our 55th wedding anniversary towards the end of September.
If you were cast away on a desert island, what wine would you take with you?
The hardest part of being stuck on a desert island would be drinking alone, but the wine would be Corton Charlemagne J-F Coche Dury 1996. It is always better to travel hopefully than to arrive.
Can you recommend a special bottle for a celebration at home?
For me the most special bottle is always the bottle I will drink next. I can only advise every consumer who is learning – or wants to learn – about wine to find someone they can trust. That can be in a supermarket, a wine society or a wine shop.
How does Four Walls Wine Company choose the wines it currently stocks?
We only buy and offer wines of which we can be proud and that give us pleasure. We always try to taste all the wines we offer for sale.
What changes have you seen in the wine trade in recent years?
One of the most notable changes has been the expansion of the areas and countries that now produce wine and where wine has improved so much. It's also interesting to see how successful winemakers have been in using new varieties of grapes. It's also pleasing to see so many affordable, eminently drinkable wines there are out there now. That's certainly a welcome development.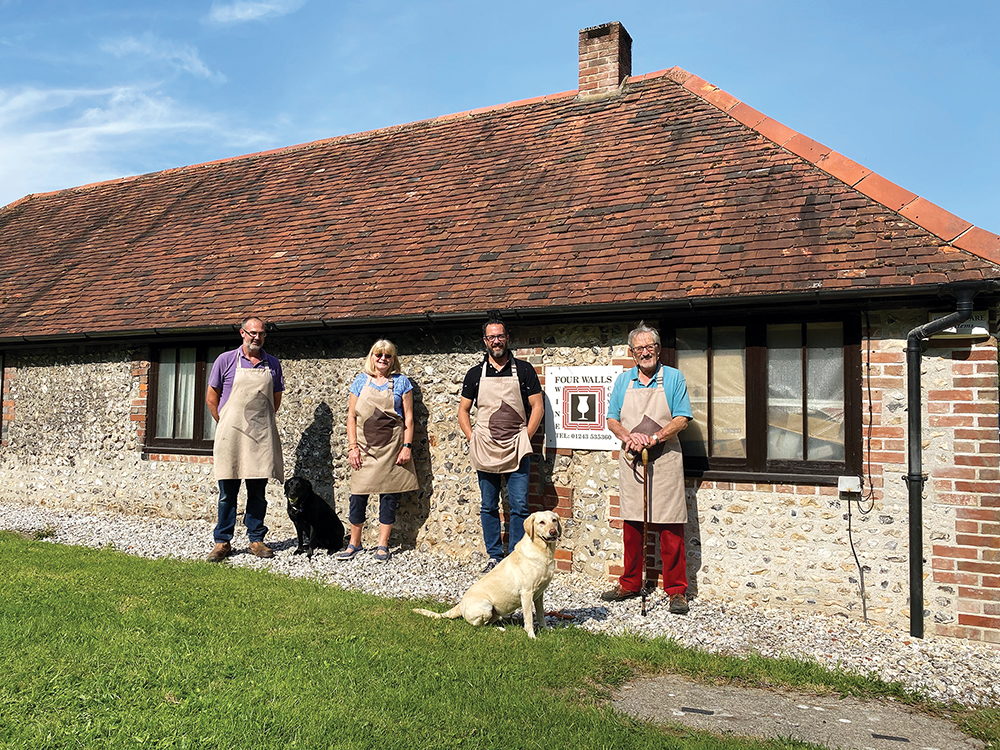 How do you see the future of independent wine merchants?
As long as there are those who love wine and want to enjoy drinking it, I have no fears.
You are (theoretically) retired – who runs the business now?
Chas and I have worked in tandem for the past ten years. He is younger and fitter than me and enjoys his work today as much as I have for the past 50 years. He has great ability and many of his best contacts, suppliers and customers are the sons and daughters of those with whom I have enjoyed many years of trading. He is also well trusted by anyone and everyone.