Champagne houses may still dominate the sponsorship of sporting events –knowing that it is a great way to reach target audiences and build brand loyalty.  But increasingly English brands are taking poll position on the British sporting scene. Vineyard speaks to a selection of producers who are now part of the celebration, memory and conversation around their chosen sport.
Nyetimber and Queen's tennis
Nyetimber are the official sparkling wine sponsor of Queen's tennis, the Cowdray Gold Cup Polo and Badminton Horse Trials, as well as a partner of the Cheltenham Racing Gold Cup. "We believe that sport is a big part of British history but also of people's social calendars, especially during the summer and therefore see it as being a key part of British summertime.
Sport also brings about wonderful celebratory moments and at Nyetimber we pride ourselves on being the drink of choice for remembering and celebrating these special occasions," commented Eric Heerema, CEO & Owner of Nyetimber.
"We want to align ourselves with sports that are truly British. Tennis, polo, eventing and horse racing are all sports that have been synonymously linked to the UK and are part of this country's heritage," he added.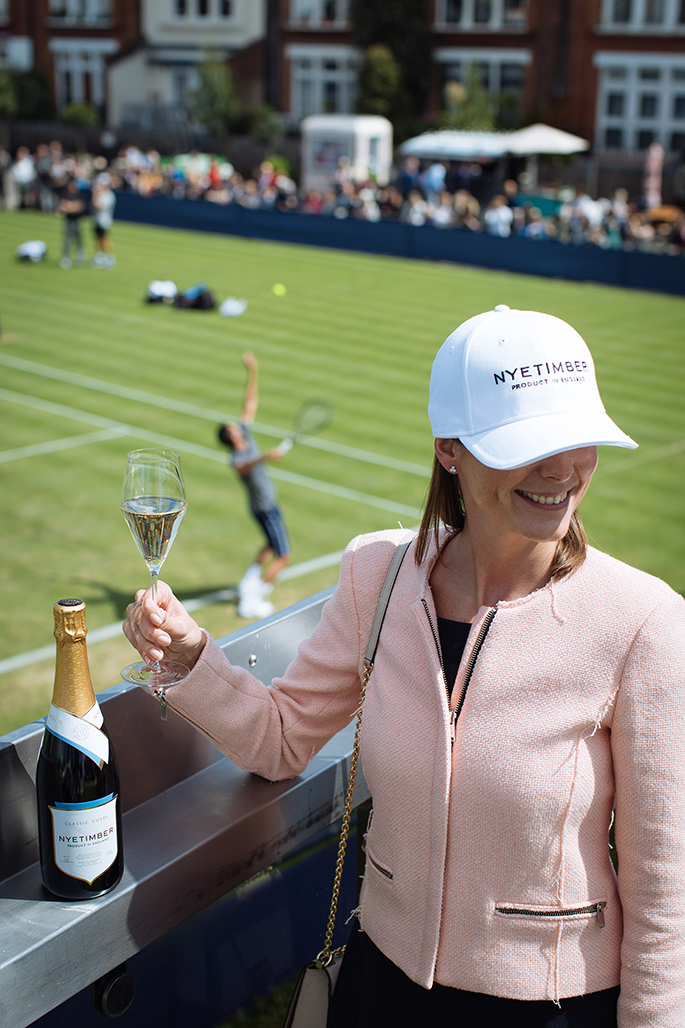 ---
The Sporting Wine Club 
Co-founded by ex-International England rugby player Simon Halliday, The Sporting Wine Club sources, sporting linked, estate wines from around the world, to sell online, sharing unique winemaking and sporting stories.
"There has to be an authentic connection to sport, and we try to be true to our estate bottled wines, so that people know that the sports personality has not just stuck their label on any wine as a marketing gig. The wines we have are not those that are widely available in retail. We are pleased to add Yotes Court's wines with their connection to horseracing to our list, as they meet our criteria.
"We are always on the hunt for English wine with a sporting connection. Or maybe the next best step is to encourage sportsmen and sportswomen to invest in English vineyards," Simon added.
"As with all marketing, the key question is what are you trying to achieve," comments Ned Awty, Strategy and Marketing consultant and Managing Director of Awty Consulting. "Is it awareness, product information or brand positioning – consider how it will reflect on your brand and how will you measure success. What an individual producer decides will be very different depending on size, but I can see good opportunities for even small-scale sponsorship – and not just in sport. I would add that no matter how wholesome we think we are, alcohol is a 'sin' industry so needs to be acutely aware of context, appropriateness and exposure to minors."
---
Digby Fine English and Leander Club
Digby Fine English is the official sparkling wine partner for Leander Club at Henley, and the Leander Pink non-vintage blend has been created exclusively for the club by Trevor Clough, Co-Founder & CEO. "I am a big believer that the reason for a brand to be involved with sponsorship has to be genuine and personal. Jason Humphries, Digby's Co-Founder, was a rower for his Cambridge College and so we are frequent visitors to Henley Royal Regatta. Henley to me is doing summer properly – it is traditional and old school British. A glass of fizz by the river watching rowing is so unforgettable and such a quintessentially British scene – and this was our inspiration," commented Trevor.
"From a business strategy perspective making excellent wine is the beginning not the end, you need to be able to make it memorable, and excellence in the glass is only part of that strategy. Leander Club personifies British excellence on the world stage. It is the spiritual home of rowing; it is the oldest open rowing club and its rowers have won more Olympic medals than any other sports club. With a strong authenticity, our values at Digby fit those of Leander Club. Although Leander Club has been in existence for over 200 years, and Digby is very young, we share a deep and strong passion for excellence."
The Leander Pink sparkling was launched to the club in 2015 and released to the trade in 2016 – Leander Pink is now sold all over the world and is Digby's number one selling wine in the UK. It is a blend of Pinot Noir, Chardonnay and Meunier. Trevor describes Digby's Leander Pink as, "sophisticated yet racy."
Part of the proceeds of all sales of Digby's Leander Pink go to the Leander Academy to develop and train young aspiring rowers from schools and universities. It is a rewarding relationship that both parties plan to continue.
"In my view the association between English sparkling and select sports helps align our young category with the things our customers love, helping to build memories and find a way into their hearts," added Trevor.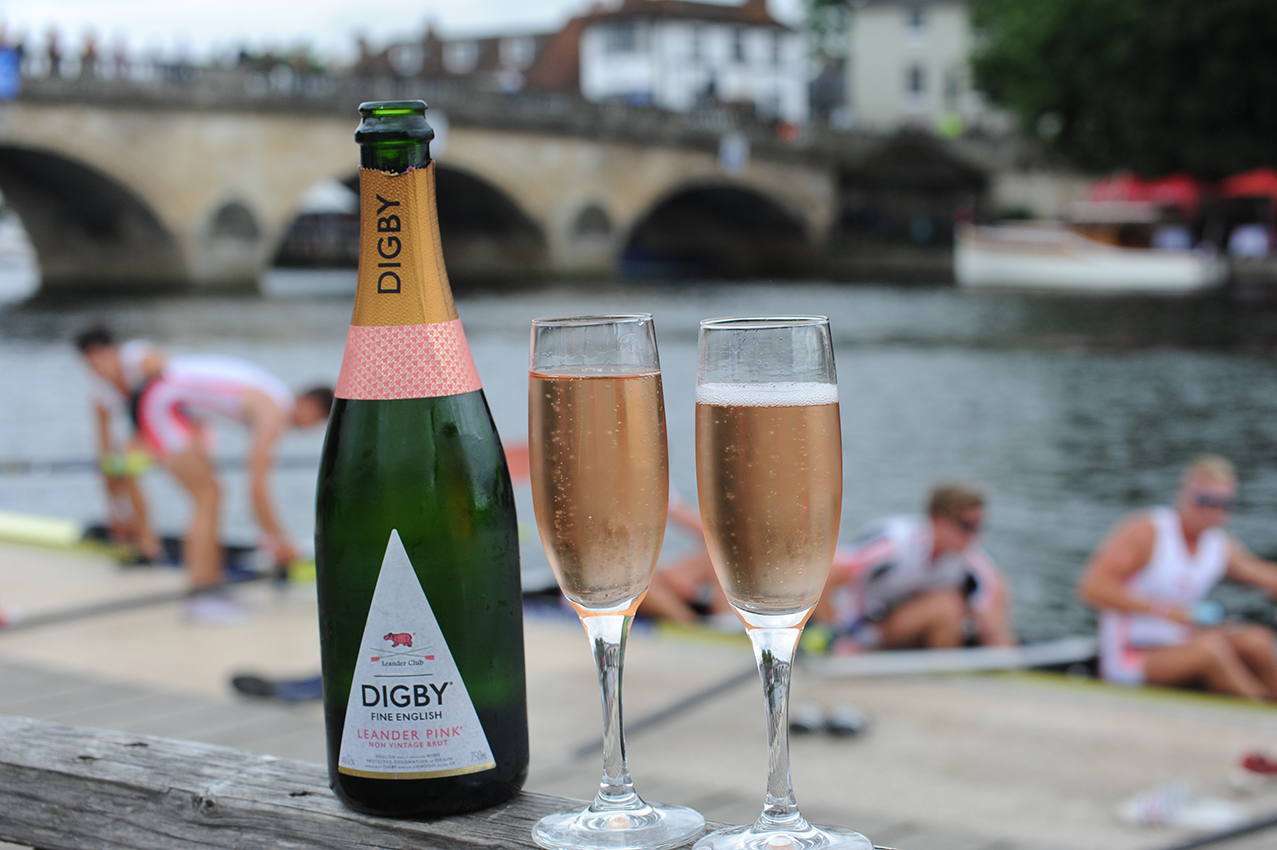 ---
The Wine Tipster
Neil Phillips, known as The Wine Tipster, is a wine professional and horseracing expert who consults to the Jockey Club on hospitality, food and wine – and promotes these through his lively and entertaining presentations for the racegoers and media at racecourses.
Neil has been involved with the Coates & Seely sponsorship at the Jockey Club from the beginning, also with Nyetimber at the Cheltenham festival, and the listing of wines from Bolney Estate for the Jockey Club.
"Coates & Seely have been amazingly pro-active at all the racecourses, their wine is available in the restaurants and hospitality boxes, but they also bring along their classic 1952 British Leyland coach, which has become a key and very popular feature.
"When Nyetimber was first served at the Cheltenham Festival the engagement was unbelievable, and the wine stock anticipated for four days was sold in two. There was such demand in both the restaurants and in the hospitality boxes – people really want to entertain with an English sparkling wine.
"From a racecourse's perspective the presence of an English sparkling wine, with its luxury image, is a really strong element to making sure that their customers have a great race day experience, along with fabulous food and the racing, of course. There is often a wonderful discovery aspect also, as it may be the first time that someone has tasted an English wine – a great key memory of the day," commented Neil.
---
Coates & Seely and the Jockey Club
Coates & Seely are sponsors of the Jockey Club and the sparkling wine is served exclusively at most of the top racecourse venues. "As a luxury British product we believe that British racing is a wonderful platform for us, with its cultural history, and of course, celebratory nature," explained Nicholas Coates.
"Coates & Seely is served at all the winner's receptions, with owners and jockeys. In 2019, Coates & Seely was served to the winners of the Grand National and the Derby, breaking over 100 years of Champagne dominance. What's more, racegoers are the 'Frankls' of champagne and sparkling wine consumption, so for us this is a great marketing opportunity."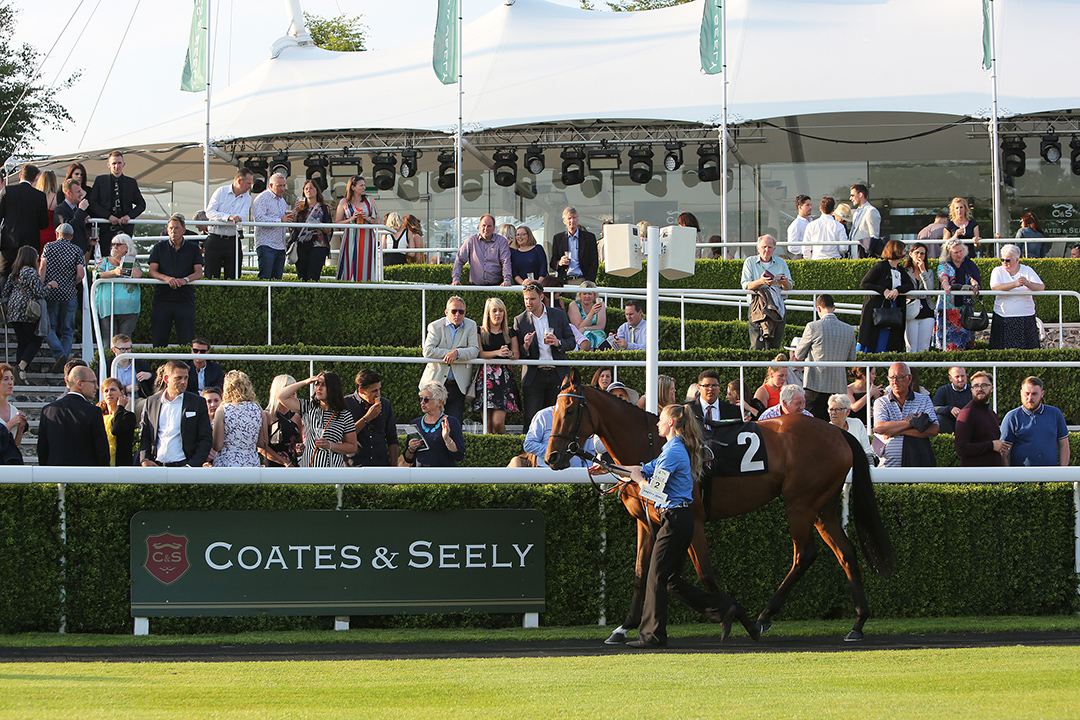 ---
Chapel Down and the Boat Race
Chapel Down has been the Official Sparkling Wine of the Oxford and Cambridge Boat Race since 2017. "England's leading universities celebrating with England's leading sparkling wine seems entirely fitting. And the "money shot" of the Jeroboams being sprayed by the winning rowers on the podium reaching millions of viewers via the BBC certainly helps spread the word and grow the congregation of Chapel Down." Mark Harvey, Chief Commercial Officer, Chapel Down, commented.
"Over the course of our partnership we have undertaken our own hospitality with a consumer bar in Dulwich College Boat House, branding on the course and bridges, a pop-up bar in Bishop's Park fan park as well as providing the all-important Chapel Down Brut NV Jeroboams for the podium moment," Mark added.
Ewan Pearson, past Chairman of Cambridge University Boat Club's (CUBC) Executive Committee, was able to provide the club's perspective on the sponsorship with Chapel Down. "The club wanted to support British business and Chapel Down was an obvious brand choice for a sponsor. For Chapel Down the Boat Race helps to build their brand awareness to the right target market, and importantly Chapel Down have national distribution, to support this. From CUBC's perspective there is the financial contribution to the training programme and purchase of boats. As well as free fizz! It's important too for the club's reputation to filter out potential sponsors and although Chapel Down comes under the category of alcoholic drinks, the consumption is by the community around the athletes – watching and supporting the race – rather than the athletes themselves," commented Ewan.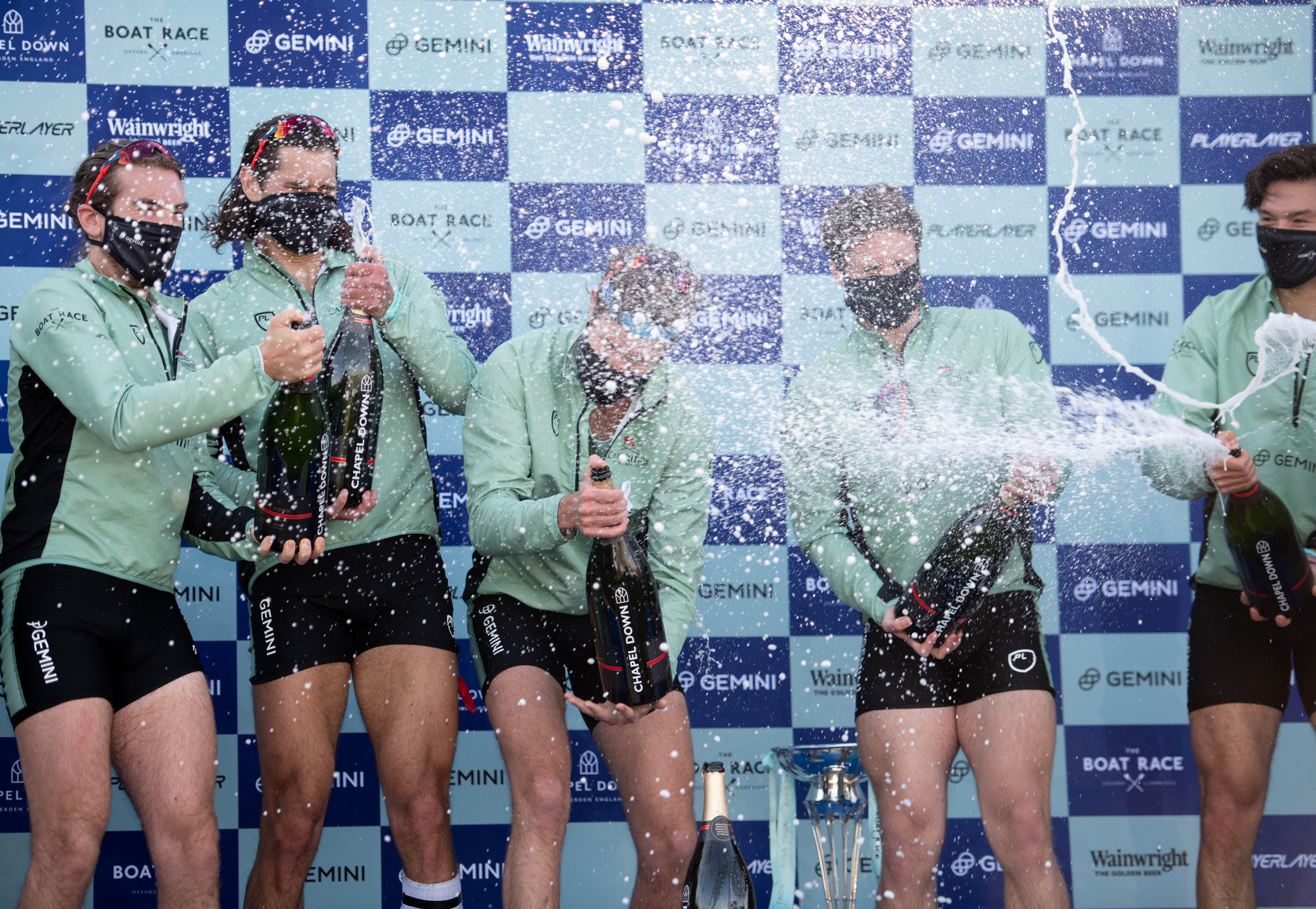 ---
Yotes Court and National Hunt horse racing
Yotes Court is a relatively new producer and although not actively sponsoring horse racing the vineyard owner Susannah Ricci is already well known in the horse racing world.
"Yotes Court is a meeting point between the worlds of winemaking and horse racing – finding common ground where shared experiences, life-long memories and a love of occasion are joyfully celebrated," commented Susannah. "I am heavily involved in National Hunt Racing and fortunate to own a string of successful horses, trained by champion trainer Willie Mullins in Ireland and Venetia Williams in the UK. My famous pink and green silks, on which the wine branding is based, have been carried to victory at Cheltenham, Aintree, Ascot and Royal Ascot, mostly ridden by champion jockey Ruby Walsh.
"Sporting Wine Club will be taking my wines, as they currently do not have any wines associated with racing or an English wine – so it ticks both boxes. The first to be released will be the Yotes Court still wines, all with names linked to racing, such as 'On the Bridle'. I hope people will come to the vineyard and buy from the cellar-door and maybe drink the wine while watching racing. However, Yotes Court is a small vineyard and will not have the quantity of wine to sell widely at race meetings, certainly not on Coates & Seely's scale at the Jockey Club – and are definitely not aiming to compete. In addition to being able to buy the wine online and at our cellar door I see the wines being available locally and at pubs and restaurants nationally that have racing connections, particularly on race-preview nights.
"I do think it's important that all organisations support each other – why have Champagne served to prize winners – it should be English," Susannah smiled.