As LBW Drinks goes through a series of big changes Vineyard Magazine caught up with managing director James Lambert to find out the secret to its success.
It's been a busy few weeks for Lyme Bay Winery, who have unveiled a new name, two new wines appearing in supermarkets and its latest food standards A* award.
Parent company to its English wine brand – and West Country cider Jack Ratt – has now rebranded as LBW Drinks.
The company isn't one to stand still. It was established in 1993 as the Lyme Bay Cider Co and the business continued to grow and change with the first English wines being made in 2013.
LBW Drinks also revealed in April that it has been awarded an A* rating in its unannounced 2020 audit from the British Retail Consortium Global Standard (BRCGS) – a leading global brand and consumer protection scheme. It is used by 25,000 suppliers to the food industry, in more than 130 countries to demonstrate exceptional standards in areas such as food, packaging, storage and distribution, retail and consumer products.
Not only does it create its own fine wines, but Lyme Bay Winery also works with leading supermarkets such as Aldi and Morrisons to produce exclusive label offerings. It has recently increased its portfolio of wines that it makes for Aldi, called Lyme Block Dry White and Lyme Block Rosé. These are part of the 'Specially Selected' range and are available in stores and online now for £9.99.
They follow on from the success of the Lyme Block English Wine, Lyme Block Bacchus and the Lyme Block Sparkling Brut Reserve which all launched last year. The sparkling was the first own label English Sparkling Wine to be recognised as part of Aldi's premium offer.
Why did you need to rebrand?
Lyme Bay was founded on cider and we've introduced a lot of interesting products over the years, really while waiting to get into a position to tackle English wine – which was our owner's passion. We've had an awful lot of products over the years with slightly different branding and designs. The whole thing had become a little bit messy and unclear, so long story short, with the backing of the new owners, it was felt a bit more clarity over our brands and what they stand for are required.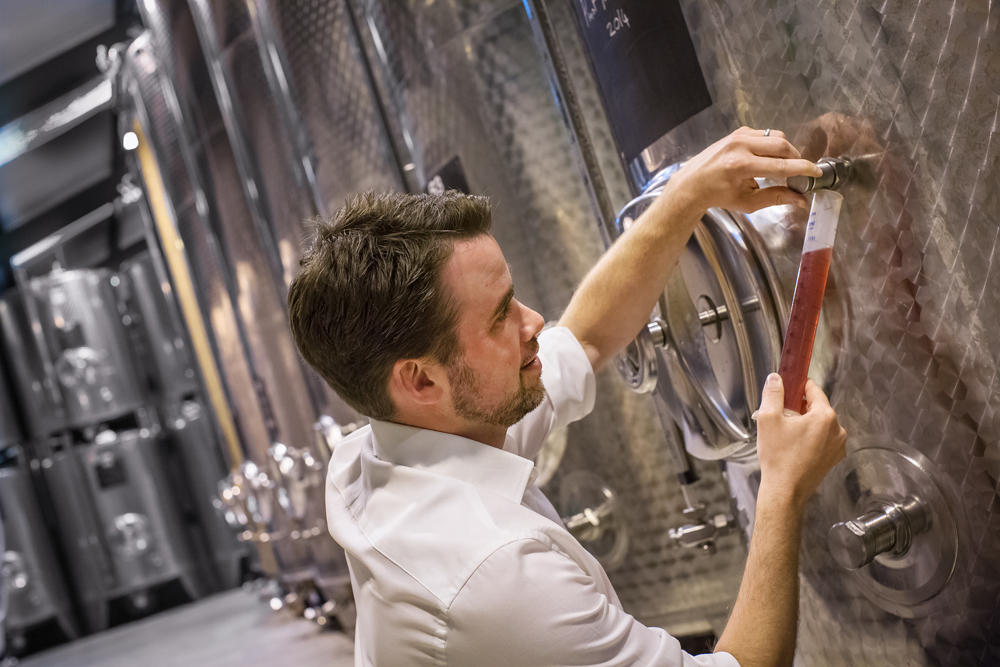 With such a range of brands and designs, how do you choose a new direction?
To work out how we were going to frame the business we undertook a lot of brand architecture work with McCann. When undertaking that work it helps bring clarity to what the different brands your working with really stand for. The design work comes easier if you have a strong framework of what the brands stand for.
What goes into getting A* standard from the BRC?
An awful lot of hard work and a lot of cash, frankly! It required investment in people, processes and infrastructure. All of that takes two to three years we found, to make the necessary changes to pass BRC. We moved onto SALSA first (Safe and Local Supplier Approval), which is seen as a stepping-stone to BRC, and we undertook a mock audit. We ended up with 143 points non-conformances which would have been minors with the BRC! That was a real shock to the system because we thought we were nearly there – that set us back a year. This year we received nine non-conformances in our unannounced audit, which awarded us to A*.
What's your team like?
We have to work differently to other wineries, we've got an awful lot of other products that we make. In the winery we have just under 500,000 litres worth of tank capacity, we run all of this on a fairly lean team, and there's only about four of us that run the harvest. Last year we did 350 tonnes. We do that on a rolling shift basis, but in terms of the manual tasks we have an employment base to call upon thanks to the other aspects of the business.
We've got a production team who work in a different part of the building that we can call upon during harvest to facilitate the winemaking team.
Has getting into supermarkets been a focus for LBW Drinks?
The business has grown servicing multiple outlets, such as delis, farm shops and garden centres, but not the major retailers. That worked because our range was very gift orientated and from 2015 onwards we'd seen a boom in farm shops since so many farms had diversified. This is still an important part of our business, but it had left us potentially exposed in the event that high street sales and retail as a whole experienced decline.
We knew that we had fantastic products and we also knew that BRC was enabling much better product control and process efficiency. Therefore since 2015 we have indeed been changing our product focus, investing in key brands and improving processes throughout the site to provide us with the tools required to transition to larger retailers.
Did you choose Aldi or did they come to you?
I've got to be honest, I took a bit of persuasion when our commercial team approached me to say we've got an opportunity with Aldi. When your cheapest wine is £13 or £14 and we're talking about £9 or £10, you have to consider your brand perception. However, once I met the buyer Mike James, he persuaded me with his enthusiasm and passion for the whole project. He got involved with the blending, it was very much a collaborative approach. Everything about Aldi I've been hugely impressed with. Above everything, they're focused on offering the best value possible to their customers, but they also ensure that their suppliers are treated fairly. What's often misunderstood is their pricing structure; people often don't realise that prices are kept low because Aldi's margin expectations are lower than their competitors. This allows them to offer great wines at low prices. We now produce, give or take, 350,000 bottles in total and about 100,000 of those from 2019 have gone to Aldi.

What are you planning next?
We've been working for the last couple of years on a long-term project of English still wines. The biggest difference between us and other English wine producers, is that right from the off we wanted to focus on still rather than sparkling. That was born out of two things, firstly the founder of the business Nigel Howard was a massive fan of New Zealand Sauvignon Blanc – his cellar is ridiculous. Secondly, during my career in wine, it always struck me that the still wines of this country were almost treated as a bit of a byproduct of sparkling wine. We knew there wasmore potential in still wines, and if you can justity the price point with its quality on an international standing, not just national, then you'll be creating an industry that is sustainable for the future.
How do you achieve that?
In short, we believe in order to make the best wines, you need to work with the best grapes from the best growers. We source grapes from several parts of the UK, and in recent years we found that there were specific regions, for varieties such as Pinot noir and Chardonnay, that were giving very commercial levels of ripeness for still wines. We've subsequently been working very closely with a viticulturalist in that area and specific growers, not just focusing on the vines going in at the places where they're most likely to ripen fully, but perhaps even more importantly, ensuring the right clones are being planted to produce outstanding still wines. We're expecting to see the first wave of these this year.
The UK wine industry is clearly facing numerous challenges, ranging from a global pandemic through to re-balancing supply versus demand in sparkling wines. With the investments into brands, quality, people and processes, we believe LBW Drinks is well placed to meet those challenges, and continue to help lead the way in still wine quality in the UK.