Helping growers to make better informed decisions over which machine is right for their site and specific requirements.
• www.vitifruitequipment.co.uk  • vitifruitequipment@sky.com • 01732 866567
As I sat down with David Sayell and Richard Witt, the owners of Vitifruit Equipment, machinery suppliers to the UK's viticulture sector, both were upbeat and eager to report that 2020 was already off to a busy start for the Kent-based firm. 
"Sales orders for new equipment are already coming in thick and fast," said David, who established the specialist dealership with Richard in 2010. "Usually we are in standby mode at this time of year, waiting for people to wake up as the weather improves, so it is quite unexpected to be this busy in mid-January." 
The continuous rain, which seems to have been unrelenting since September, may be causing issues for growers on clay soils, but for those vineyards up on the drier, chalky hills, it is business as usual. On the day of my visit, Richard pointed out that one of the firm's heavy duty Sauerburger rotavators was currently on hire, being used to level out the soil and obliterate any early season weeds in the alleyways.
"Over the last 12 months, sales have been good and steady, but it is the hire side of the business which has really taken off," said Richard. "It was certainly the highlight of last year and looking at how many machines have been going out in the first weeks of January, it is continuing be a growing trend. After David Wood joined the team, to oversee repairs, servicing and maintenance as well as the hire fleet, as a company we have been able to provide a more efficient hire system and this has certainly helped us to respond better to customers' needs."
For many small vineyard operations, hiring is the only viable way of accessing key pieces of equipment, particularly seasonal machines such as deleafers which only need to be used a few times a year. However, both David and Richard have also noticed that a significant number of medium and larger sized growers are increasing their use of hire as a way to try before they buy. 
"Every good dealership will offer simple machinery demonstrations, which can be quite comprehensive in running through the principles and benefits of the product, but being able to hire a machine for a few days really gives operators the chance to get to grips with the equipment," said David. "This allows growers to make better informed decisions over whether the machine is right for their site and specific requirements before investing for the long term."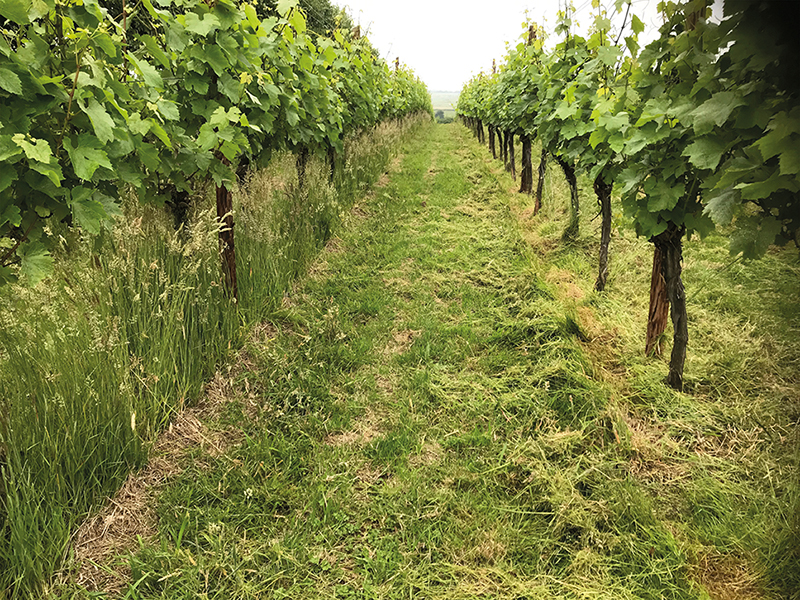 Most hired machines 
Finding an alternative, non-chemical approach to weed control is certainly at the top of most vineyard managers' shopping lists and with such a diverse range of options now available to the UK's viticulture sector, it is not surprising that Vitifruit's Boisselet system was one of the firm's most hired machines last year. 
"Looking back on the 2019 growing season, we had four Boisselet under vine cultivators continuously out on hire, all with different tools attached to them," said David. "There are huge concerns over what will happen if glyphosate is no longer an option, but as vineyard site conditions vary drastically across the country, many growers could be left disappointed with the results if they have not invested in the right tools for the job. There are lots of European manufacturers offering solutions and we have spent many years finding the ones which will be of most benefit to UK growers. As people have changed their approach the Boisselet system has come into its own." 
Having produced vineyard equipment for over 100 years, Boisselet has spared no expense in carefully developing a state-of-the-art under vine cultivator that can get right up to the base of the vine, to accurately remove weeds and disrupt soils, while working at a reasonably fast pace. Its modular approach, with a frame which can be front, rear or side mounted onto the tractor, provides growers with such a wide choice of attachments it is possible to configure the perfect machine for each individual vineyard.
Alongside the usual range of cultivator tools, there are now two different strimmer attachments available from Boisselet. The first works in a similar way to a traditional hand-held strimmer, with four industrial, GT nylon cords rotating at high speeds to cut through moderate levels of weed growth. The second option is slightly more robust and features 24 nylon cords, which work horizontally like a mower.
"The strimmers went out a lot last year," said Richard. "The first system is very simple to use and works better on less flinty ground. The second option allows you to drive reasonably close to the vines to deal with most of the weeds. Unlike other strimmer systems on the market, this does not move in between the vines so can be used with young vines as there is no risk of them being knocked or damaged."
While strimmers will effectively deal with surface growth, David believes that disturbing roots is the most effective way of dealing with weeds in the long term and views the Boisselet system as the most comprehensive all-round approach. 
"Strimming alone isn't sufficient, but the great thing about the Boisselet is that you can use the strimmer while also cultivating," he said. "This means that whatever weed issues you are dealing with there is a solution. The Boisselet is a multipurpose frame so growers don't need to invest in a completely new piece of equipment every time they want to take a slightly different approach."
The traditional frame provides growers with two cultivator heads as standard, with a fixed coulter at the front of the machine. There is then space for a tool to work in between the vines and an option to add a third tool, such as a disc, which can effectively improve the overall visual appearance of the job. 
Machines for the future
Another popular hire machine for 2019 was Vitifruit's Stockmayer deleafer, which David views as a machine for the future. 
"When it comes to mechanising vineyard management tasks, there is no doubt that the UK is still playing catch up with Europe," said David. "Echoing what they currently do abroad, deleafers are becoming more popular with growers here. The technology has improved drastically over the last decade and the Stockmayer, which has this year been fitted with a larger, more powerful fan, is certainly rated highly by everyone who uses it."
As with all machinery, David is quick to point out that UK growers need to choose a system which is best suited to this country's unique conditions. Some deleafing machines blast air into the canopy to dislodge and shatter the leaves. These systems, however, can only be used at limited times of the growing season and David is concerned that by forcing air into the canopy at such high speeds, growers run the risk of damaging grapes and increasing the risk of disease.
"Other deleafers have been designed based on growing systems in Champagne, yet in the UK most growers have much thicker canopies. Instead of being blown through the vines, the leaves and debris will potentially just end up sitting in the middle which is not ideal," said David.
Alternatively, the Stockmayer machine is built on a 'suck and pluck' principle. There is a hollow circular roller which creates suction to draw leaves towards a second, solid circular roller. The rollers rotate counter-clockwise to each other to gently, but effectively, draw the leaves in and pluck them from the vines. No leaves are sucked through the blower, they are simply plucked and dropped to the ground with the grapes remaining untouched on the vine.
"The Stockmayer system can also be used throughout the growing season," said David. "This gives vineyard managers much greater freedom. We have several customers who will hire the deleafer at the very start of the season, as soon as the berries are pea sized, and then again just before harvest, so pickers have better access to fruit. Some growers just hire the machine once in the middle of the season, and those who have invested in their own will go out multiple times exactly when the job is required." 
As well as the Stockmayer defoliator, Vitifruit can also supply growers with an option from Provitis. Working along the same principles, the Provitis deleafer is slightly more robust and is part of the French manufacturer's modular system. 
"In the last few months, we have noticed that more vineyard managers are being drawn to the Provitis range because of its long-term potential," said David. "Those with young vineyards, which are just becoming established, may not need every piece of equipment initially, but owners are becoming increasingly forward-thinking when it comes to mechanisation. They already have a shopping list of sophisticated machines which they know they will need in the future to help keep labour costs down and the common frame from Provitis is a cost-effective way to achieve this." 
The Provitis mounting mast, which can be fitted on to any brand or model of tractor, supports a wide range of attachments, including vine trimmers, deleafers, bud rubbers, pre-pruners and the firm's revolutionary lifting and tying machine and cane pulling out machine. 
"Last month we took several customers to Alsace on a Provitis factory tour," said David. "There is still a lot of interest in the cane pulling out machine which only went into full production last year. Part of the Provitis modular system, the cane removal machine can complete three to four hectares per day and is by far one of the most innovative ways to reduce labour costs. Even if you are a small vineyard and cannot justify the investment costs, there is always the option to hire our machine."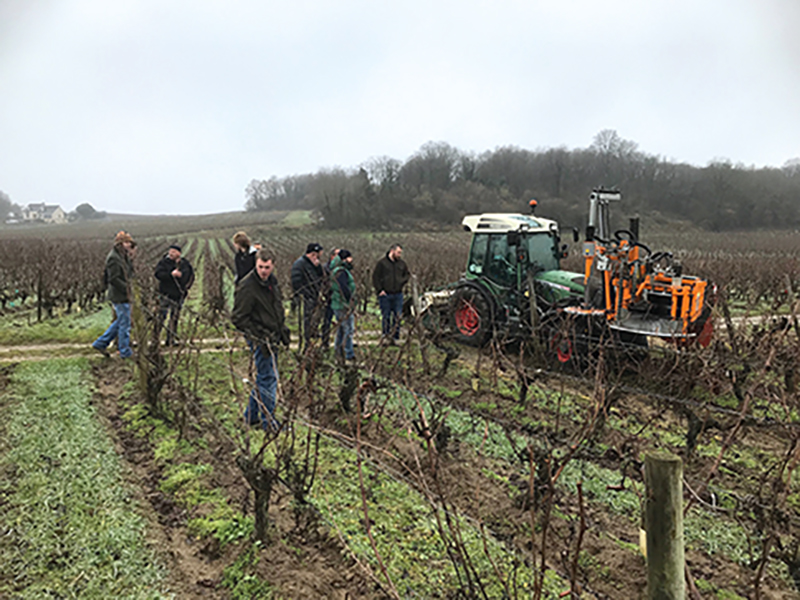 Efficient pruning operations
For those looking to make pruning operations even more efficient, Vitifruit also has a special heavy duty rear-mounted pruning pulveriser available for hire. Produced by Sauerburger, the Lima machine aims to effectively address and combat disease carry-over, while helping growers to clear the vineyard as quickly as possible. 
The Lima has a pick-up reel which lifts the pruning canes from the vineyard floor and moves them into a mulching chamber where they are chopped into small pieces. This material is then passed through a fine sieve before being broadcast in between the rows. 
"The finer we can lacerate the pruning canes, the easier and quicker it is for the bacteria and fungi in the soil to start digesting and breaking the material down into compost," said David. "Vineyard managers have lots of different ways of dealing with prunings but some methods can be quite time consuming and potentially dangerous. Not only will the Lima reduce disease carry-over but this machine is capable of working quickly to clear the rows." 
Just in time for the 2020 pruning season, David and Richard have also increased Vitifruit's range of electronic secateurs, which now includes two different cordless battery-powered options to suit growers with smaller budgets. 
The first handset is from a new supplier, called Arvipo. While the Spanish manufacturer has a full range of electronic secateurs, including the traditional handsets linked to a battery backpack, David and Richard have identified the cordless vineyard models as particularly appealing. 
"The handsets come with two rechargeable batteries which will give enough power to last all day and they also come with a safety glove," said David. "There are some secateurs which are supposed to be fitted with a safety system which can detect skin contact, but there is an element of doubt and if your hand is sweaty, or if it is damp outside, it may prevent the safety feature from working. The most reliable, safest solution is to have a pair of gloves with metal inserts covering your fingers and we can now supply those directly." 
Arvipo are ideal for smaller sites with vines on a traditional, basis training system. David, who has been working in the UK viticulture industry for over 35 years, has just bought a pair for the small vineyard he continues to manage in Kent. 
"I have only done about six hours with them so far, but they are proving to be fantastic and have done everything I wanted them too," said David. "They have a special feature which will prevent the operator from cutting through the training wire and at just under £500 are very affordable."
The second set of cordless secateurs from Zanon, are equally as affordable but are considered to be slightly more robust. The Zanon handsets also come with a more comfortable grip and a greater range of sought-after features like a progressive trigger, which allows pruners to make very accurate cuts and is a must for complex training systems.
"All the secateurs we supply have niches and will suit different growers' needs," said Richard. "Our mantra and ethos at Vitifruit has always been to provide various options, at various price points to suit all our customers' requirements. It is up to the grower which system they choose, and we are just here to advise on the ranges and what the options are. We want people to be able to try out three or four options and then decide which one is best for them. Small to medium growers can take advantage of these new lower cost handsets which are designed to be practical for smaller sites." 
Keen to ensure that all growers can try various options, David recently travelled to Little Wold Vineyard in East Yorkshire for a demonstration day which proved to be very fruitful. 
"Each vineyard who came along has ordered something slightly different, which proves that there is no one-size-fits-all handset," said David. "The Zanon secateurs were slightly more popular because they also offer a tying tool with a common battery. This cuts costs down significantly and it is very unlikely you will be pruning and tying down at the same time. The tying tools are becoming a major piece of equipment on people's shopping lists because word is getting out about how fast, reliable and easy to use the Zanon tying tool is."
Targeting soil health
As well as making processes more efficient in the vineyard, Vitifruit has also noticed that growers are looking for ways to increase vine productivity, with increased focus on soil health and nutrition. 
"We have always had a range of fertiliser spreader options and as technology advances we are now able to help growers who want to take a more precise approach," said David. "Growers, particularly large scale operations, are starting to tap into vineyard mapping services and we are now able to provide variable rate spreaders." 
After having soils analysed, data can be inputted in the Dal Cero DCM spreader which is fitted with automatic output with Topcon GPS Isobus in cab monitoring and control. Instead of broadcasting across the whole of the vineyard, the DCM will spread at a variable rate automatically. 
"In practice, if you have a very steep slope and were to spread fertiliser equally, most of the nutrients applied at the top will wash down to the bottom of the slope, so the vines at the bottom are getting a double dose while those at the top are effectively being starved," said David. "By having the vineyard mapped, the spreader can simply be filled with whatever product you are using and the operator can simply press a button and just needs to drive the tractor. That means applications can focus on the vines where the nutrients do start to decrease."
Vitifruit has been working with Dal Cero, a company which is focused on building robust spreaders, for a number of years and has supplied one of the variable rate spreaders to Vranken Pommery for use on its Pinglestone site in Hampshire. 
"We upgraded to Dal Cero from another supplier and the difference in the build quality and longevity of the machine has been more than noticeable," said David. "In terms of fertiliser, there has been a gradual and meaningful uptake in the Chelate injector wheel too. Everyone who has used that system, which releases liquid chelate into the soil to feed vine roots, has been very impressed." 
Looking to the end of the season, Vitifruit is now also able to make bespoke harvest trailers for customers, helping to make life easier when transporting fruit from the field to the winery. 
"I design the trailers according to how the vineyard manager wants to use them in the field and then they are manufactured," said David. "Whether a grower wants a trailer which can go down the rows, which will need to be a certain width and have a tight-turn draw bar, or if they want a basic flat-bed trailer for larger bins, anything is possible."