With all the ingredients for an epic blockbuster – passion, romance, sorrow, adventure and adversity – the story of Sugrue South Downs is truly a legend. 
The story of Sugrue starts with Dermot Sugrue, an energetic and passionate Irishman with a glint in his eye, a seductive brogue and entertaining craic. Along with co-star Ana Đogić, a feisty Croatian and fellow winemaker, their two vineyards in West Sussex produce the grapes for the signature brand 'Trouble with Dreams'. These traditional method sparkling wines are lovingly hand-crafted by Dermot and Ana – and understandably have quite a cult following. 
Dermot grew up in rural County Limerick and discovered the joys of home brewing when he was just 15 years old after local Archdeacon, Rev. Brian Snow, saw his interest and gave him a bottle of elderberry 'Port' that he had made himself. Dermot was fascinated and so started making his own country wines. It became an all consuming passion and whilst he was busy filling his parents' house with demijohns of all sorts of fermentations, the Reverend noted his profound interest and gave him a copy of Hugh Johnson's seminal Wine. "It simply blew my mind and I became obsessed with real wine – wine made from grapes," exclaimed Dermot. "Around this time my mother and I drank a bottle of 1982 Torres Cabernet Sauvignon from Penedes and I had a transcendental experience… I realised just how extraordinary fine wine could be!"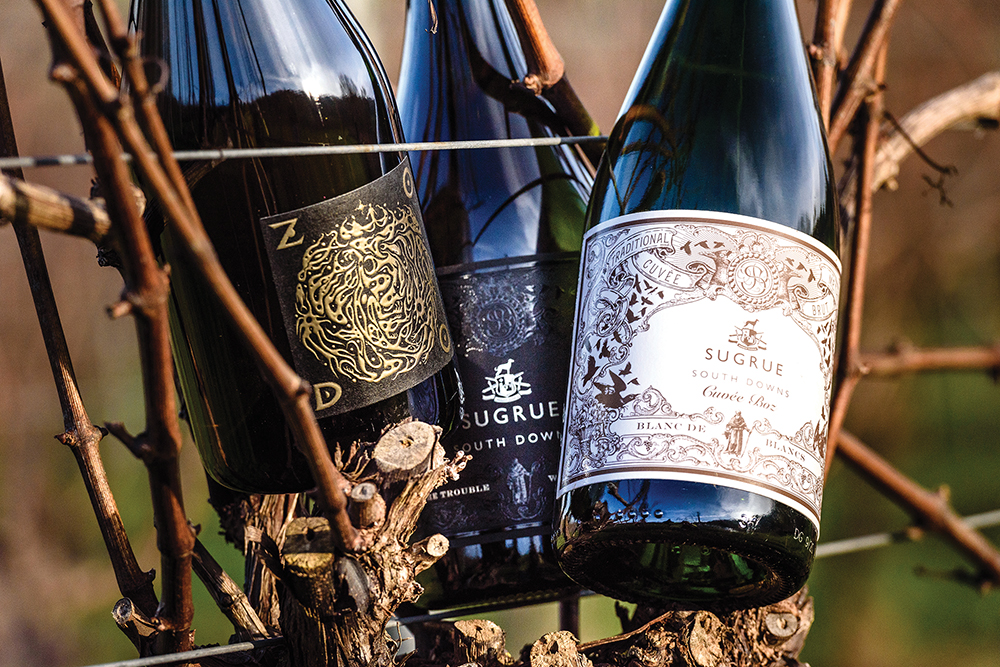 Dermot moved to the UK in 1992 to study Environmental Science at the University of East Anglia, as he had no idea that Plumpton College and courses in winemaking existed at that time. After working as a Financial Advisor and spending everything he earned on wine, he visited Bordeaux in 2000. "I fell in love with the winemaking culture there and was determined to study wine but my French was awful and whilst planning on moving to Australia to study in Adelaide, I heard about Plumpton College in Sussex." Before studying at Plumpton College, Dermot worked at a winery in Suffolk under Rob Hemphill, whom he describes as "a genius winemaker and inspirational figure." He also returned to Bordeaux to do the harvest in Pomerol, and to Saint-Julien to work at Chateau Leoville-Barton.
Shortly after starting at Plumpton College Dermot saw an advert for Assistant Winemaker at Nyetimber Vineyards. "I immediately made the call and drove straight to the winery to be interviewed whilst helping rack a tank of wine – and then I tasted Nyetimber for the first time – cue another transcendental moment; I knew then that I wanted to make sparkling wine in Sussex!" Exclaimed Dermot. 
In 2004 Dermot was promoted to Head Winemaker at Nyetimber: "I learnt a great deal from Peter Morgan, the Winemaker, and Jean-Manuel Jacquinot, the Consultant Winemaker from Champagne, who became my mentor," he said. A few years later Dermot met Harry and Pip Goring from Wiston Estate and saw the enormous potential of their South Downs chalkland site, but managed to squeeze in a vintage in Champagne in 2006. "It was an experience that thoroughly illuminated my understanding of sparkling wine production, an education for me in winemaking technique, culture, tradition and attitude. I still visit Champagne regularly and they are just so fascinated by the ascent of English sparkling wine over the last two decades."
During his last year at Nyetimber in 2006, Dermot was approached by a Monastic Order of Catholic Priests from Storrington in West Sussex, who asked if he could help them plant a small 1 hectare vineyard on a plot of greensand soil, and together they created Storrington Priory Vineyard, which is now 1.6 hectares and planted with 70% Chardonnay and 30% Pinot noir. However, the birds devastated the first would-be harvest in 2008 – which founded the label 'The Trouble with Dreams'! "The Trouble with Dreams is a song by American band, The Eels," explained Dermot. A year later, the birds behaved themselves and the first Sugrue South Downs 'The Trouble with Dreams' 2009 was made from Storrington, along with the first Wiston Estate wine. "They were both epic wines, and buyers Rebecca Palmer from Corney and Barrow and Steve Daniel from Hallgarten snapped us up to distribute the wines," he added.
However, 2012 was a disaster and like many English vineyards there were no grapes worth picking. Dermot had a choice: either scrap the project as it was far too small to be economic or take on another, larger, vineyard to supply the Sugrue South Downs brand. "I heard that Mount Harry Vineyard near Lewes, planted by Tim and Alice Renton, was available to lease. It too was planted in 2006 and was an exceptional site, a clay loam over pure chalk, nestled on a south east facing slope right on the South Downs, planted with 40% Chardonnay, 40% Pinot noir and 20% Meunier. I began managing it in 2013 and that vintage marked the first time the fruit from both vineyards – exactly one marathon, 26.2 miles, apart – was combined to make the 2013 'Trouble with Dreams' and a second, multi-vintage wine, Cuvée Dr Brendan O'Regan," explained Dermot. The 2013 'Trouble with Dreams' won the Trophy for Best English Wine at the first Independent English Wine Awards and Hugh Johnson himself declared Cuvée Dr Brendan O'Regan the best English fizz he had ever tasted – all Dermot's hard work and the risk of taking on Mount Harry Vineyard had paid off. "I was broke but delighted!" He smiled.
Fast forward to 2018 and a restaurant in Brighton; Ana and Dermot were introduced by a mutual friend. "We had an amazing time and lots of 'wine geek' chat," commented Ana. However, he 'had me' immediately he said 'hello', in his wonderful Irish accent!" Ana grinned. 
Ana grew up in Zagreb, Croatia, but her grandparents lived in the wine region of Plesivica, just 40km south of Zagreb. Visits to refill her Dad's wicker demijohn included stops at friends with vineyards and wine cellars. "We had a blast, running through the vineyards and playing hide and seek in the cellars! But the best part was wine tasting. My parents would taste the wine from the barrel, and I was always allowed to have a small štamperlek, which is like a little glass for schnaps. I was curious even as a child to know the difference between the wines that I tasted." 
Ana gained a degree in Horticulture at the University of Zagreb, followed by an MSc in Viticulture and Oenology. "Being young and crazy, I ended up doing vintages in Peru, New Zealand, California and Germany. My first full-time job was in the Austrian region of Kamptal, where I worked on Riesling and Gruner Veltliner. After two years, I got an Assistant Director position in a winery in Burgenland, producing high-end wine from indigenous red grape varieties. That was my last stop before coming here to the UK and meeting Dermot!" said Ana.
Ana is currently the winemaker at Plumpton college, covering maternity leave. "I don't have a lot of time to spend on our Sugrue South Downs brand at the moment, but I am involved in all business plans going forward as well as blending, dosage trials and tastings," explained Ana.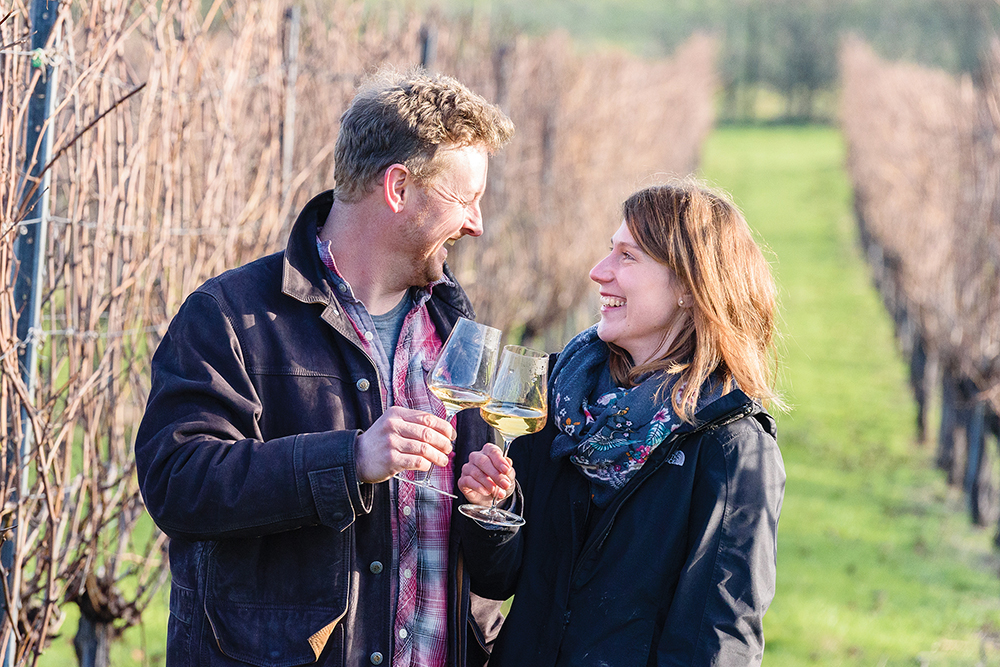 Making dreams come true
With their combined passion for wine, their knowledge and experience, and the exciting plans for the future, Dermot and Ana's Sugrue South Downs is a brand to watch. "We would love to open a Sugrue South Downs cellar door – just something simple where we could receive small groups and do tastings," explained Dermot. "In the meantime, the focus is on working as sustainably as possible, managing the vineyards better and improving the wines. There is always room to improve!" He added. "The climate is getting warmer every single year – a frightening pattern in itself – so the opportunities for making better wines continue. We know the terroir is superb; even though we have had vintages to date where we could have made successful still wines, we prefer to focus all our energies on making traditional method fizz, and keep learning."
A project that Dermot has been working on for many years now, is to make a successful zero dosage 'Brut Nature' English Sparkling wine. "ZODO, my zero dosage wine, has taken time and a lot of experimentation over the years, but I am now delighted with the results, as this is an incredibly difficult wine style to get right in the UK," explained Dermot. The stunning label was created by an indigenous Canadian artist friend of his, Don Chretien, and is entitled 'Waterbeings'. 
Winemaking is obviously a passion for Dermot and he has an emotional involvement with his wines. Cuvée Dr Brendan O'Regan is a non-vintage wine made only in exceptional years, with reserve wines, in honour of his grand-uncle, who established the world's first Duty Free shop at Shannon Airport in 1947. "He was a visionary man whose enterprise and initiative were the first steps in the creation of the global Duty-Free industry we now have today. In partnership with a chef from Northern Ireland, he also invented Irish Coffee!" He exclaimed.
Soon to be released is a very special wine, Cuvée Boz Blanc de Blancs 2015, in memory of Dermot's brother. "Boz was my brother Barry Sugrue, an extraordinary and talented man who passed away aged 39 on 22 Feb 2011. He played a huge role in my life, as we spent all of our childhood together. Cuvee Boz 2015 will be released on the 10th anniversary of his death," said Dermot. 
Winemaking philosophy
With exceptional vision and a unique winemaking philosophy, Dermot takes risks with the weather at harvest by picking as late as possible to attain optimum maturity. He presses the grapes as gently as possible and knows where to ruthlessly cut the juice. "I then trust the wines to reveal themselves with time. I always use old Burgundy oak, using barrels of different size and age, to promote texture and dimension, and work with the lees," he added. 
When asked his top tips for winemaking, Dermot discloses: "Embrace acidity, make reduction your friend, and shake hands with oxidation every now and again. Trust the wines and give them time. Taste constantly. Always do the right thing at the right time, no matter how cold or tired or fed up you may be and they will reward you every time. If in doubt, lean towards less dosage than more and give them time on cork. Taste wines from other producers, and other regions, constantly. Learn from experienced winemakers. I have learned more from winemakers like Peter Hall at Breaky Bottom over the years than I can possibly remember!"
Many would say that Dermot has gained a hint of celebrity status and certainly a reputation for winemaking excellence. "I've been hugely proud to make the wines of Jenkyn Place, Digby, Black Dog Hill, Ashling Park, East Meon, English Oak, Woodchurch, Southlands Valley and Artelium over the years. I helped establish Henners and Westwell, so I've been lucky to gain a huge amount of experience working with so many vineyards for so long." As well as making wines in England and France, Dermot also had the opportunity to make wine in India. He describes it as, "a fun – and often crazy – experience!" 
"A highlight for me in 2017 was a tasting of 15 of my wines with Jean-Baptiste Lecaillon of Champagne Roederer. It was clear he was seriously impressed with the wines as there is a freshness and purity to our wines which is perhaps becoming more challenging for the Champenois to achieve as warmer year follows warmer year. For many years I have worked with the IOC, the Institut Oenlogique de Champagne, for bottling, cold stabilisation and more recently disgorging – they are highly efficient and a pleasure to work with. As our industry develops we need to foster collaboration, remain open-minded and agile and embrace the experience of our neighbours – that has always been my mantra," professes Dermot.
The goal of 'Trouble with Dreams' was always to make one wine, explains Dermot, "a Chardonnay-dominant cuvée, that was as precise and pure as possible and given sufficient time in the cellar to reach maturity before release. This is hugely important as a wine style like this, without any Pinot meunier, can be quite austere in it's youth. The wine must be complete and lees aging is a key part of this, it builds texture as does the barrel fermentation. My wines are often notable for their acidity and freshness but when combined with this textural element, this balance is exactly what I am aiming for."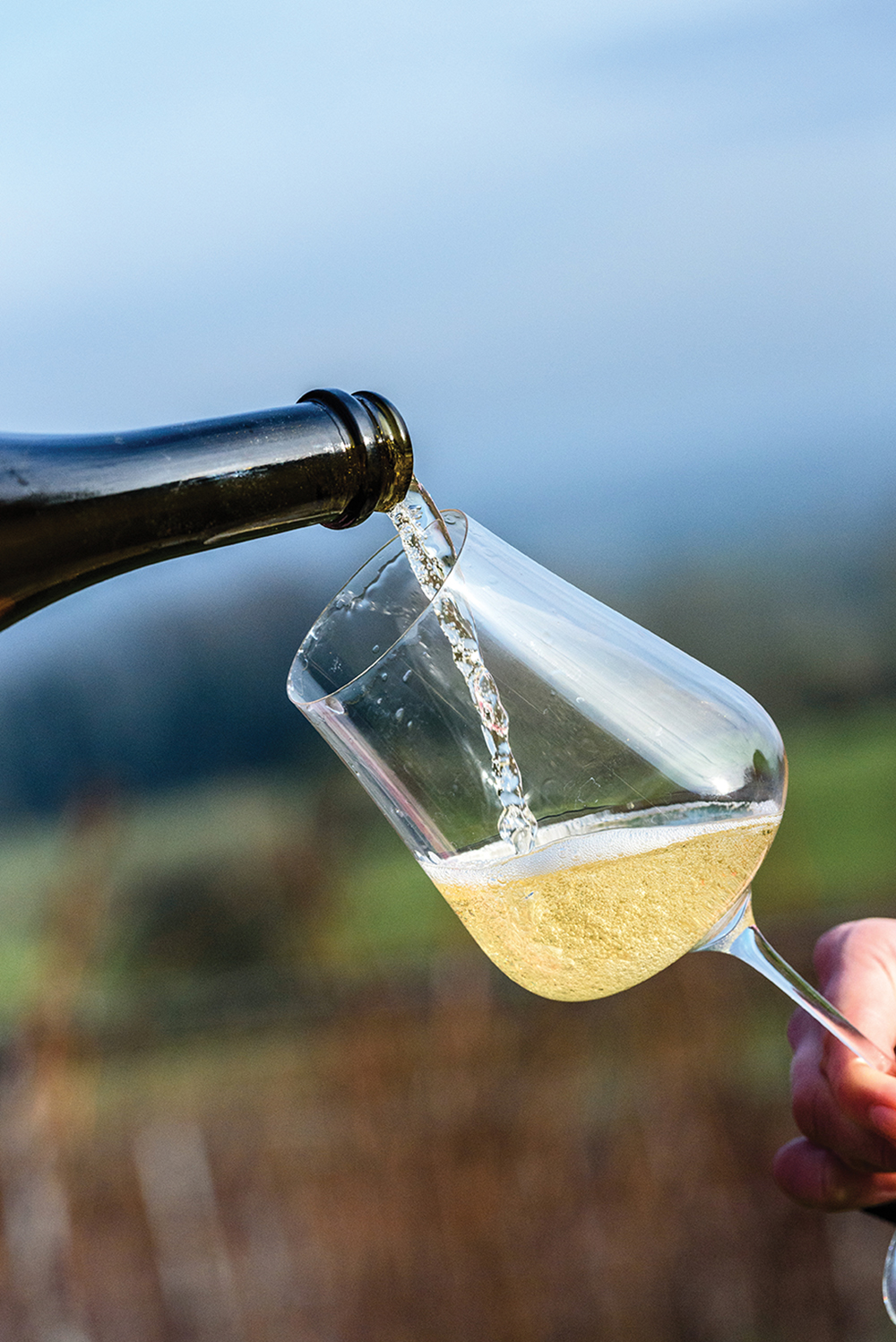 Winning wines
Sugrue South Downs wines have won many awards, been listed in top restaurants and championed by sommeliers, wine writers and critics – gaining a cult following. The tiny production, averaging only 5,000 bottles per year, has meant the wines are not broadly distributed, but they are exported to Ireland, the US, Sweden, Norway, Switzerland and Italy. "However, a highlight was probably winning WineGB 2020 Boutique Producer of the Year, the same year that Wiston Estate won Winery of the Year (for a second time after winning it in 2018). Also being listed in Hugh Johnson's Pocket Wine Guide 2020 as the UK's highest rated wine producer was a special accolade," he smiles. 'Trouble with Dreams' 2014 claimed a Gold medal at the International Wine Challenge 2019, WineGB awards 2020 and Sélections Mondiales des Vins Canada 2019. Included in the long list of wins, the 2010 was given the highest score by Decanter Magazine for an English Sparkling Wine and the 2011 won the Decanter Trophy for Best UK Sparkling. "I knew the Storrington Priory site was very special," he commented proudly. 
Spare time?
Ana admits that working with wine, teaching winemaking, and then coming home to a winemaker can be very intense. "Going for long-walks with Tara helps to forget about wine for a while." Dermot escapes wine when out on his bike, "I still adore riding on the roads around Sussex and up on the Downs on my mountain bike. It makes me feel like a teenager when I ride my bike, there is nothing quite like the bittersweet mix of endorphins and exhaustion after completing a hard three-hour ride."
Both Ana and Dermot also love cooking and travelling, "I've done far more of the former and zero of the latter in the last year so I'm really looking forward to that freedom returning. Visiting other winemaking regions is a constant source of inspiration for me – it reboots my passion for wine and life in fundamental ways," commented Dermot. Ana introduced me to Austrian Riesling in a big way a few years ago and I just adore it. Maybe with some of the new PIWI varieties coming down the line we can achieve wine styles like this?" He muses.
Inspiration also comes from other winemakers in England: "I drank some fantastic skin-contact Ortega from Westwell recently – I think the guys are doing a fantastic job there. Also, Flint from Norfolk – their work with Bacchus is fascinating and Dalwood still whites are stunning," said Dermot.
Even if the climate continues to change Dermot says he will never plant a vineyard in Ireland. "It will always be damp, and windy. There's a reason we've succeeded so much with whiskey and stout – they keep you warm while you make them!"