There is an expression – 'the cobbler's children are the worst shod' – so when a team of expert viticulturists plant their own vineyard, expectations are high. Vineyard visits Bee Tree Vineyard in Sussex to find out how a small vineyard is leading on sustainability, research and vintage-led wines.
Bee Tree Vineyard is owned by James Dodson and D'Arcy Gander whose main business Vine-Works provides vineyard establishment and management services to UK vineyards, along with their experienced team.
"A few years ago we decided that it was time to put our money where our mouth is and develop our own vineyard. The purpose of the vineyard is to enable us to conduct research projects that we hope to adapt and develop for the UK. However, the vineyard also needs to generate an income, or at least cover its costs, so we plan to sell fruit and have just started to market the wines we produce from Bee Tree. Tour projects include the suitability of new PIWI varietals for the UK climate, the effectiveness of frost protection methods, and we are also evaluating data collection devices," explained James.
Bee Tree Vineyard
Bee Tree Vineyard is 1.55 hectares and is planted with 7,100 vines, including Chardonnay, Pinot Noir and Pinot Meunier, as well as the three PIWI varieties that are being trialled. "We were enamoured with the site immediately as it is extremely well sheltered on a gentle south facing slope in the shadow of the Downs. The soil is a moderately heavy clay loam overlaying what we presume to be sandstone… it's down there somewhere. Frost is generally not an issue, but we have had a few incidences of it settling along our eastern boundary and causing some damage. Our first harvest was in 2018 and since then we have been averaging around eight tonnes per hectare," commented D'Arcy.
As with most vineyards, there is a story behind the name. "We struggled with what to call the vineyard when it was first planted in 2015. As it is so close to our offices it developed a working title of 'round the corner'. Whenever someone went to the vineyard they would announce 'just heading around the corner'. The title almost stuck until one day while working at the vineyard I met an elderly woman walking her dog who stopped for a chat. She explained her father had owned the field in the 1930's and that they had always referred to the field as Bee Tree field. She pointed out an old oak tree on the edge of the field where bees used to live – it didn't take long for us to decide that it was an excellent name and Bee Tree Vineyard was born," James grinned.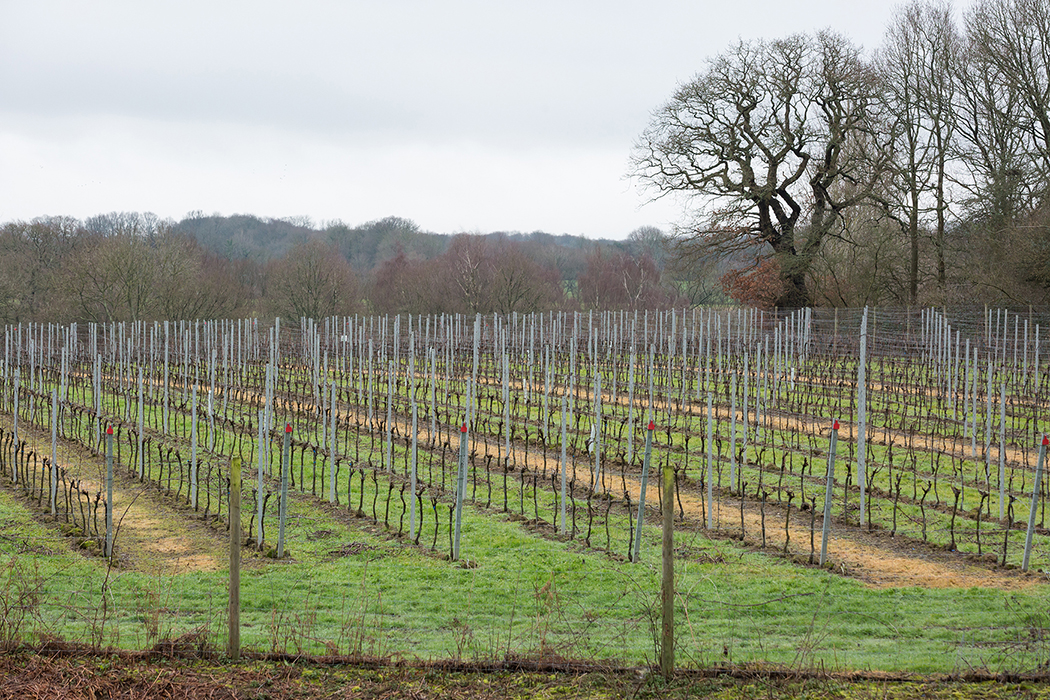 The PIWIS
PIWI is a German abbreviation for Pilzwiderstandsfähig which means fungus resistant.
"These were created by crossing European grape varieties with fungus resistant American varietals," explains James. "We are trialling three PIWI grape varieties; Caberet Noir, Cabernet Blanc, and Sauvignac. These have been sourced from the Freytag Nursery in Germany, where Volker Freytag has done a lot of work in their development. The hope is to have varieties that are more resistant to fungal diseases and require fewer applications of fungacides.
"There is a demand for more environmentally friendly approaches to viticulture, and as these varietals are more robust, they are potentially suited for our extremely challenging conditions in the UK. To date we are seeing very positive results with two of the PIWI varieties, while the jury is out on the Cabernet Blanc. Unfortunately the Cabernet Blanc has failed to flower successfully in the first two vintages, most likely due to early frost damage as its bud break is generally two weeks before anything else. Yields from Caberet Noir and Sauvignac have been encouraging, and there has been a marked success in fungal resistance when compared to the classic varieties," James added.
Sustainability
Bee Tree Vineyard, and the contract supply business, Vine-Works are both very focussed on sustainable viticulture explains Will Mower, who leads the vineyard establishment team at Vine-Works. "Sustainability isn't just a buzz word, it's an environmental necessity and one that we strongly adhere to in our vineyard. When the opportunity came up to join the SWGB (Sustainable Wines of Great Britain) committee, we jumped at it. To be on the committee, as well a founding member vineyard, was a proud moment for us."
"As well as Bee Tree, Vine-Works also establishes and manages vineyards, and we include environmental sustainability in our reports and conversations with clients. It is particularly important for new comers to our industry to understand the role of sustainability and how they can make the right decisions from the very beginning. The SWGB has forged a strong path in unknown territory for the UK wine industry and we will continue to support the scheme," commented Will.
Bee Tree Vineyard is fortunate to be surrounded by established hedgerows and ancient woodland. "Under our stewardship, these have flourished. As part of our SWGB audit we identified areas we can improve, one of which is to encourage more biodiversity. On the perimeters and in the ditches we are sowing native plant seed mixes. We also want to promote vine friendly wildlife and have installed nesting and bat boxes around the site. Part of improving biodiversity is restoring natural processes, which we will encourage where possible," Will added.
"Our weed management programme minimises herbicide use, with just one application pre bud break and for the rest of the season we use mechanical weeding methods, a combination of Braun rollhacke and Braun Luv Perfekt side hoe, as ground conditions permit. We've used Braun equipment for many years and found it to be a solid performer and well-priced, it's a brand we recommend to customers also," D'Arcy explained.
"We're fortunate that our vineyard site isn't particularly susceptible to frost but inevitably frost does accumulate in the lowest corner, however we have a frostguard onsite for peace of mind, this covers the most vulnerable area. From a sustainability perspective there are no perfect solutions for frost protection, all products (candles, frostguard, etc) have significant carbon footprint or cost. However, we have been running a trial on one vine row using a ground source heat pump to warm the fruiting wire during frost incidents, its certainly effective but we need to work on scalability," explained James.
The team
Bee Tree Vineyard is fortunate to receive the undivided attention of a skilled, experienced and enthusiastic team of Vine-Works viticulture staff. "In fact, even the office staff get out into the vineyard to help when they can," commented D'Arcy.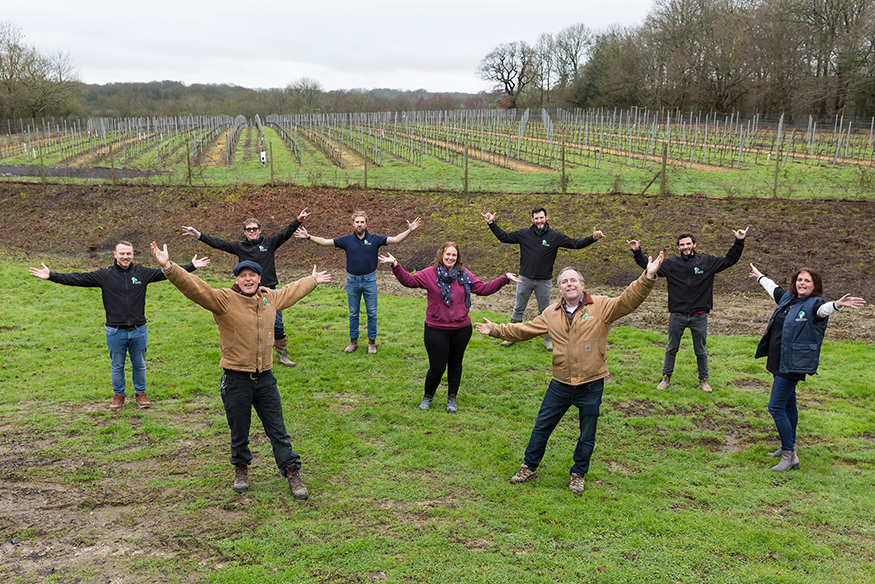 The wines
The first wines produced at Bee Tree were from the 2018 vintage. As the vineyard is essentially a research vineyard James and D'Arcy's approach to their winemaking is different to that of most commercial vineyards, where the aim would be for consistency in the styles produced. "Our plan for Bee Tree vineyard is to be vintage-led and make wines dependant on the vintage results. For example, in 2018 we were able to achieve excellent ripeness from which we were able to make a barrel fermented Chardonnay, and Pinot Noir as a still red, and also a sparkling Blanc de Noirs. However the 2019 vintage saw challenging conditions and ripeness dictated a sparkling rosé and a sparkling classic cuvée. The 2020 vintage allowed us the ripeness to produce a Chardonnay, Pinot Noir red and a rosé, along with a sparkling classic cuvée,"commented James
The PIWI varities have been kept separate and we engaged a Plumpton MSc student, Andrew Lain, to make still wines from these grapes. Andrew will be conducting sensory analysis trials with the wines to assess their potential," added D'Arcy.
The Bee Tree wines have just been released and are represented by GB Shippers, a new distributor founded by Gus Gluck and Richard Bray in 2020, who aim to source "remarkable wine from around the world." The wines are also available online from the Bee Tree website.
Top tips
James and D'Arcy see a very positive future for wine production in the UK with an increasing demand for good quality fruit and a growing number of exciting wine brands and say that, "the domestic wine consumer market is there to be tapped." When advising their clients they, "encourage them to have a solid route to market and USP for their wines years in advance of a launch."
D'Arcy and James also advise new entrants that there are no short cuts in UK viticulture. "You reap what you sow and that's doubly true in our challenging climate so our top tip is go above and beyond with everything in the vineyard. We also like to remind customers that we're a small island in the north Atlantic not continental Europe – so we're on the margins of viticulture and need to have realistic expectations about what is achievable," exclaimed James.
James and D'Arcy
Both James and D'Arcy studied BSc Viticulture and Oenology at Plumpton College in Sussex. Whilst studying James recognised a growing demand for viticultural services to the ever-expanding English wine industry. With the help of a fellow student, he founded Vine-Works in 2006. Four years later, with the business booming, he went into partnership with D'Arcy Gander to form Vine-Works Ltd.
D'Arcy's passion for English wines began while he was running a pub group in the south east where he loved seeing the positive reactions from customers – almost as much as enjoying the wines himself. After graduating from Plumpton College, he worked with Nyetimber Vineyards, helping to establish large areas of vines in West Sussex. Like James, he spotted the ever-increasing need for specialist industry support services, and created his own company before co-founding Vine-Works Ltd in 2010.
With Bee Tree Vineyard and a contract business to run it is hard to imagine that D'Arcy and James have any free time. But they manage to squeeze a few activities and drink some wines other than their own.
"I enjoy flying my paraglider over the South Downs and abroad. I have a dream to fly over every vineyard we have established and of course to one day get above Bee Tree. The last wine I drank was a very impressive wine from Wales, the White Castle Vineyard 2018 Pinot Noir reserve," James declared.
Unlike James, however, D'Arcy prefers keeping his feet on the ground. "I'm blessed that I'm within a couple of miles of the South Downs way which is awesome for mountain biking, plus I do plenty of vinyassa flow yoga to keep everything moving. The last wine I drank was Hoffman and Rathbone's 2013 classic cuvee, mmmm!" D'Arcy smiled.
"We often joke that Bee Tree is the 'cobblers child and is the worse shod' but we're fortunate that we always have staff and it's a modest vineyard so getting tasks completed isn't an issue," James laughed.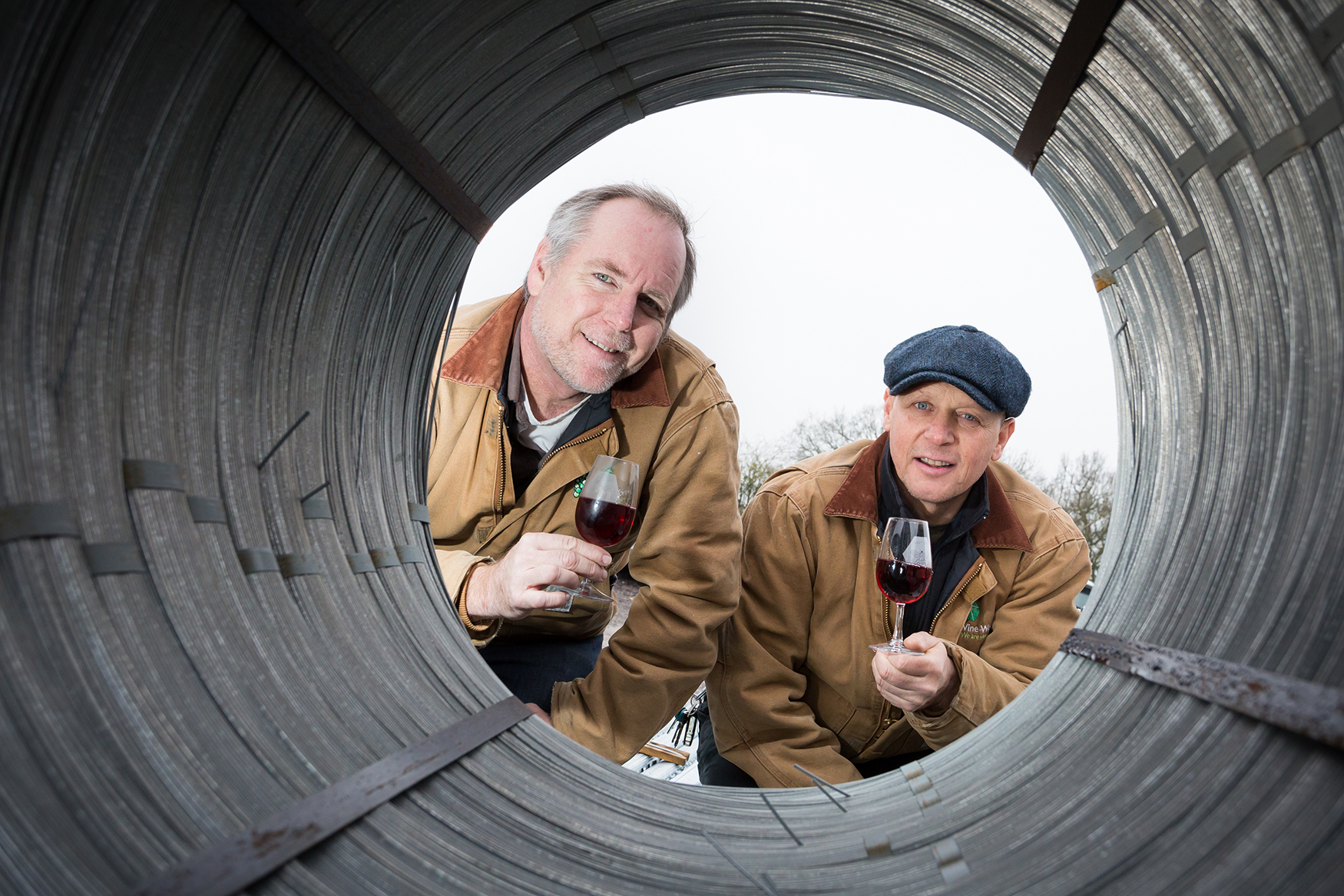 Photos: ©Martin Apps, Countrywide Photographic