From very humble beginnings, Peter Hall's passion, gritty determination and zeal for hard work has created the world-class wines of Breaky Bottom.
It would be a challenge to find a more picturesque vineyard than Breaky Bottom anywhere in the world. The approach is a nail-biting journey to the top of the South Downs where the leap over the edge is rewarded by a spectacular view and the most wonderful story of one of England's wine industry early pioneers. The owner, Peter Hall, has forged the way to help create the landscape of the current UK wine industry. From very humble beginnings, his passion, gritty determination and zeal for hard work has created the world-class wines of Breaky Bottom.
Over 50 years ago Peter Hall as a young agricultural graduate from Newcastle University looked after some sheep and cattle for a farmer in a hidden valley, or 'bottom', on the chalky South Downs, near Lewes, East Sussex. Remote and peaceful, with a dilapidated old stone cottage without electricity or telephone and only a standpipe for water, Peter settled in. After a few years the farmer allowed him tenancy of the small 30-acre small-holding and in 1974 Peter planted the vineyard. 
Peter Hall is charming, with a delightful sprinkling of eccentricity and is one of the early explorers of wine growing in England. He is a self-confessed risk taker and has a passion for wine from his French and Italian heritage, along with a battered 'Breton' style hat. He frequently breaks into his 'cradle-tongue' of French and proudly claims, "je suis un ermite" (I am a hermit).
Peter's first plantings were 4 acres of Müller-Thurgau and Seyval Blanc and for the first 20 years he produced only still wines, but not following the Germanic style medium-dry of the time, favouring the drier style of his French upbringing and the character of the wines from Alsace with Müller-Thurgau, and the Loire with Seyval Blanc. Peter recalls his first harvest in 1976, "I had no tanks, no money and just a few buckets!" In the following year he acquired a basket press and some second-hand fibreglass tanks. However, the winery, a beautifully renovated old flint barn, now boasts a Vaslin Bucher pneumatic press and a range of stainless-steel tanks. 
Peter always knew that his Seyval Blanc, a variety disregarded by many, would be great with bubbles, his 1990 still won an IWC gold medal in 1993, and for the last 25 years all wines that Breaky Bottom produced are traditional method sparkling wines. The vineyard now covers 6 acres and includes Chardonnay, Pinot Noir, Pinot Meunier – but Peter is still loyal to his Seyval Blanc! 
When asked why the switch from still to sparkling, Peter cites Champagne's history in its pre-sparkling days. "One of the kings of France was passing through Champagne and told his entourage to bring their own wines – inferring that the still wines of the region might not be to their taste!" He elaborated with, "the French don't always do things right, but to go from the meanest wine in France to the most prestigious celebratory wine of the world was an exception!"
Peter welcomes the emerging diversity of production methods, such as Pet Nat and Charmat, but strongly feels that the UK industry should not become divorced from its potential to produce top quality sparkling wines. "This has become the natural home of traditional method fizz and we should blow our trumpets as we have amazing wines produced by very skilled winemakers." And he exclaims, "Wise-up – we are one of the top cool climate wine regions of the world!" 
Peter admits to good fortune, the serendipitous discovery of such a beautiful hidden valley. It is just a few miles from the sea on the south east coast on classic free-draining chalk loam with flints, not dissimilar to areas of Champagne. However, this year, for the first time in Breaky Bottom's long history, the vineyard was hit by mid-May frosts. "My production will only be 2,000 bottles this year, about 80% down, but who am I to complain, this is my only commercial loss to frost in 45 years!"
Peter describes himself as an 'owner-driver' working eight days a week as vineyard manager, winemaker and sales manager. Luckily Peter's wife, Chris, an artist by profession, is equally as versatile and supports Peter in just about all tasks. In fact, Peter does confess that he doesn't 'do' social media, but that Christina does, which is helping sales! A loyal following of local friends help out part-time, Plumpton students come for work experience, and Peter has just started to relinquish some of the winter pruning to VineWorks to allow him more time for, as he puts it, "ever-increasing blooming desk-work!"
With a long-established reputation for quality, an enviable haul of awards, and success in blind tastings, the wines of Breaky Bottom are in demand. Breaky Bottom, the first to be stocked by The Wine Society many years ago, is now served in top restaurants including Sketch in Mayfair, sold through retailers such as Waitrose and Corney and Barrow, and Peter is now exploring export as well. In more normal years the vineyard is a treat to visit by appointment. During the pandemic Peter has seen a drop in on-trade sales and a significant increase in online sales, but comments that, "October is showing more trade interest pre-Christmas, which is probably helped by the good competition results." 
Peter is clearly devoted to his vines and allowing the grapes to express themselves through minimal intervention winemaking. "Every vineyard has a unique 'terroir', even 20 vines growing in a small garden in Brixton! I am proud to claim on my label 'Single Vineyard' with each bottle numbered. I only vinify grapes grown at Breaky Bottom. I accept though that much of Champagne is produced from grapes purchased from growers and I am not suggesting that this produces inferior wines. Bigger vineyards in the UK acquire grapes from different terroir but are still able to produce their own excellent house-style wines." 
Peter does not plan for the wines to undergo malolactic fermentation but admits that in the past he has occasionally had one occur 'naturally'. Peter takes the risk and picks late, always looking for full ripeness and is often one of the last vineyards to harvest. "As acids fall the malic diminishes against the tartaric and, coupled with long lees-aging, aggressive acidity fades. This is very evident in the older vintages but my new release wines, Seyval Blanc 2015 Cuvée Jack Pike and Chardonnay Pinot Noir 2015 Cuvée David Pearson that have had just three plus years on lees are showing well – in fact the David Pearson won a gold in the 2020 IWSC with 95 points." Peter commented.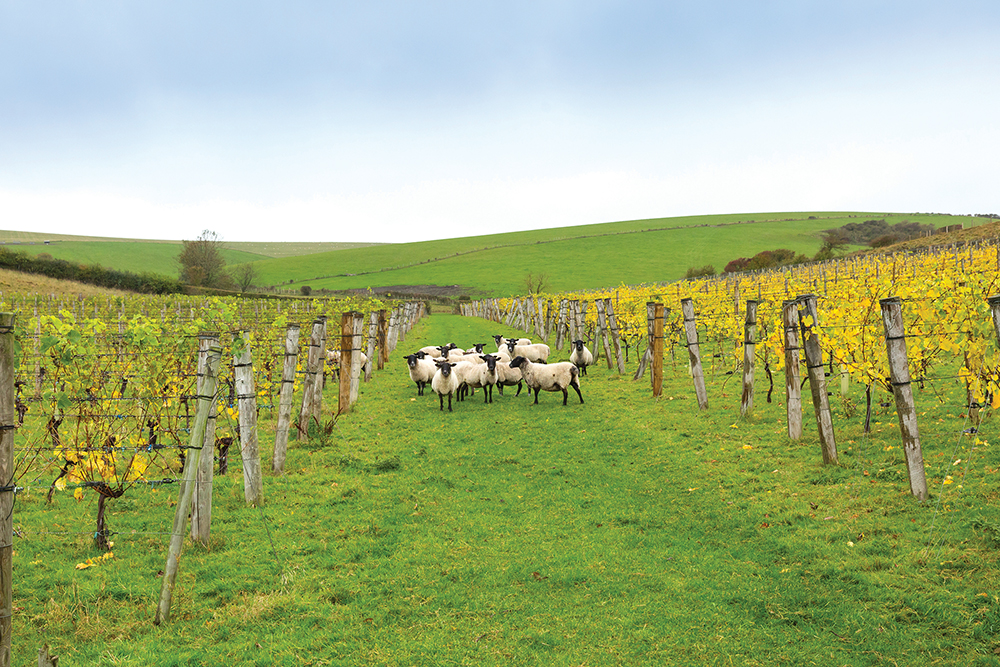 The Breaky Bottom wines are all limited editions and affectionately named after people who have special importance to Peter and Christina. Many are family, but the list also includes artists and musicians, such as Reynolds Stone, and people that have been instrumental in the success of Breaky Bottom. For example, the Cuvée David Pearson 2015 is named in honour of Peter's dear friend, and his first supplier of wine boxes back in 1976, who became affectionately known as 'Mr Cardboard Box Man'. He worked part-time in the vineyard for 40 years until his death in 2019. The 2015 Seyval Blanc, Cuvée Jack Pike is a tribute to Jack who helped Peter plant the vineyard in 1974 and who Peter says was inspirational to him in his approach to hard work. Jack died in 2013 at the age of 87. 
Cuvée Reynolds Stone is named in honour of a close friend, a great artist. He was the foremost wood engraver and letter-cutter in the country. Reynolds created the Breaky Bottom label for the first vintage in 1976 and many of his designs have become part of all our lives. They include the engraving of the royal coat of arms on our passports, engravings for five and ten-pound notes and the "Dove of Peace" which was commissioned for the "Victory" stamp in 1946. Reynolds cut the great memorial stone to Sir Winston Churchill in Westminster Abbey.
Breaky Bottom scooped a total of seven wines at the 2020 WineGB Awards including the Dudley Quirk trophy for the Best Sparkling Non-Classic Blend with Cuvée Michelle Moreau 2014. Michelle, with her sister the renowned French actress Jeanne Moreau, was raised in Paris during the German Occupation. Michelle was a dancer, poet and writer and became a cherished friend.
"I never feel I'm competing against my fellow winemakers; I delight in the differences and recognise our 'common goal', achieved through each individual's approach. One night my dear friend Dermot appeared, un-announced – we sat down and tasted his wonderful 'Trouble with Dreams'; he's a great winemaker, and so is Emma Rice, my devoted wine analyst, always full of constructive comments about my winemaking," commented Peter. Dermot Sugrue is the winemaker at Wiston Estate and Emma Rice is the winemaker at Hattingley Valley vineyard. "I also value my links with agronomist and good friend Rob Saunders of Hutchinsons – he takes such care when he visits, very focused, as I'm sure he is with every vineyard. Since my first harvest I have known Stephen Skelton as a constant friend. Mike Roberts planted Ridgeview 25 years ago and the team disgorge my wines and are always there to give good advice. I must also include Oz Clarke who first visited Breaky Bottom back in the 1970's, I believe his first English vineyard, and remains in good touch. And I want to salute people like Nick Seymour and André Chapman who I have known these past 45 years – always obliging and have become good friends" Peter added.
"In the old days, all the vineyards would get together each year at the marvellous English Wine Festival set up and run by Christopher 'Topper' Ann at Drusillas. He played a great role in the promotion of UK wines. The Marquees would be packed with visitors. It's a shame that there is no equivalent nowadays, but maybe it just wouldn't work – gone are the days when we were satisfied with a day out tasting wines, grape treading, hog roasts and jazz bands. I do also remember a rather curious magician and comedian who 'entertained' us every year, lighting up the children's' faces!" Peter Recalls.
Wine is not Peter's only love, as he and Christina take great delight music, the arts and the environment. For many years Breaky Bottom hosted opera in the winery and a young Nigel Kennedy, "played beautiful Schubert string quartets and ground-breaking solo Bach to raise funds so we could pay Glyndebourne soloists a small £5 fee " said Peter. 
Breaky Bottom is a beautiful and peaceful haven. "I am a life-long bird-watcher with 40 nest boxes and a three-star Michelin bird-feeding restaurant," says Peter. Just about all wildlife is welcome, but Peter was not happy with the pheasants from a neighbouring farms shoot a few years ago who tucked into the equivalent of 30,000 bottles of wine! 
Peter started farming 53 years ago in the 'old-fashion way' of mixed farming with pigs, sheep, ten-day-old calves from Lewes market, chickens for egg sales, and Christmas turkeys. He shies away from sprays keeping applications to a minimum, just four in 2020. Although Breaky Bottom is not a member of the Soil Association, Peter is interested in the WineGB Sustainable Wines of Great Britain Scheme which he feels is very positive. He and Christina work with Higher Level Stewardship and enjoy educational visit from local school children. Their flock of 30 North Country cross Suffolk ewes are covered by a pure Southdown ram and move into the vineyard after harvest and savour the delights of vine leaves and keep the grasses trimmed. 
There is no doubt that Peter's passion, respect for farming and the environment, attention to detail, hard graft and determination has resulted in some of the most iconic, distinctive, bone-dry, but elegant wines in England.