Ten years into making the switch from Bordeaux to Bucks, Rebecca Chaplin meets up with Harrow & Hope owner Henry Laithwaite.
The clouds are gloomy in what seems to be the first hint of rain in forever. The ground is hard, the air is still warm but there's a heaviness in the skies as if they've forgotten how to turn rain clouds into water drops after so long.
It's clear it's coming though, as owner of Harrow & Hope Henry Laithwaite and I stand at the edge of the vineyard and decide we're going to have to go for it or miss our moment. Here we explore what might be considered a petite plot, nestled not far from the M40 in Marlow, Buckinghamshire, although you'd be hard pressed to tell when standing among the vines here. It's around 20 acres in total, with 16 under vine, and in the 10 years they've been here they've already expanded to almost the limits. 
Flowers are appearing here too, as Henry points out on the vines, well ahead of what was expected. He is conservatively predicting that the early hot weather we've been having could lead to the earlier harvest he'd like – but those looming clouds suggest it might not be smooth sailing through until the end of summer. 
"The flowers are all kicking off. The first flowers we saw were on 31 May, its usually the end of June," he tells me but, as we know, it's not been easy for vineyards across the country so far and Harrow & Hope have been working hard to protect the early buds. 
"We were almost a whole month ahead of the average. May was insane, and the early start bud burst was end of March, early April. As a consequence, we had frost but we use candles so we managed to get through it."
He explained: "We got hit in 2016; we lost about 60%. After that we decided we can't just sit here and take it and invested in the candles. It's expensive, it's a lot of hard work, but they're guaranteed to work. I'd rather do that than buy something that might or might not work.
"Then May was exceptional, really warm, really dry, and the vines have just gone crazy. Ironically, flowering started and the weather has changed. It's, as someone said on Twitter, all the right notes, just in the wrong order at the moment.
"So far, so good. I think the vines are in a good place, but like I say, we've got a bit of rain over the next few days, which is not ideal but it is what it is, and then it looks like the heat will pick up again. Still a long way to go but harvest is looking ridiculously early in September."
When husband and wife team, Henry and Kaye, decided they wanted to plant in England they could have chosen anywhere, he tells me, as they didn't already own land or have ties to a location.
"I was born just south of here in Reading, in Thames Valley, and I couldn't understand why there weren't more vineyards in the area," Henry said as we walk through the vineyard, crossing the initial boundary line from the first field they purchased and the hedgerow that's now been removed. 
"We started looking for land and then thought this is probably the reason why there are no vineyards around here because land here is very expensive, and that's only if you get a chance to buy it. The chance to buy a piece of land that's suitable for growing vines, south facing, low altitude, all those things coming together, the chances are very slim but I think we just got lucky. Right place, right time. 
"The owner was selling three fields and we thought we'll separate this one. We just jumped on it straight away. This was February 2010. The field had some horses in it, and we thought it ticks pretty much every single box, so we snapped it up and by that May we'd prepped the land and the first 20,000 vines went in. 
"A couple of years ago we bought the field above. There was a hedge here that we've ripped out for lots of reasons, and then we bought the second half, built the winery and planted another couple of hectares."
A decade on and amid the chaos of the current climate Henry and his Kaye have decided to move to full organics, something that's always been the plan. The aim this year, says Henry, is to focus on producing the best fruit they can.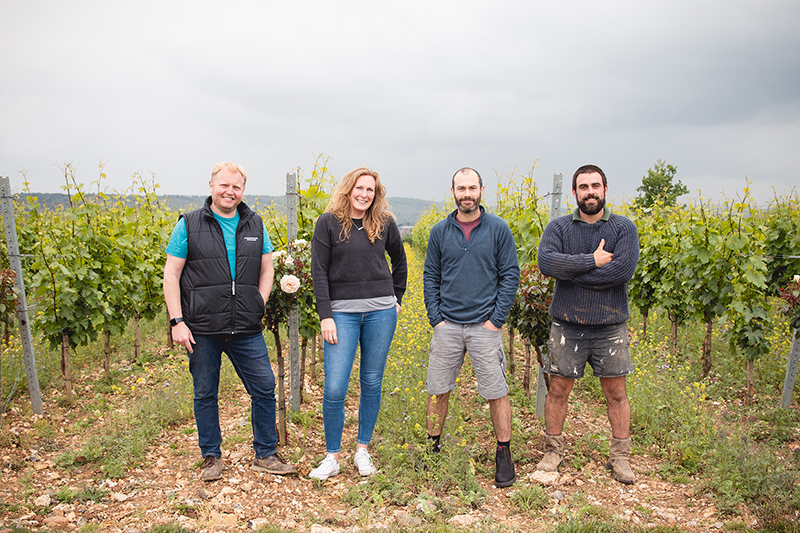 The pandemic meant that they've lost their route to market through the on-trade, and had to cancel vineyard tours and their usual release parties for new wines. Meanwhile, you'll notice Kaye is absent from these photos, as she's on maternity leave and tackling the arguably as challenging – if not more – role of homeschooling two children while looking after a newborn. 
Not an easy time on any front, but that doesn't mean they're going to stand still. The release of their latest Rosé happened in April, weeks into lockdown, and demand was still high because, as Henry puts it, "they just wanted Rosé, I guess".
"Normally we get people to pick it up, have a big sort of festival and we fire up the bread oven, but obviously we couldn't do that; but that still didn't put people off."
There's been an acceleration to the conversion of their new on-site cellar door and tasting room, previously the Kirkland tractor's shed, where vineyard manager Matt Robson can currently be found when he's not working with the vines; but most importantly there is the switch to organic.
We stand among the Pinot Noir with wildflowers growing between the rows of vines – bright spatters of colour set against the grey clouds in the sky – as Henry explains his plans. 
"We're moving to full organics this year, a full programme, and if it goes well, we'll start our conversion process at the end of the year," he says. "I think for us now it's just about ratcheting up what we've got as far as the quality and the farming are concerned. You can see we've got our cover crops down, planted wildflowers everywhere and we've started compost regimes; all the sort of things that you need to essentially feed the vine and the soil, we are doing. It's a big step for us and we'll see where we are at the end of it. 
"From day one it was always my goal but I sort of realised you've got to learn. Everything is a learning journey; you can't just say today we're going to go organic. Vines, when they're young, are quite vigorous, quite precocious, and they were just growing like crazy. I said, we have to temper the growth first, balance out the vine before I will feel the confidence to step into full organic. We've never used herbicide from day one, so that's not an issue; really it was just the sprays. 
"It was always something we'd set our sights on, it was just a question of when. With everything that is going on at the moment I thought, let's go for it. 
"To be fair, 2017, 18 and 19 had been really good years for us with great yields. If you're ever going to go for it, I thought, now is the time. And it is a leap of faith at the end of the day; you can't do a little bit of organics. You've either got to do it or not, and we decided to take that jump."
Although Henry talks about learning, this is not his first experimental vineyard, but it is his test of what can be done on English soil. As a Laithwaite, his family has had a long relationship with winemaking, and when he says it has been ever present in his life, he means it. 
Henry had grown up around vineyards but he was 17 and straight out of school when he completed his first harvest in the Ardèche and, despite not speaking a word of French and no one speaking English, he fell completely in love with it. "I fell in love with French culture and how wine is such an earthy and agricultural product; how everyone in the village is somehow involved in wine," he said. 
"That was sort of the thing that lit the touch paper, and after that I decided it can't all be this good! There's got to be a bad side to the industry. I thought let's go to another country, so I went to Australia. It was different, bigger, more industrial, very long intense harvests and no time for two-hour lunches, but I loved it – the people were amazing. It was different but different in a good way. Having seen both hemispheres I thought this is definitely for me."
Henry and Kaye met at Durham University, where they both studied biology, and lived in Bordeaux for a time where they still have four hectares of vineyard. However, when the time came to start a family it meant relocating to England; Henry has definitely taken some French influence with him.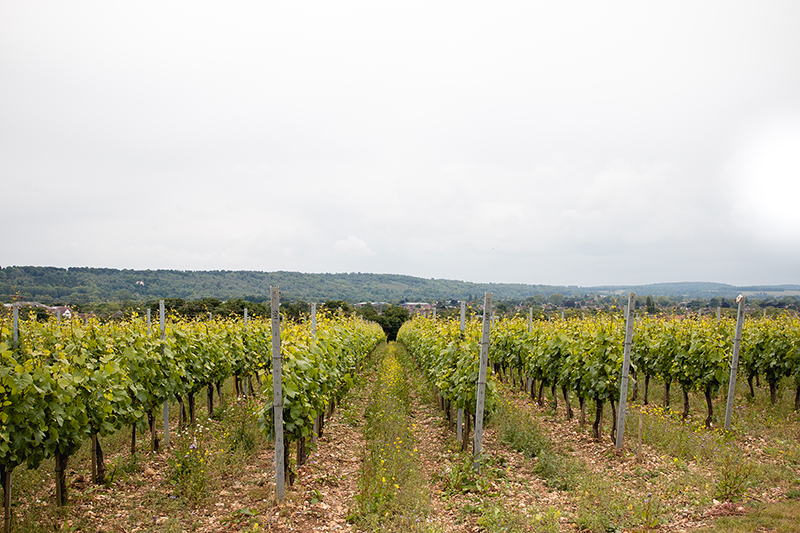 He said: "The viticultural side, for me, is very much French driven. To me they are the leaders, from my perspective and from what I've seen, they've always been great believers in organics and biodynamics. 
"In the past, they have seen the other side. When you conventionally farm you can use too much herbicide. They've experienced the downside of what that can mean on the chemical farming side. Because they've experienced it, they're moving back towards a more chemical-free farming method. My philosophy on viticulture definitely comes from Bordeaux."
That philosophy and influence stretches even to the naming of the vineyard, with the pair wanting a more unique name that they could easily protect. "It came about because we didn't just want to call it Marlow Vineyard. It's very hard to protect the word Marlow because it's the name of a town, and we wanted a name we could very much protect. I was always fascinated with French vineyard names. They don't necessarily mean anything, but they are derived from words that describe what it's like to farm.
"You get lots of good names that are descriptors of the soil and what it's like to farm. When we started farming this site, because of the excessive amount of flint and gravel in it, it's Thames gravel terrace, because we didn't use herbicide, we had to use traditional intervine cultivation, and it used to destroy all of the implements. So we used to say to harrow, as in to plough, and to hope you don't break anything. 
"We used to get 12 or 13 punctures a year. My dog was in the vets every month with sliced paws; it used to cause absolute havoc. So it's more of a descriptor of what it was like to farm in those early days. We've sort of twisted it to make it like hard work and good fortune are what you need to grow grapes in this country."
The flint, clay and chalk layers have also shaped the way the vineyard has been planted, as Henry explains from the top of the Pinot Noir, looking down toward the Chardonnay.
He said: "We are traditional sparkling varieties. We've got Pinot Noir, Chardonnay as the pitch goes down and the chalk is closer to the surface, then the Meunier is in the corner over there. We're 40% Pinot Noir, 40% Chardonnay, 20% Meunier. Then all the wines, therefore, are Pinot led, apart from our Blanc de Blancs obviously, because that ultimately was the style when we did our research into drinking.
"That was the style of champagne, the traditional method that we really enjoyed. Ultimately, you've got to make a wine that you like to drink. We set the vineyard up like that, we put the Pinot on the more clay ground and the Chardonnay is where it's chalkier, and that seems to have been the right decision."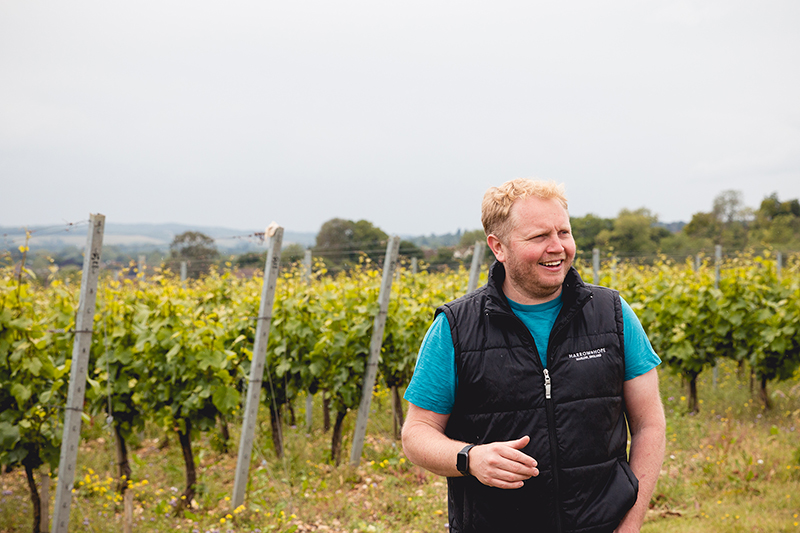 He's optimistic, with bud burst so early this year and flowering beginning almost a month ahead, that an earlier harvest could be on the way.
"I like being early because it means you're finishing mid-September and the chance of good weather at harvest increases. Once you get into October it's a bit sketchier as everything cools off and you have to wait longer for that ripening phase," he says. "To me the earlier your vineyard is, the better chance you've got of getting it to that ripeness level. For us that is the key, the ripeness. You pick up that hedgerow, elderflower and those are not the characteristics I look for in our wines."
As Henry explains, he's looking for that "pure fruit character with a sort of minerality" in his wines and that while he likes fruit, it's not enough on its own and he's looking for "a certain savoury character, that something a bit extra". That's a large part of why he's pushing to organic. 
"Ultimately the vineyard will give whatever it gives. That's one of the reasons we're pushing towards organic, to help express a bit more of the vineyard character by not hiding it behind excessive use of pesticides or anything like that. The more naturally you can work, I think the better chance there is of creating something that is unique to where it's made."
This year will be the ninth harvest at Harrow & Hope but things have had to change due to the pandemic. Contract labour isn't an option for them right now, which has meant the team have had to improvise to get the job done. On site they have Catherine Wilder, Matt Robson, Stacey Bright and James Townsend employed by the vineyard but they've also found new ways to get to work.
"We can't stop. Everyone is contributing in the vineyard; when we get out here we've all got a job," Henry said. "We've also recruited local chefs, front of house staff from pubs and restaurants we work with, and we have got a good group of people together who have essentially done all of our vineyard work. 
"It's actually been really nice because we feel like we're helping them out because they're at a loss with no work, and they're good because they're used to the intensity of restaurants, the manual labour side of things and they work really hard. They really seem to be enjoying it. If we can keep them on until harvest, I'd love to do the whole of harvest with a local team. Usually we'd use contractors so that is the biggest change for us. What happens the year after? I don't know. We can sort of create a bubble and sort of make sure people are safe."
Fortunately, after a combination of difficult conditions, the weather is – almost – playing ball, explains Henry as we tentatively check the sky again. 
Eventually, the clouds can't hang on for us anymore, and we make a trip into the winery just in time to miss the start of the drizzle. 
As Henry previously mentioned, winemaking is his true passion, and it's clear as he talks me through the different decisions they've made. The winery has changed around over the years and is currently going through the next stage of changes, with the office soon to become Henry's new lab and other functions moving off-site. 
He said: "To be honest, we built this shed and thought it would be enough, based purely off what people had told us about yields and volumes. We used to keep our bottles of tiraged wine here but it was taking over the cellar so we're renting a place down the road that we're just currently insulating. All of our aging stock is down there, we just reserve this for fermentation now. 
"Disgorging is down there as well. It's amazing isn't it, you build a shed, fill a shed and then need to build another. I think the next step for us will be hopefully to build a dedicated disgorging shed. Disgorging and labelling, so the finishing of the wines takes place where we can regulate the temperature. But we're sort of running out of land here."
The tanks Harrow & Hope use are custom made near to their vineyard in Bordeaux. He tells me: "The principle is that each clone of each variety, of each press fraction, gets its own tank. If you're a huge winery you probably split by different vineyards and villages, but when you've got one site like us, you've got to split it up a different way.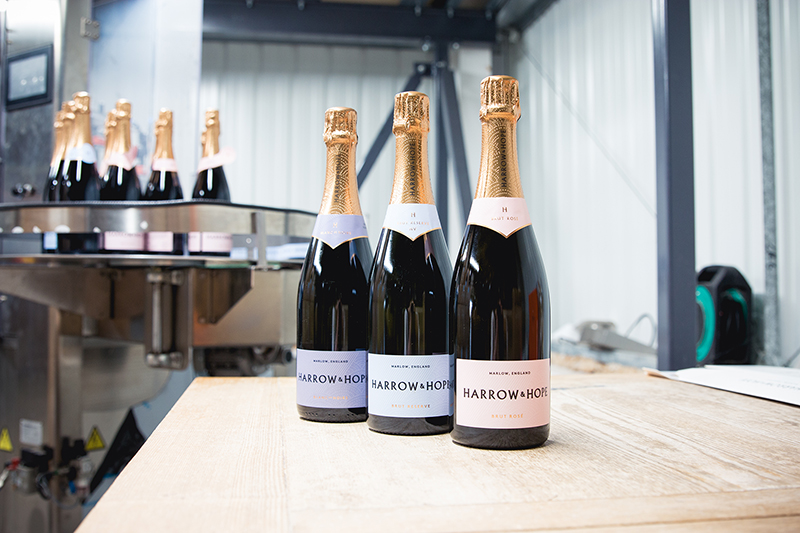 "The general rule is each clone variety gets its own tank and it can ferment separately, develop its own characters, with the aim being when you get to blending you've got all these wonderful different components that we can then start to piece together."
The winery is almost split, with the very shiny and modern tanks on one side and the traditional oak barrels – although not ancient, just aging – on the other. Under the lights they look stunning but this is a key part of Harrow & Hope's production. 
"We do about 70% in stainless and about 30% ferments in barrels. That's quite a key point to our style. Stainless steel is great; it's nice and shiny, looks great and is easy to clean, but it's essentially inert so you don't get any oxygen going into it as it ferments. That's very good for preserving fruit character," he said. 
"Most of the barrels we get are six or seven years old by the time we get them. We are playing around with larger format barrels and maybe this year we'll be looking to get some even larger oak fermenters. There are always concrete eggs, there are a lot of winemaking tools out there.
"You can play around a lot these days, oak's not your only option. 
"That's what's so exciting; we're not restricted by anything. As much as I love France it is very restrictive with appellation rules on what you can do. The pressing, everything, is very tightly regulated but here you can do what you want. 
"There are more varieties allowed and you can machine pick if you want. It's nice on that front that you can do whatever you want. It's a big advantage for the UK, certainly when you're finding your feet. 
"For us the first 20 years are just about figuring it out and messing around a bit. Trying to work out what works best for the style of wine we want to make."
Harrow & Hope produce four wines, a Brut Reserve, Brut Rosé, Blanc de Blancs, and Blanc de Noirs, and Henry explains that their staggered release always seems to play out that one sells out and a new vintage becomes available. The only other wine they produce in the winery is for Henry's mum Barbara Laithwaite, from Wyefold Vineyard in Oxford.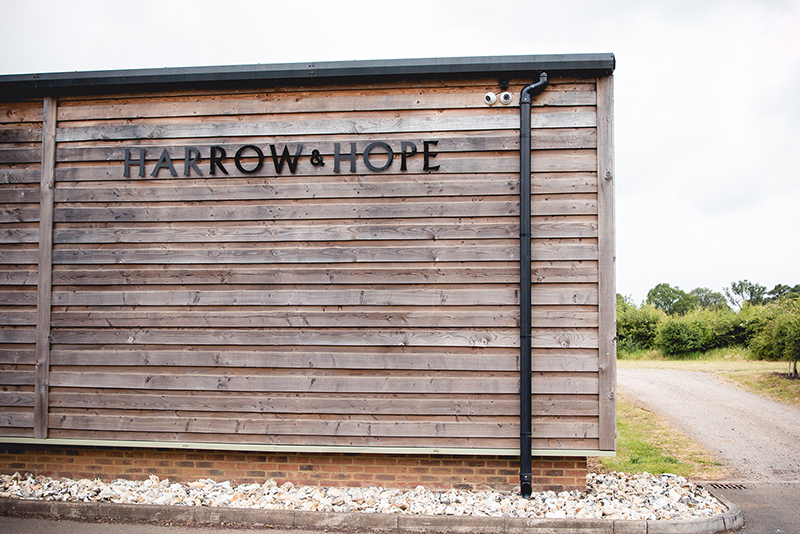 He said: "Our main wine is our Brut Reserve NV, so that's just over half our production. It's our most important wine. It's the one that no matter what the weather throws at us we absolutely have to make a success of. The way to do that is to have a good library of reserve wines that we've kept back over previous years. We've got about 80 barrels worth of reserve wines now, so if this year turns into an absolute shocker then we're confident at a minimum we'll be able to produce our Brut Reserve. 
"We've started putting a number on the back now too, because non-vintage is great but it doesn't give you a lot of information about what's in the bottle. I think most people don't care, but those who do care want to be able to impart a little bit of information, so we've just put a number on. You can then go on the website and it'll tell you enough information to enhance the drinking experience."
While this family affair resulted in this plot, it's clear that their winemaking family is a little bit bigger, and Henry includes those people who he is extremely grateful to for helping them get to where they are. 
"We have a tight relationship at Ridgeview. They really helped us in our first years and helped set up the winery when Mike was around. He used to come up here with our blending; that was fantastic. I'm eternally grateful to the Roberts family for helping us get up and running.  
"We also had a guy called Dr Tony Jordan, who was a sort of prominent traditional method Aussie. He set up Domaine Chandon in the Yarra Valley for Moet Chandon. He also looked after Cloudy Bay, but was mainly a specialist sparkling winemaker. He came over; he's known my dad for 40 years, and he came over just to see what the Poms were up to, making British Fizz, and he returned twice a year ever since. 
"His knowledge has really helped us, certainly with the oak part of the winemaking, the blending, the finishing the wines – he was instrumental. Sadly, he passed away last September, very quickly, so we sort of lost both our original mentors. But we're grateful for the time, the six years that we had, and we've learnt so much so quickly. 
"It's been quite a rollercoaster of learning. When this lockdown finally finishes we'll hopefully be able to get out to Champagne again because that's the bit I miss about France – speaking to people. You can't just go down the local bar and chat to winemakers. It's just us. 
"I'd like to get back to France, because there's a good young generation of farmers out there doing things naturally and I'd love to pick their brains about stuff. That's the only way you're going to learn."
For now, hard work and perseverance are back on the agenda, until some sort of reality is back on the cards. The new cellar door is nearly ready for an alternate normality though, and the changes to full organics are just one of the positives Harrow & Hope will take from the lockdown experience. 
It looks like there could be a bit more of the harrow on the cards though, as the heavens fully open as I prepare to leave. However, there has arguably been no one working harder or persevering quite as much as Bear the dog, who didn't let up for one moment in his attempt to play fetch anywhere and everywhere throughout my entire time at the vineyard. How he didn't make it into every single photo, I'm still not quite sure.