From campsite to vineyard, from IT to winemaking, Hidden Spring and its owners have travelled a long way in a short time. Vineyard editor Christian Davis heads down to East Sussex.
Chris Phipps and David McNally had a lightbulb moment while enjoying a glass of Pinot Noir in a bar in New Zealand's Martinborough after visiting the Coney winery nearby.
"We had been talking about buying a house in the country, a holiday home, get a place with some vines," said Chris. "The idea grew and grew."
After 15 years at city accountants PriceWaterhouseCoopers doing programme management, the 46-year-old and 57-year-old David McNally, an IT consultant in publishing had spent a long time working for large organisations in London. They wanted to work for themselves and make something they could call their own.
"We were in Martinborough on New Zealand's North Island. We rented bikes and cycled to Coney. Tim Coney showed us around his 15 acres. We realised that we did not need as much land as we thought.
"After a few glasses of Pinot Noir in a bar in Martinborough, we had a 'lightbulb moment'. It was an epiphany. We immediately started looking at land prices," said Chris.
With one bar, one restaurant and Martinborough Winemaker's communal winery a significant presence in the town hall square, Chris describes the small Kiwi town as "Disney meets winemaking".
The couple started talking to estate agents across Kent, Sussex and Hampshire. In January 2015 Hidden Spring came on the market. The trouble was it was a campsite. Previously in the 1980s, it had been Huggetts, half an orchard, half a vineyard. It had been converted into a campsite. The owners had failed to sell it as a going concern. So, the property; a house with surrounding land was up for sale. The only problem was that the campsite had bookings until 1 October.
"They moved out and we moved in the next day," said Chris. "It was bonkers. Chaotic. We got married, moved house and changed careers. It was also my 40th birthday that year. We remembered about two or three days before and ended up just having some friends in."
For 15 months Chris continued to work for PWC, catching up with their prospective new life in the evenings and at weekends.
Vine-Works was brought in to carry out a feasibility study, take soil samples and organise the planting. In the first tranche 25,000 vines were planted. In 2019 a further 1,200 vines were planted.
"On paper, we thought the (lower) vineyard was too cold being at the bottom of the valley and having clay soils. Anyway, we thought we'd give it a go and planted Cabernet Noir. It was on track but then the vines were stripped by birds last year. We don't think they could find any food."
Asked what they expected, Chris said: "We did not know what to expect. 2019: We got more than we expected. 2020: more 'normal'. 2021: a really late year. We are not expanding – there is nowhere else to go!"
"We have clayey soils so we have to deal with drainage and we get powdery and downy as expected, particularly on the Bacchus and sporadic Botrytis but we are lucky with the aspect and a micro climate. The expectation is for circa 30,000 bottles a year."
David McNally enrolled at the University of California at Davis ('UC Davis') one of the world's leading educational institutions for viticulture and oenology. During two years of study, David began hands on winemaking working with Ulrich Hoffman, creating Hidden Spring's first new wine for many years from the 2015 harvest. With a desire for more knowledge of English winemaking and more practical skills David studied at Plumpton College, the UK's leading educational institution for wine and which produces world class winemaking and vineyard graduates that work across the globe.
Hidden's flagship wine is the Classic Cuvée. The 2018 vintage will come out later this year. David, whose grand piano is resplendent in the Hidden's tasting room, says the Blanc de Blancs 2017 with five years on the lees, may be released later this year. Guardedly he states that a rosé may also be released this year but then adds: "It has a bit more ageing potential, so it maybe early next year.
"Rosé is a summer drink so we look to release it in the spring. But Christmas is also a good time for rosé."
By the way, the pair are ably assisted by Micaela English, Hidden's vineyard manager and assistant winemaker.
So, if they started again, what would they do, or not do? Chris said succinctly: "Plant fewer vines. Some of the rows taper down so it is difficult to get to them when spraying and harvesting (where the rows are short as the land tapers down)."
Hidden Spring's website sums up
"While our newly planted vines became established we realised we needed to develop the routes to market for the wine to come so we made wine originally from grapes bought from other vineyards in England. Our first harvest from our own vines came in 2018 and coincided with the opening of our purpose-built winery. In September we were delighted to have Olly Smith do the honours of opening the winery. The first wines established our reputation for quality Bacchus and Pinot Gris still wines and we have now released our first sparkling wines, Classic Cuvée and Blanc de Noirs and our Bacchus Fumé which is stocked by Waitrose.
"It was always part of our vision to try to recreate the hospitality we received from the vineyards in New Zealand. In particular Tim Coney of Coney Vineyard in Martinborough and Elephant Hill south of Napier. We built our cellar door shop and tasting room in 2016 and our visitor numbers have grown exponentially to the point that we are currently recruiting for a tasting room manager and weekend cellar door support."
In conclusion
"Our passion has been to leave people with a smile on their faces as they leave and hopefully having been informed, educated and entertained during their visit with us."
So, hope springs eternal for Chris and David at Hidden Spring. The trickle down effect seems to be working.
Vineyard fact sheet
Vineyard :
23 acres, with 14 acres under vine. The estate includes a range of outbuildings that provide storage for vineyard and winemaking equipment.
The remainder of the site is their house, drive, a public footpath that runs through the centre of the site past the door of the tasting room and a small paddock. 
Soils:
Wealden clay over Tunbridge Wells sand.
Aspect:
Gently south facing, from 65m to 78m above sea level.
Grape varieties:
2016: We planted Bacchus, Chardonnay, Meunier, Pinot Gris, Pinot Noir
2019: We added Cabernet Noir
Diseases experienced:
Powdery and downy as expected, sporadic Botrytis.
Pests:
Badgers, birds and wasps mainly.
Trellising:
Most vines are trained to single guyot, although we've moved to double guyot on the Bacchus to control vigour.
Canopy management:
Leaf stripping, mechanical vine trimming by Sam Barnes are the two main approaches.
Green harvest:
Yes in 2021 to ensure ripeness, but otherwise no.
Harvesting:
All harvesting is done by hand and taken to the winery immediately.  We process the grapes as quickly as possible after they are picked.
Timings:
Harvest is typically late September to early October, except in 2021 when it was all in late October.
Trends:
We've had four harvests here and they've all been completely different. I wouldn't say we have enough data for trends.
What's new?
The Cabernet Noir that was planted in 2019 is an exciting new project for us. We had hoped for a first small harvest in 2021, but unfortunately the local bird population had other ideas and stripped the vines.  Our bird scaring and bird netting regime will be more rigorous next year.
In the winery fact sheet
What happens in the winery?
Harvesting, crushing and pressing, fermentation, clarification, and then ageing and bottling? All of the above, plus destemming, riddling, disgorging, cellaring and labelling. We're proud to say that all of our still and sparkling wines go entirely from grape to glass without ever leaving the estate.
Processing/equipment:
From Scharfenberger –
Europress P34 (2t whole bunch, 3.4t destemmed) open press
All our stainless steel tanks, cooling jackets, temperature control systems
Kiesel IP3 impeller pump with variable speed control
Kiesel SP45 mono pump with dry run protection and remote control
Kiesel Rouser SG
Sfoggia plate filter 40x40cm
Hans Dampf steam generator
Kreyer MCK141 chiller/heater
From Frome Oenoconcept –
Crusher destemmer – second hand
TDD Disgorging and corking machines
All our stillages
Harvesting:
All grapes are hand harvested then pressed the same day on site. We occasionally sell some excess grapes, but not regularly.
Pressing/crushing:
We generally press whole bunch with the exception of any grapes for our Rosé sparkling and eventually our Cab Noir red wines.  We also destem a portion of our Bacchus and give the grapes a minimal skin contact time.  
Fermentation:
Stainless steel tanks at 14-15°C.  We generally ferment the cuvée in stainless steel and take the Tailles into barrels.  We use a mix of French and American oak of different ages to give us the maximum palate for blending.
Innoculation:
Directly with a range of IOC yeasts and we currently perform MLF post primary fermentation which seems to work well for us and gives us good control.
Clarification:
We rack off the course lees immediately after fermentation and primarily rely on bentonite, chill stabilisation and our pad filter to get the wines to their finished polished state. All our wines are vegan although we don't shout about this.
Acidification/chapitalisation:
We have never acidified a wine, but do chaptalise depending on the potential alcohol at harvest.  Generally we have not needed to increase the potential alcohol by much and that is really down to our vineyards producing excellent ripe fruit.
Racking:
Immediately after fermentation, leaving the fine lees for lees ageing over winter.  Subsequent racking pre and post chill stabilisation.
Bottling:
Done on site using a bottling line and excellent bottling service provided by BevTech. This is one of the few pieces of equipment we don't own.
Ageing:
Lees aged in barrels and tanks over winter.
We use a mixture of French and American oak barrels to expand the palate of blending components.
Our goal is to age our Sparkling wine in the cellar for a minimum of three years but potentially much longer, for example we have a Blanc de Blancs that we think may age for 10 years before release. 
Trends:
Every year is different and we have made wine here from four harvests so there isn't really enough data to infer trends yet.
What's new:
Recently, they have invested in a crusher-destemmer for the production of rosé and red wines. Other than that most equipment was bought in 2018 when the winery was opened. They made their first rosé sparkling wine and are hoping to release that in a year or so.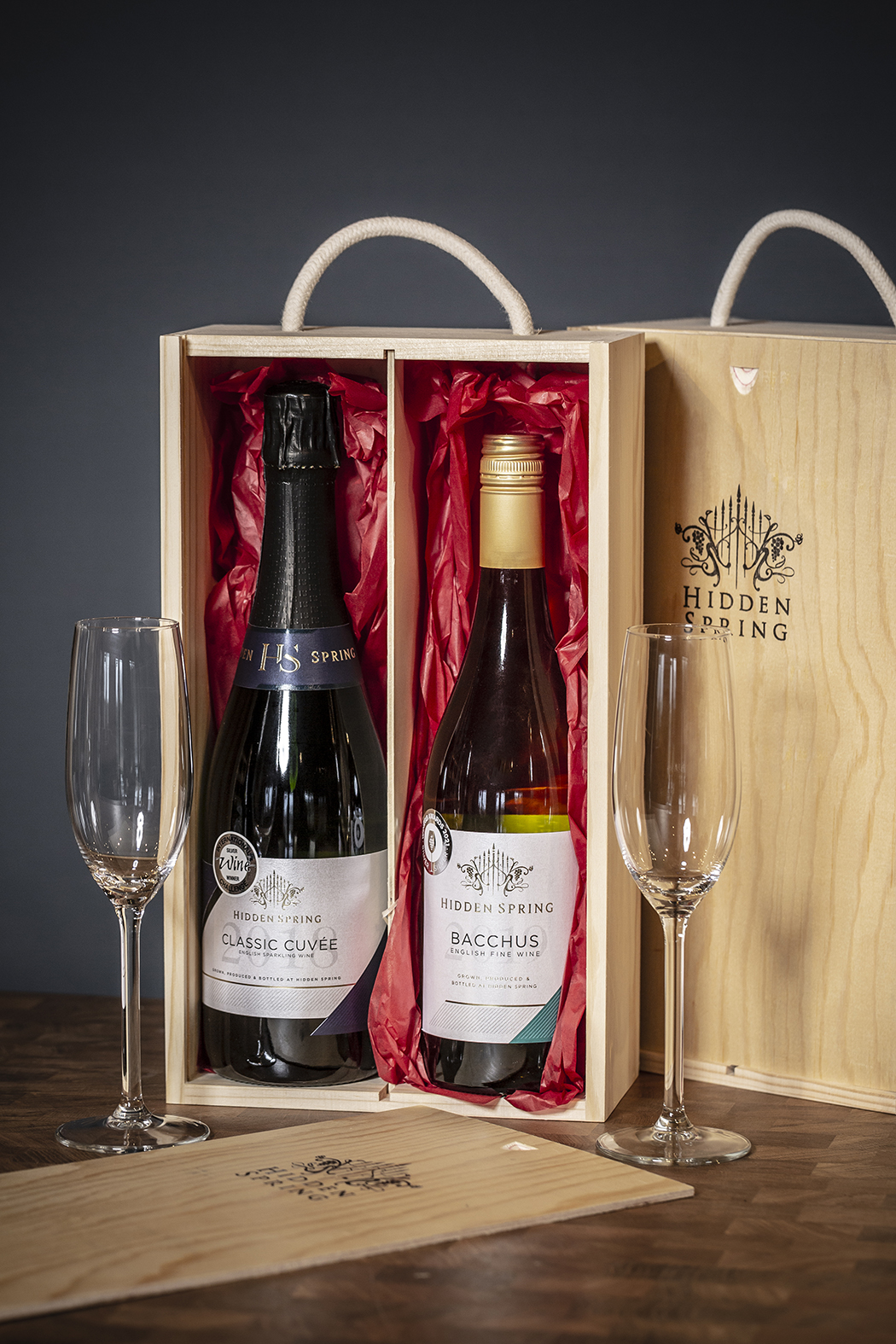 Hidden Spring Grape inventory:
Bacchus
Pinot Gris
Cabernet Noir
Chardonnay
Pinot Meunier 
Pinot Noir producing fruit
In a nutshell
Hidden Spring is situated on a 23 acre small-holding in Horam, just outside Heathfield, in East Sussex.
The vineyard was originally established in 1986 and experienced many years of high-quality wine production, providing award-winning wines. In the mid 2000s the vineyard was converted to a campsite and continued to draw people to Horam. In 2015 Chris Phipps and David McNally took over the site and expanded the former vineyard site, removing the remains of the campsite and planting over 25,000 vines across 13 acres.