The young team at Langham Wine Estate, in Dorset all jumped for joy in November when they were crowned Top Sparkling Wine Producer in the World, at the 2020 International Wine and Spirit competition.  Dorset must be cradling some of the best viticulture and winemaking talent in the country as all five traditional method sparkling wines entered achieved between 92 and 96 points in the competition. 
Progressive and dynamic these bright sparks are using their combined expertise to be creative and innovative, enthusiastically trying out wild yeast ferments, low sulphites, solera systems, perpetual cuvées, reserve wines, Jura styles, frizzante in kegs, and plan to trial lees ageing under cork! They do admit not everything will work, but also that they will not know unless they try!
The owner, Justin Langham always had a passion for wine and in 2009 decided to develop his father's small vineyard into a 12-hectare commercial venture at their Crawthorne Farm making his dream come true! The vineyard is now planted with Chardonnay, Pinot noir, Meunier and Pinot Précoce. All are high- graft vines and the most recent plantings are with Fercal rootstocks, after the site experienced some iron chlorosis on their chalky soils. Although situated at around 85m the vines have hardly ever suffered frost damage, even during the late May frosts of 2020. Hedges act as natural windbreaks and help to prevent incoming cold air and open woodland below the vineyards allows colder air to drain easily. Both also provide habitats for beneficial organisms an important consideration for the estate. Langham produces about 50,000 bottles on average with four or five wine styles, including two classic cuvées named after the underlying geology 'Corallian' and 'Culver'. 
Tommy Grimshaw is the winemaker and at only 24 he must be one of the youngest in the country. However he already has eight vintages under his belt. "It all started with a summer job at Sharpham Wine Estate when I was 17," explained Tommy. "I loved the work and returned for the harvest as a cellar-hand. But as I was still only 17, I wasn't allowed to drink any of the wine at the Christmas party!" He exclaimed. Tommy stayed with Sharpham Estate for six years, learning from head winemaker Duncan Schwab and during that time was promoted to assistant winemaker. Tommy joined Langham Wine Estate in 2019 as assistant winemaker. "2020 was my first vintage going solo – I loved it!" Smiled Tommy. Tommy's inspiration comes from his young and brilliant predecessors; Liam Idzikowski, now winemaker at Danbury Estate and Daniel Ham, who has set up his own contract winery, Off Beat Wines. "I can't take all the credit with these wines, as I have continued the good work of Liam and Daniel," commented Tommy. Assistant winemaker, Lauren Brewer, 26, joined Langham in February 2020 after completing a Masters degree in Oenology and Viticulture at Plumpton College, East Sussex. Lauren's passion for wine started while working in retail for Majestic Wine and gaining a distinction in her Wine and Spirit Education Trust level 3 exams.
Innovation is the name of the game at Langham, as the team are buzzing with loads of ideas and want to try new methods. "From 2017, Daniel Ham started using wild yeast fermentations for the base wines, he left the wines unfined and unfiltered, didn't use enzymes and lowered sulphites. I am continuing his work, and also increasing the amount of oak used, with a selection of second hand barrels," explained Tommy. "One of the barrels is 25 years old – even older than me!" He added.  
The ethos at Langham Wine Estates is to create complex and interesting base wines, so that the flavour profile of the wines is not just reliant on lees ageing. "We ferment different parcels separately where possible and are aiming for 50/50 oak. This gives about 80 blending components to play with," commented Tommy. "The wines all undergo malolactic fermentation to soften the acidity and with the complexity, weight and balance achieved in the blending, we usually only need to use 2g to 3g per litre of sugar for the dosage," he added. 
Vineyard manager Oliver Whitfield, 31, decided on a career in wine production after first working in New Zealand in 2008. The 9,500 tonne harvest did not put him off and he cemented his practical experience with a Foundation Degree in Wine Production from Plumpton College. On graduation from Plumpton, Olly joined the vineyard management and establishment contract business, VineWorks. "This was a great way to experience different growing conditions and management systems in lots of vineyards," commented Olly. "I then joined Exton Park in Hampshire, working with vineyard manager Fred Langdale, during the summer, and then with Corine Seely, head winemaker, in the winery at harvest," he continued. "I love being in both the vineyard and winery, producing the quality of fruit that I want to see coming into the winery," he added. 
Langham Wine Estate are constantly working towards reducing chemical intervention. "My philosophy in the vineyard is 'best practice' and keeping a close eye on things. I use minimal sprays and ensure correct application – I'll go out at midnight if that's when the wind and temperature conditions are optimal," explained Olly. "We are also discussing the WineGB Sustainable Wines of Great Britain scheme," he added. Olly is assisted in the vineyard by Georgina Crawshaw, and his Jack Russell terrier, Wilson. 
The enthusiasm to experiment extends to the vineyard, and Olly is currently trialling four different pruning systems with single and double guyot, spur pruning and an adaptation of the Chablis-style system used in Champagne, "it is a complicated system, but I want to see what happens to yields and fruit quality," explained Olly. 
Olly trialled a leaf stripper and was pleased with the results, so Langham Wine Estate now have their own Collard pulsed air system leaf remover. "We use this to help remove flower caps, and then again around veraison to expose the fruit, improve air flow and reduce humidity in the canopy, and it also speeds up picking," Olly commented. As we have chalky soil we are also trialling chelated iron administered through spikes to inject iron into the soil once a year before the growing season," he added. 
The philosophy of minimal intervention follows into the winery, a characterful barn that combines old and new, with temperature controlled stainless steel tanks and a wide selection of oak barriques. The base wine fermentations are with wild yeasts, the wines are generally unfined and unfiltered, they are handled with care by a gentle peristaltic pump. The winery has no insulation, "we can throw open the barn doors and cold stabilise the wines with no energy costs – but it's a bit chilly for us," commented Lauren. The unique homemade barrel stacking system means every barrel is accessible as battonage is carried out four or five times. The team may tread lightly with the winemaking, but not with record keeping. Data collection is key, from the vineyard to the wines, "we want to know which parcels produce the best fruit, and the best wines, and why," commented Tommy.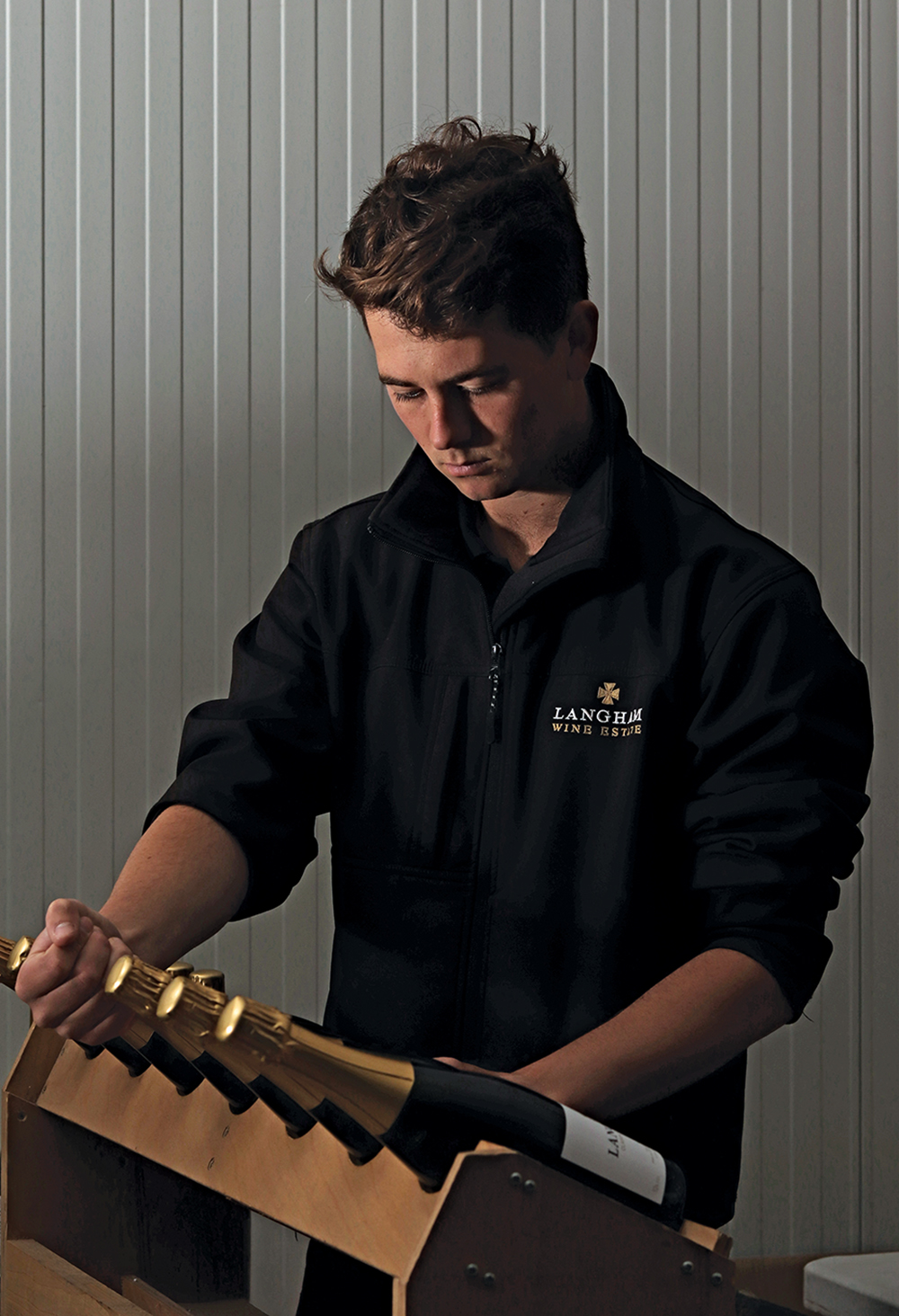 One of the latest experiments is a try-out of a keg frizzante! Using KeyKegs and the 'Col Fondo' method, where the wine is not disgorged after its second fermentation, Tommy and Lauren have created probably the first keg frizzante- style in the UK using English-grown grapes. "The Frizzante kegs are a bit of fun and aim to make English wine accessible to all people," commented Lauren. The product was due to be trialled at a wine bar in Bristol, but with the pandemic this will have to wait. 
Their curiosity is relentless – Tommy and Lauren have taken the best 500 litres of Chardonnay from 2017, 2018 and 2019 to use for an oak 'solera' style system, "to provide a perpetual cuvée," explains Tommy. "We are planning to create a premium Blanc de Blancs, inspired by the Champenois Jacques Selosse, which will have at least three years on lees," he continued. They have created underground concrete tanks for the storage of reserve wines.
Anyone for cricket? The Langham crew are all also great friends, "this helps communication enormously, especially when you are tired and under pressure at harvest, in order to support each other. A game of cricket while waiting for the last press load is a great stress reliever," commented Tommy, with the winery cricket bat in hand, "and Olly's party trick is unicycling," he laughed. 
A welcoming place to visit, Langham Wine Estate values its local and tourist customers providing lots of events and entertainment throughout the year. Even during the pandemic, the team have been imaginative, quickly turning around an open barn to create an atmospheric venue for evening entertainment with good wine, food and live music. During the summer they cleared areas in the vineyard to provide walks, scenic picnic tables and special hampers, in order to provide visitor experiences while meeting government guidelines.
Fiona Wright looks after sales and marketing along with Hetty Abbott, who is aided by her loyal Labrador, Pepper who is a prominent feature of the cellar door shop. Although the focus is on local sales, some wine is also is exported to Sweden. The tasting room is run by the charismatic Italian, Fed Firino, who studied Wine Business at Plumpton. Fed is also the instigator and creative inspiration of the evening events. 
The energetic Tommy isn't content with just one full time job and, anxious to share the wonderful wines of England and Wales, he set up (with a couple of likeminded enthusiastic friends) 'Emerging Vines' an online retail platform, which uses the hashtag #englishwinemovement. "English wine is often perceived as expensive, so we started offering home tastings so we could explain the hard work behind the label and convince consumers of the value for money," Tommy commented.  They quickly adapted to virtual tastings in 'lockdown' which have really taken off. "Of course, we sell Langham wines," he added. 
The owner, Justin Langham, is incredibly supportive of his young team and not afraid to roll up his sleeve and get stuck in when needed, "we couldn't do this without Justin's support – we are incredibly lucky," commented Tommy. 
So what is next for the team? "I really enjoyed being involved with red winemaking at Sharpham, so we hope to produce a red in 2021, if possible, with Pinot Noir and Pinot Précoce. It will be interesting to see the results of Olly's Chablis pruning and I want to try hyperoxygenation next year – so watch this space!" Said Tommy.