Itasca Wines aspirations and achievements have grown dramatically a year into the project. Vineyard Magazine visits to find out what's next. 
Last time we visited Penn Croft Farm it was just a field about to become a vineyard as the first vines were hand-planted.
That was only a year ago – or 13 months to be precise – when farmer Simon Porter teamed up with his tenant and film producer Malcolm Walker to create Itasca Wines and Penn Croft Vineyard. 
As you can see from the photos, a lot can change in 13 months though. The Itasca's contract winemaking facility is almost ready to open, a new head winemaker has joined the team, and the vines are now established in the vineyard – so it was about time we took a look around again.
When I arrive, Malcolm is working on film series Cellar Rats. This is the third part of the wine making projects taking place at the farm, and the link between them all. 
The combined team of Itasca Wines have always said their venture into winemaking needed to be commercially viable, which led them to the contract-winemaking facility. However, the need to offer the best service they can is a large part of achieving that.
The wide skillsets them in good stead to do so, as they show me.  
The winery
It's amazing to see at this stage and to think that in only a few months the winery will be welcoming customers. At the moment, it's a nice bit of respite from the incredible June heatwave that's occurring on our visit but mainly a large metal structure, with the build kept on track through Covid-19 by winery contractors Apecs. 
In only one day the entire 998sq ft concrete floor will be poured, and once the new doors are in place things will really start to take shape. 
"It's all about having spec and flexibility," winemaker Ben Smith said. 
He lays it out for me with the latest plans, and explains where Itasca Wines' new two-tonne press, as well as a five-tonne press, and a range of tanks in different sizes will be, allowing them to cater for vineyards of all sizes. 
"We'll use gravity for fruit processing, tipping into bins. The idea being that the fruit stage is where you need to be really careful with handling. We'll then be able to gravity feed everything into the presses, and the nice thing with that setup is we'll be able to do everything from smaller vineyards whole-bunch through to machine harvest. 
"We can tailor our winemaking to meet each client's needs and their goals."
Malcom and Simon had been searching for the right winemaker, but no one quite fitted until Ben came along. It was fortuitous timing, as the team couldn't have planned for Oxney Organic's 2018 Chardonnay, made by Ben, to achieve such high praise as he took up the new role.
"We're really excited to have someone with Ben's skills able to build the winery from the ground up, literally," said Malcolm.
For Ben, being really focused on the details is a key part to his winemaking style, and he said: "Being able to build your own winery, in terms of spec, really helps that."
He added: "The idea of having wine coming from across the country. The variety that can bring; the different styles. We had people here this morning who want to make some quite cool styles of wine. Winemaking is a journey and we want our clients and growers to be with us on that journey."
Fortunately, he tells me, that so much of the basics had already been covered and he's been able to go in and finesse the final layout and kit. Everything from super insulated panels to non-UV lights are being used to ensure the fruit and wines are kept in the ideal conditions while in the building. 
"We'll have one of the most advanced disgorging lines in the UK. It's fully automated and can run up to 1,000 bottles an hour," Ben explained. "That area where all of the riddling and disgorging will happen is all temperature controlled. We basically have a modular temperature control system. All of our storage is temperature controlled as well. 
"Traditional method is obviously a huge element of the industry but, as that 2018 Chardonnay from Oxney shows, English still wine has a huge amount of potential so I think we'll see demand for that as well. 
"We're building a facility that can do both. Everything is set up with versatility in mind so we can adapt."
Ben explains that in the past he's had breakdowns with machinery from suppliers where the support hasn't necessarily been there, should something go wrong. However, in Farnham, they have been able to locally source from Core Equipment. They're fortunate to be just six miles from one of their engineers, and the team joke that they couldn't have planned it better, but again things seem to be falling into place for Itasca. 
Beyond that there are even more plans in the works. Already marketing director John Wilkins has successfully been pushing out their updates to potential vineyard clients and the response has been extremely strong with contracts completed already. It's clear the team's hunch that their services would be in demand was the right one, and Malcolm adds this space could be full pretty fast. 
Every day they've been getting phone calls from vineyards wanting to become clients. John is now planning ahead to the next stage, with a cellar door and restaurant in the works.
This isn't the end for the winery either. Another building will go up beyond the back wall, creating an L-shaped building. Malcolm and Simon explain that early on they realised there was a need for storage with vineyards coming to them before they'd even decided to do contract winemaking, just to ask if they had space.
Sustainability and excellence
It's clear that Simon has a very considered and precise approach to his farming, that has carried over into the vineyard and winery. He tells me that while they didn't have spare cash to throw at this – it had to be right. 
"We're advertising ourselves – not arrogantly or conceitedly – as state of the art, while also using traditional methods to not damage our grapes," he said. 
"It was a bit of a gamble, we could sense there was a market, but as we've gone down the road people have come back to us. 
"From 45 years of producing food I've realised that success and profitability comes from excellence, and I try to work on the same principle here."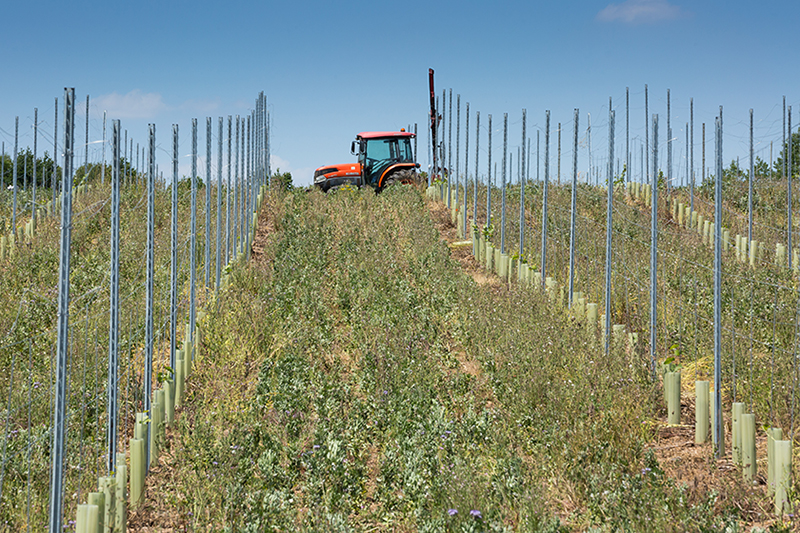 However, that level of excellence doesn't just come from having the right equipment for the job. Itasca Wines is investing in a brand-new lab and software to improve the analysis side and enable clients to be involved with all stages of the process. 
Ben explained: "We'll have a specialised lab, so we can do our analysis in house. It's something we thought was really important from early on, not only for our own production, but so we can offer an external service and people can send wines or juice samples to us. We can process them and give them the results back.
"We're investing in Vintrace winery software. It allows our clients to access their wines via a portal. They can log in and see their wine's status. For a lot of our clients, this will be their first harvest and, they don't know what their bunch weights will look like or maturity. We'll be able to track that data from day one and build up year-on-year."
He added: "Having outsourced lab analysis in the past, there's a demand for that and only a few places that are doing it. 
"The technical aspect of winemaking in England is increasing and people want more numbers. I think for a lot of people it used to be a bit more hit and hope, but now they are interested in seeing numbers, generating data and working from them. The nice thing is because we've got winemakers on the end of the numbers, if they've got a question, they can contact us and we can give them some advice on how to react to the results."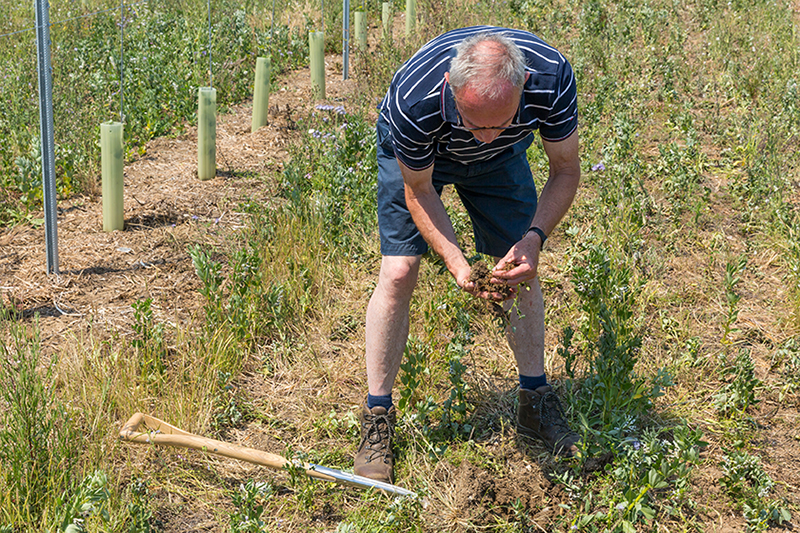 It won't be simply a remote and digital experience though, with a tasting room also sitting on the mezzanine with the lab where clients will be able to come to try their wines too. 
The excellence factor is also tightly linked with being able to offer clients sustainable winemaking, which is becoming increasingly important for vineyards who have already put in the time and effort to grow sustainably or go organic. 
Malcolm said: "We're probably one of the most sustainable wineries in the UK. We'll be generating all our own power with solar energy from the roof."
"The other thing is waste water, we'll have onsite wetlands," adds Simon. 
He explained: "At the top of the field we've got three wetlands, which are designed by Living Water Ecosystems Limited. 
"We will be filtering the water through a biofilter made from straw bales, to take out all the big heavy stuff. Then the water is gravity-fed into the wetlands. 
"There are 50 species of plants in there, which are producing oxygen and will purify the water. By the time it comes out of the third wetland, it's ready to come out across this road to where we've got a willow coppice."
It's a large commitment at this stage, but as Ben said: "It's the small decisions that will make a big difference." 
Simon explained: "People who are producing wine, and trying to produce it well and sustainably, we want them to know that when they send it here the wine and the environment is being looked after with equal intent."
Penn Croft Vineyard
We head over to the vineyard and the vines that are now a year old aren't the only new growth. Between the rows – a less conventional four metres apart – there are legumes and wildflowers planted to put goodness back into the soil. 
These cover crops are just part of Simon's strategy of conservation viticulture, and he explains: "We will cut this in about a month's time, and then we will replant with mustard, phacelia and linseed. 
"Conservation viticulture is biological; it's not organic. It's working with the nutrients in the soil, learning what we know of it and what scientists are telling us about it, as well as what practical experience tells us about it. Then using that to make the soil productive and healthy. Healthy soil will produce healthy plants, healthy plants will produce healthy food."
The difference between these cover crops and using grass between the vines is the depth of the root, which Simon shows me by digging some up. These are feeding nitrogen back into the soil, making it incredibly healthy and adding lots of nutrients for the vines.
The field hasn't been ploughed for 20 years and it hasn't been cultivated for seven, Simon explained, but reinvigorating the soil in this way is still critically important. He said: "This has given me a whole new reason for farming, but I'm hoping that our winery will reflect some of the skills and attention to detail and listening to sustainability. 
"We're not just going to be organic because that's the thing to be, and we're not just going to be biological because we think it's the latest buzzword. We believe that biological can bring together all the various strands that are needed to have the least intrusion by man in growing a healthy productive crop."
The vines aren't just planted four metres apart to accommodate these cover crops, it was a much simpler problem, they already had a standard size tractor, but they're hoping it will have some added benefits. 
However, even getting people on board with Simon's strategies was a struggle until they paired up with Vine Care.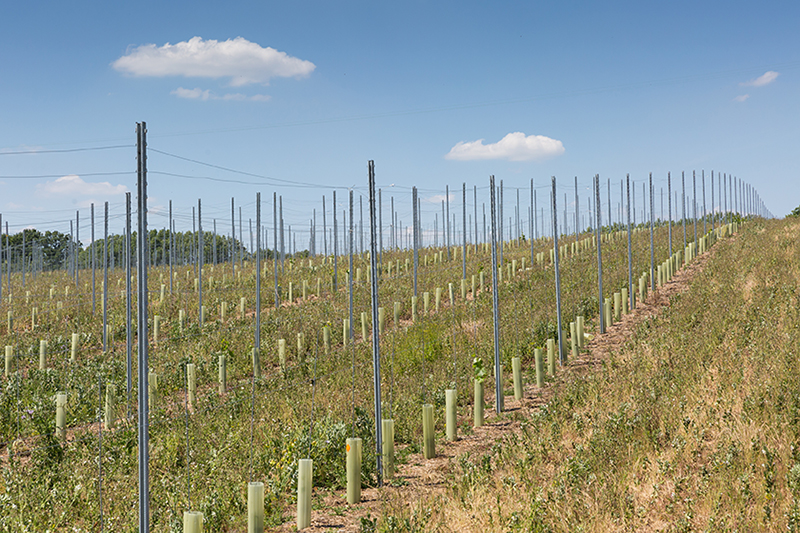 Malcolm said: "When Simon and I decided to go ahead we'd marked this field out as the best on the farm, as south facing with a nice elevation. We had a lot of people come down to discuss planting the vineyard and how many vines we'd get in. The most awkward thing we found was that people planted by machine and weren't willing to accept what we were saying – except Paul at Vine Care. He really logged onto the principles of the agriculture and the conservation Simon has been doing for so many years.
"He explained that the Scott Henry system was a way of getting the yield up and he said he'd hand plant. We thought, with the amount of vines, that's going to be a lot of work! True to his word, Paul turned up with his team and I think it was about 10 days with 20 people here until it was all hand planted."
 "What it's enabled us to do is grow four-metres apart, and by going higher We will not sacrifice too much yield as if we were two metres apart," Malcolm added.
"We're hoping that this improves the flow of air between the vines and that they'll get more sunlight because they're not shaded by each other.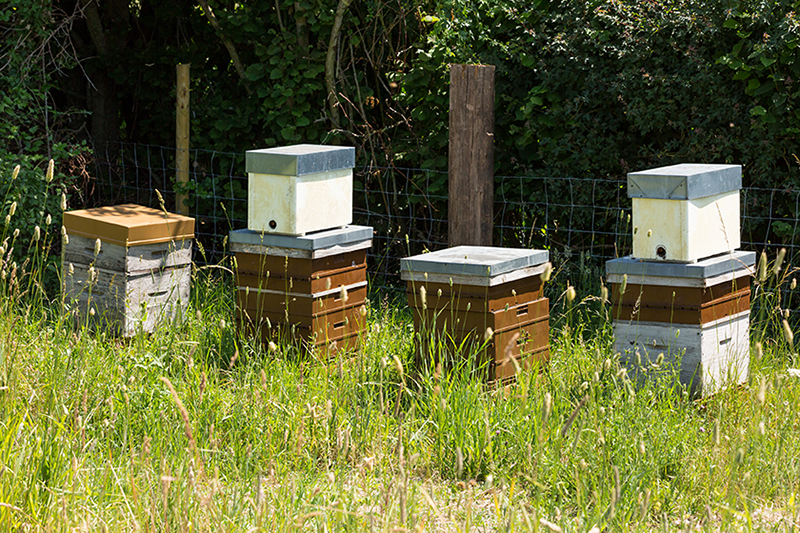 "It's also saved us a lot of money by not having to buy narrow tractors or specialised machinery. The farm already had standard size tractors that would go between this four-metre gap."
It certainly looks like a vineyard now, with vine posts being put into place by the Vine Care team just before we arrive creating that clear definition of the rows but it will be interesting to see when the vines reach the top. 
The bees are now working hard in the vineyard too, another way Simon is supporting the healthy growth of the land by giving all elements the best chance. The next stage for these cover crops is to become mulch full of goodness for the vines, as well as a natural weed suppressant. 
There's only a couple months to go until the launch of the winery and no letting up in the vineyard, so there will be no slowing down for the Itasca Wines and Penn Croft Vineyard team. We'll be back soon to see the finished result.