'If music be the food of love, play on' is the famous opening line from Shakespeare's comedy Twelfth Night. For Adrian and Galia Pike at Westwell, they would substitute food for wine. Christian Davis visits the Kent vineyard.
Adrian Pike, managing director and winemaker at the Westwell vineyard just off the A20 near Ashford, came to wine via the music industry. He founded record label Moshi Moshi and used to visit seven gigs a night on his electric scooter. Then in his last year, he realised that he had stopped scooting around and music had become "wallpaper".
His lightbulb moment took place in a restaurant in London's Soho in 2014.
"I tried one of Will Davenport's wines. I realised the potential of English wine. I called Will the next day and began studying wine production and viticulture while working with him at Davenport."
He goes on to say: "Driving through France to Midem (a music industry conference) in Cannes every year visiting vineyards on the way – we would drive through Champagne, Burgundy and the Rhône – was incredibly inspiring. I was lucky enough to have a friend who was a vintner in Cannes, so we would load up our rickety Citroen 2CV with wine, breaking down regularly en route."
For a music man, used to different dynamics – tunes, melodies, harmonies, chord changes not forgetting fashion, wine must be staid, even boring. But with his background, Adrian looks outside the box, beyond the bottle. Here's a man 'in search of the lost chord', even 'Disraeli Gears'. He has been dabbling with 'Pet Nat/Nat Pet' since 2017 (Pétillant Naturel' a méthode ancestrale wine said to have developed in the 16th century, therefore the oldest way of making sparkling wine, the result of a single, continuous fermentation the wine is bottled before primary fermentation is finished, without the addition of secondary yeasts or sugars. So, Pet Nat wine is a low sugar wine), and most interestingly Piquette wines, made using honey (see page 28), code named 'Pulp Friction'.
Adrian is passionate about making a Kent/Westwell version of a Piquette wine, which was originally made by wine producers to refresh and reward the pruners and pickers in their vineyards. It is banned in the EU but as the UK is not in the EU anymore, Adrian has been 'banging on the door' of DEFRA and is discussing with its 'Brexit Opportunity Group'. Apparently they cannot see why not and are looking into it. For want of a better descriptor, Piquette wines are classified as 'aromatised wines' (at least 75% wine and fortified with alcohol to reach an ABV of between 14.5% and 22%. These wines also have 'aromatic' ingredients like herbs, spices, fruits and/or flowers added to them), along with the likes of Martini, Cinzano and Noilly Prat.
"It is subject to ministerial approval," Adrian comments ruefully. It is not trying to be an English wine. It is closer to a fruity beer, slightly sparkling, slightly beer-like, slightly alcoholic."
"I am happy with what we are making, it reflects what we have in the vineyard."
The not-at-all 'silent partner', Galia Pike self deprecatingly describes herself as "illustrator and dogsbody". She does herself down. She had been working as a composer for film and television. She designs the exotic Westwell labels which are inspired by the artwork used on album covers along with the essential elements of making wine, such as the soil, vines and fermentation. Adrian talks the talk but he walks the walk shoulder to shoulder with Galia.
So how did she get the wine bug? "Adrian! When we were living in London, both working in music, I genuinely hadn't anticipated this as our future. Once I tried some English wine, though, I was amazed by the quality and it wasn't long before we took the plunge, relocating to Sussex where I started studying at Plumpton College and began a blog on English wine. My main job at Westwell is illustrating and designing our labels – mostly very detailed illustrations of vines and the vineyard."
With two girls, nine and 12 to raise she adds: "I tend to work mainly from home, but as a family, we are always about during harvest and I love the frantic excitement of getting the fruit in and thinking of all the possibilities – a little like getting a new sketchpad and pen."
And her favourite Westwell wine? "I absolutely love the Field '18. It tastes like some of the light juicy red Juran wines of which Adrian is so fond and is very versatile."
For a man naturally suspicious of things large scale and corporate, Adrian is supportive of WineGB, feeling the voice of the smaller producers does get heard. Westwell has joined the Wine Garden of England grouping of Kent-based winemakers (See News). He is fulsome in his praise of Simpsons' Charles Simpson, which could be regarded as a nearly rival. "He has been very helpful, in fact, inspirational. I spoke to him and as a result I joined. There is a lot going on in Kent…," he says.
So what does he loves most about being Westwell's winemaker: "The transformation from pruning the vines right back down to two canes to watching them grow through the season – all the way through to watching the berries develop and tasting the flavours. I love the process in the winery, too – turning juice to wine – and then capturing it in the bottle at the perfect time. Once you start tasting the fruit, plans begin to percolate, but you never really know what you're going to get and that's rather magical. The taste of the juice transforms dramatically through fermentation but also develops during ageing – whether that be in oak, terracotta, steel or concrete. We tend to do very little to our wines after fermentation but what we do is taste, and judging the perfect timing for bottling is an art that I'm loving learning."
And his favourite time and wine? "Harvest. It's the toughest time but also the time that the ideas start sparking as you taste the fruit. My favourite Westwell wine is Pelegrim. It's the most Westwell-ian of the wines we make – it reflects what the site is capable of; a rich and full wine with a fruit-forward profile," states Adrian.
Adrian has been selling his Ortega in 20 litre keg via Uncharted since 2018. Unchartered is an independent London-Based wine merchant which focuses on small producers which work sustainably and ethically. Its goal is to "find the future classics, from all corners of the world. We work predominantly with restaurants and independent wine shops and are at the forefront of the wine-on-tap revolution."
The Westwell vineyard is owned by the Taylor family. Wine enthusiast, Rod, loved sparkling wine. Along with his wife Rosemary, he bought the already planted vineyard and installed the Pikes as the custodians of the vines and winemaking. Rod died a few months after they took over so Adrian Pike now liaises regularly with Rod's son Russell.
Summary
Adrian Pike sums up: "Our philosophy is simple: plant well, respect the soil and make great, honest wines from brilliant fruit.
"We will continue to experiment – from skin contacts, wild ferments, amphora aged wines, pet nats, collaborations with brewers and more – continuing to minimise intervention at every step.
"We are a small, family founded, family run estate winery dedicated to making delicious, drinkable wines that express the individuality of our Kent terroir. People are the foundation of Westwell. We value an inclusive workplace in which respect, determination and integrity are our driving principles.
"We are committed to creating authentic wines which tell the story of our land. We strive to make wines with as little intervention as possible, letting the fruit speak for itself. Small scale production means we can be present at every stage – from grape to glass.
"Westwell claims to be the first English vineyard to make an amphora aged wine and the first to successfully keg wine. We have continued to experiment – from making Piquette, using waste grape pressings and less traditional styles including pet nats and skin contact wines."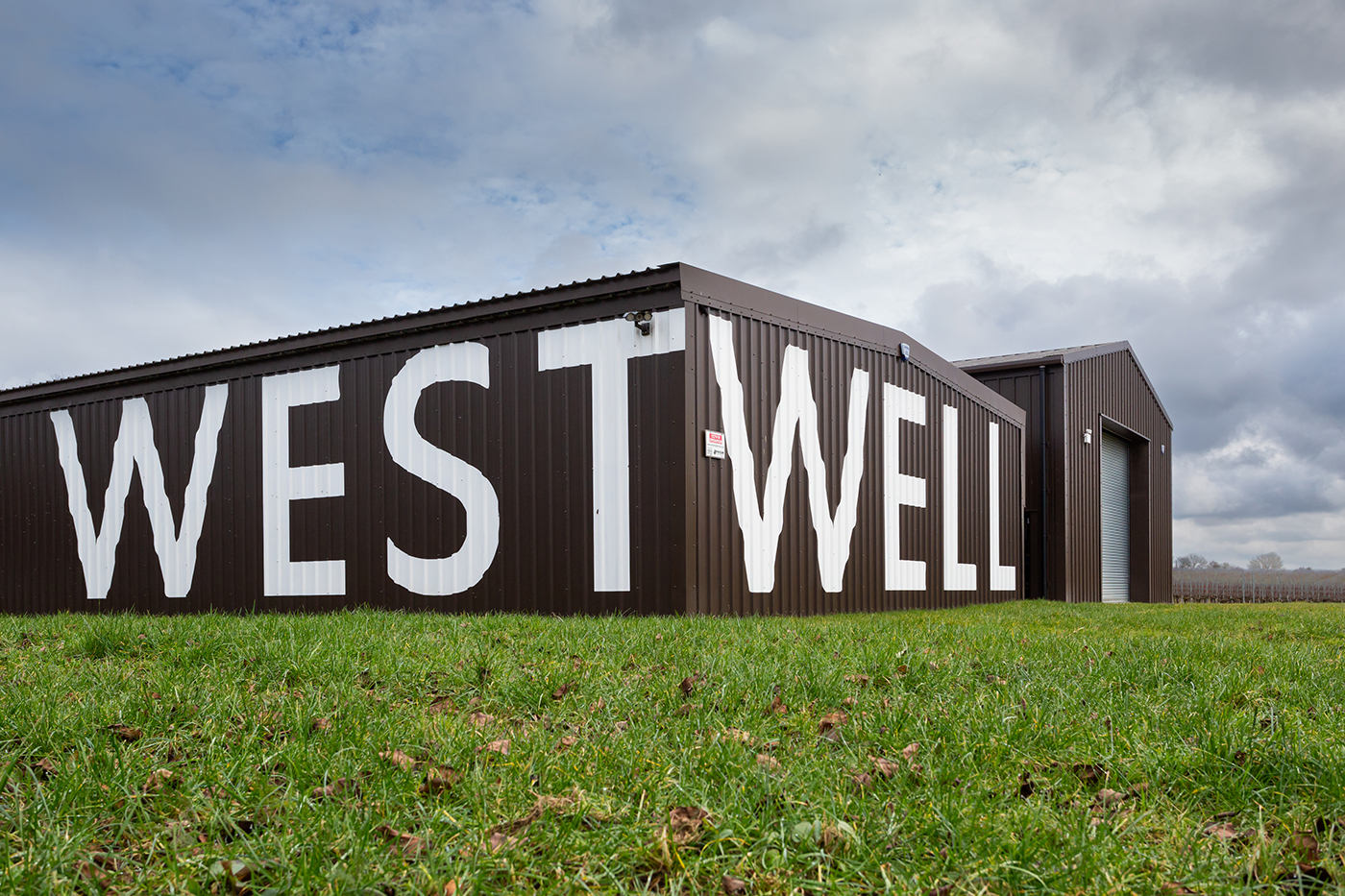 Photos: ©Martin Apps, Countrywide Photographic