A vineyards most valuable resource.
The Secrets of Soil was the theme for the WineGB Viticulture Technical Conference and focussed on this rather undervalued, less understood, but vitally important resource that ultimately influences wine quality and 'terroir expression'.
The second WineGB Viticulture Technical Conference was a rather different event to the first technical conference as, due to the virus outbreak, it took place online over three days, 17 – 19 November. It however was an equally informative event, attended by over 140 delegates, with presentations from seven internationally renowned experts sharing their knowledge of this unseen, but vitally important world.
The conference was organised by the WineGB Viticulture Working Group and chaired by the group's leader Stephen Skelton MW. Stephen set the scene explaining, "soil is, of course, the foundation of all agriculture and growers must learn about their soils, learn how to improve them when they need improving and learn how to look after them and live with them, keeping them in the best condition as possible for the crop."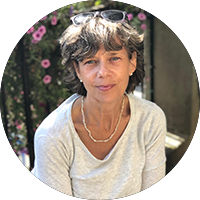 Professor Jane Rickson
Receive, retain and release
Jane Rickson is professor of soil science at Cranfield University and president of the Institute of Agricultural Engineers. Professor Rickson explained that her mission was to get people passionate about soils and "talk dirty!" The focus of her presentation was the importance of understanding soil water and its relationship with vine establishment and performance.  She demonstrated that the influence of soil was the most significant factor in yield variance, over climate and cultivar, with much of those influences from water. "Water makes up a significant proportion of the soil, at around 25% and the physical arrangement of soil particles, air space, organic matter and water content known as soil structure," Professor Rickson explained.  "Well structured soils are able to receive, retain and release water – the three Rs." She added, "and will contribute to soil strength and its ability to resist compaction."  
The UK has a huge diversity of soil types all with different physical, biological and chemical characteristics, all of which influence water content, which affects vine establishment, growth and ultimately fruit quality. Professor Rickson quoted Jeroen van Leeuwen, "Soil is a major factor in terroir expression, with its effect being mediated through the vine." 
 "Our soil management practices must understand soil structure in order to protect it and ensure the three Rs," explained Professor Rickson. "Growers should select field practices that encourage optimum water use efficiency in the vineyard." She added.  
Professor Rickson concluded with recommendations of factors to consider in soil management, depending on the vineyard's situation. Referencing Dr Alistair Nesbitt's research, she pointed out that around 45% of vineyard sites in the UK are on land with impeded drainage. So, her recommendations included management practices such as drainage and control of surface water, cover cropping for the benefits of evapo-transpiration, cultivation to remove hard pans and adding soil amendments, such as mulches and composts to increase soil water holding capacity.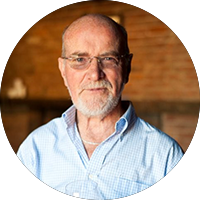 Peter Hayes 
What's your pH?
Peter Hayes is an International viticulturist holding many titles, including president of the International Organisation of Wine and Vine (OIV) and is based in Australia. Focussing on soil chemistry, and after a swift science lesson, Peter Hayes explained the importance of understanding the pH of a soil due to its influence on soil nutrient availability. "Most nutrients are more available at a near neutral pH," he explained. Due to the influence of pH on nutrient availability, "it is important to prepare the soil for the 25 plus years of a vineyard's lifetime as correction to pH after is challenging," explained Peter. The first step is good soil analysis, ensuring that the pH measurement is accurate, and that Cation Exchange Capacity (CEC) is included which indicates the concentration of certain nutrients retained in the soil, along with base saturation values. The levels or ratios of nutrients also influence their availability, and Peter gave an example, "high availability of zinc and iron may limit phosphorus availability for root uptake."
Although adjustments to soil pH are challenging pre-planting preparation can include lime for acidic soils. Peter explained that, "the amount to apply will depend on pH, soil chemistry and texture and should consider site variability, soil profile and potential rooting depth. Also recognise that lime is poorly soluble and has limited mobility." Sulphur additions can be used for alkaline soils. "It's important to monitor pH; undervine, mid-row, surface and sub-surface soils every three years or so," Peter added.
The understanding of a soil's pH is important for rootstock selection, along with other attributes, as some rootstocks perform better in either alkaline or acid soils, due to their tolerance of active calcium carbonate and therefore resistance to iron chlorosis. "Choosing the wrong rootstock can be the biggest mistake you can make in your vineyard," Peter said. "A focused study of rootstock performance in the diverse soils and sites of
the UK would be very valuable," he concluded.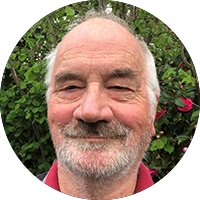 Dr Mike Trought
Don't forget to look underground
Opening the conference on the first day Dr Mike Trought Adjunct Associate Professor at Lincoln University, New Zealand focused on how the unseen world of soil influences vine development which affects vine growth, fruit development and ultimately wine composition. 
The life below ground, in particular the vines roots, are often neglected, and Dr Trought explained that, "around 60% of vine photosynthates are transported below ground for root growth and polysaccharide exudation from the roots. Roots provide essential phytohormones necessary for shoot growth as well as overwintering storage of carbohydrates for spring." 
Dr Trought explained how soil texture influences the availability of water and nutrients to the roots, it affects the shoot to root ratio and rooting patterns, and the partitioning of photosynthates within the vine and fruit ripening. Understanding vine roots and their function is important as "grapevine roots are sparse and poor competitors for water and nutrients, when compared to herbaceous plants," he explained. Dr Trought described how soil texture also influences the fruit composition of vines, which may be "a direct effect, for example by re-partitioning carbohydrates, or an indirect effect, by changing vegetative growth and fruit exposure." Dr Trought advised that "slowing shoot growth during fruit ripening will divert sugars to the fruit and enhance ripening."
Soil texture and nutrient concentrations are not uniform in the soil profile and therefore differences in fruit composition can be observed between and within regions, and also within the vineyard. "This is the basis of the concept of terroir," commented Dr Trought. In order to measure differences, Dr Trought described the modelling to create a 'juice index' which indicates desired composition for the fruit at harvest.
Tom Croghan
Enhancing wine quality
Tom Croghan, co-owner and winemaker, at Dodon Vineyards, Maryland, USA is also a physician and cellular immunologist. His presentation described how ecological approaches can reduce pesticide use, enhance wine quality, and sequester carbon. 
Tom has first-hand experience of a challenging climate with frequent extreme weather events and has taken an ecological approach to managing his vineyard and land. Tom uses 'agro-ecology tools' which enable "production of more and better food with fewer inputs," he explained. These include no tillage, cover crops, organic additions, biodiversity and the integration of animals. 
"There is an interesting effect of no tillage and cover cropping on carbon sequestration and also wine character," explains Tom, comparing the results of his soils and musts from 2012 and 2019. 
"Healthy soils – those that function as part of a vital living ecosystem – improve water infiltration and holding capacity; reduce microbial pathogens, weeds, and herbivory; and promote plant health in agricultural systems," explains Tom.
"Viticulture that focuses on landscapes, soil health, and the environment fits into a larger conversation about agriculture's role in fighting climate change," Tom concluded.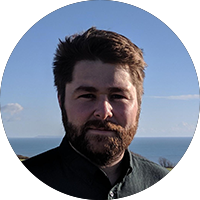 Guy Thallon
Diving into soil biology
Guy Thallon is the Strategic Business Developer at FERA and explained that, "soil biology is a largely overlooked aspect of soil health, despite our soils being one of the largest and most valuable ecosystems on the planet."  
Guy's presentation highlighted the huge complexity of the soil biological system and how little is known about it. He drew upon the early results of 'The Big Soil Community', a Fera Science programme launched in 2018, which uses a combination of citizen science, crowd sourcing and big data approaches to understand the complex soil microbiome and soil biological function for agricultural production. Using DNA based methods to identify the soil organisms and measure their abundance in the 500 or so soil samples from across the country that have been received so far. These have included bacteria and fungi and the next phase will include nematodes. These soil organisms can be classified as beneficial or detrimental and provide individuals with reports to benchmark their soil's diversity, as well as provide a community picture. "There is a massive amount of complexity, with many of these soil organisms yet to be classified and with unknown roles," explained Guy. The aim for the grower is to encourage beneficial bacteria useful for cycling nutrients and suppressing pests and diseases. One example given was Flavobacterium a free-living plant growth promoting bacterium that fixes nitrogen into inorganic forms usable by plants.
"The stark reality is that the management of these microorganisms is one of the few tools available to us in addressing the global threats of food security, biodiversity loss and climate change," explained Guy. "Know your soil, feed your soil, leave it alone and keep it covered," Guy concluded.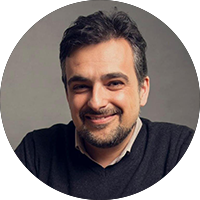 Nuno Gaspar de Oliveir 
Carbon is key
Nuno Gaspar de Oliveir is a Partner at Natural Business Intelligence (NBI) and based in Portugal. The organisation aims to link ecology to economy and business strategy. 
Nuno explained the importance of "carbon as a key ecosystem service in soil sustainability and a vineyard is a system which can increase carbon sequestration." He referred to Climate Smart Farming which restores habitat and encourages biodiversity, so a vineyard is not just a vineyard but part of the complexity of the landscape. "These are bio-based terroirs and 'terroir' wines have microbiome signatures," Nuno explained. "They are also more resistant to drought and to resisting fungal diseases," he added. Of the many examples of the benefits, Nuno gave the example of the "improvement of a woodland by a vineyard which resulted in an increased population of large birds of prey which in turn reduced the loss of grapes to starlings."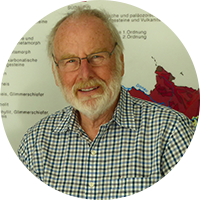 Professor Alex Maltman
The minerality myth
Professor Alex Maltman is a geologist with an interest in wine from the University of Aberystwyth and author of Vineyards, Rocks & Soils: The Wine Lovers Guide to Geology. 
Professor Maltman provided a concise and jargon-free geology lesson reviewing the bedrocks of the UK and the viticultural strengths and weakness of the soils derived from them. He clarified the difference between geological minerals and nutrient minerals, which is frequently misunderstood. "Plants take up nutrient minerals dissolved in water, but geological minerals are not soluble in water. This means that a wine cannot taste of slate or flint. They are descriptor terms, and are actually metaphors or mental illusions," Professor Maltman commented. "Wines described by wine writers as 'volcanic' from volcanic soils are very much in fashion, but in fact there are no special ingredients in these volcanic origins as all geological minerals are mostly made of the same stuff," he added.